Golfing in Morocco goes back to the beginning of the '70s when the Dar Es Salam Golf Course was founded. The 45-hole course was designed by Robert Trent Jones Senio and deeply inspired by King Hassan II. This was the start of Golf in Morocco.
Golfing destinations in Morocco, intended for international and domestic golf tourists, include the main 20-hole best golf courses in Morocco, highlighting their key attributes and giving essential information, and listing the Morocco Tourist Attractions around the courses to project them as 'total' holiday destinations.
Golf in Morocco
There are 20 golf courses in Morocco, many of which have been planned by famous names in golf, such as Colin Montgomerie, Kyle Phillips, Jack Nicklaus, and even Robert Trent Jones. The 13 golf courses in Marrakech also deserve to be mentioned.
Golf tourism in Morocco is one of the main attractions in this North African Kingdom. The peak season for golf in Morocco is from September to June. One advantage that the game of golf in Morocco has over other golf courses around the world is that the weather is quite warm during winter. The golf season in Marrakech operates from late September to June when the temperatures and courses are perfect.
Top Golf Courses in Morocco
Assoufid Golf Club Marrakech
PalmGolf Marrakech Ourika
Tazegout Golf Course
Samanah Country Club
The Montgomerie Marrakech
Golf du Soleil
The Moroccan golf courses are attractive, not just for experienced golfers. It seduces all who have a passion for this royal sport. As Morocco is home to some of the best golf courses in Africa, we have planned a unique Moroccan golf tour. This golf tour in Morocco is ideal for those who want to take pleasure in this sport during a business trip or a vacation in Morocco. The most famous golf courses in Morocco are spread across the country. Some are in the lap of nature, while others are in Marrakech city's heart.
Moroccan golf courses have great scenic beauty and historical significance, making Morocco one of the best golf holiday destinations. The oldest golf course in Morocco is the Royal Dar Es Salam Golf in Rabat. This beautiful 45-hole golf course was established in 1970. Another prestigious location for golf holiday in Morocco is the PalmGolf Marrakech Ourika.
Traveling to Morocco with a group of like-minded golf travelers, our expert guides, and an experienced host, you will discover the best of Morocco's iconic sites and golf courses. On tour, you will play Morocco's most exclusive private clubs and modern golf resorts in morocco designed by golfing stars.
Golf Marrakech Top Courses
The Golf Marrakech courses are endless, so we will try to make a small list of the best course for gold in Marrakech Morocco.
Golf Tour in Morocco
Suggested Golf in Morocco Itinerary: Casablanca – Rabat – Meknes – Fes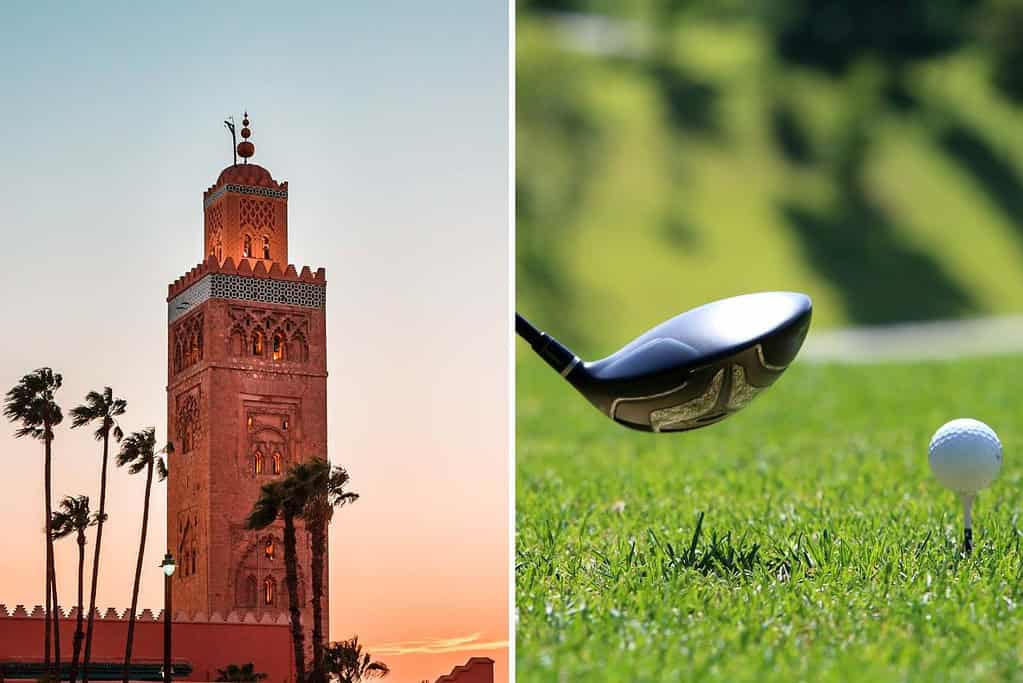 Day 1 » Casablanca Arrival
Morning: Arrival in Morocco. Meet & Great. Airport transfer
Afternoon: Visit the Hassan II Mosque, the 2nd largest mosque in the world.
Day 2 » Rabat
Morning: Transfer to Rabat, driving on the highway.
Afternoon: Play Golf in Dar Es Salaam Royal Golf Course in Rabat. This Golf course in Rabat is ranked as one of the top 100 courses in the world by Golf Magazine.
Day 3 » Volubilis » Meknes » Fes
Morning: Visit the Roman ruins of Volubilis
Afternoon: Play Golf in Meknes 9-hole course.
Day 4 » Fes
Morning: Fes Royal Golf Course in the Middle Atlas Mountains.
Afternoon: Visit one of the oldest walled cities in the world.
Day 5 » Fes » International Airport Departure
Morning: Airport transfer. End of our services.
Our Guarantees
A trustworthy accompanying tour manager throughout the tour in Morocco.
Guaranteed personal attention from arrival to departure.
Reserved 24×7 Operational service while you are on holiday in Morocco.
Centrally located hotels & resorts at the best price.
Well-maintained luxury vans with conveniences like bottled water, hand sanitizer, etc.
Group size: 02 – 12 People
Accommodation: 5* Luxury Accommodation
Tour Manager: Multilingual available
RJ travel – Tour Operator in Morocco cater to the exact necessities of golfers by assuming extra consideration to ensure they are satisfied. Contact our Golf specialist and travel coordinator for a tailor-made itinerary to fit your specific needs, per your interest/budget/travel period, etc.