Dar Rita – Ouarzazate hotel – is another project by RJ Travel Agency owner's Rita and João Leitão. The hotel is located in one of the old neighborhoods of the city. Easy to arrive, two minutes by taxi from the city center and Ouarzazate Airport.
This small hotel in Morocco focuses on comfort and privacy at good prices. Dar Rita's guest house opened its doors back in 2010. Since then, we have received thousands of clients that enjoy their time in our company. We guarantee the lowest prices with the best quality Riad Morocco style of service.
The main purpose of this boutique guest house is to welcome travelers who are on the Marrakech to Sahara Desert route. This Moroccan city is the ideal stop-over en-route to the desert. Every year we make sure to provide happiness, comfort, and quality of service to our customers around the world. Welcome to our "riad Ouarzazate way of living"!
Traditional Moroccan house built with 7 rooms and one 2-room apartment spread around into more than 300 m2 of living area. Our amazing roof terrace will make you want to relax after your busy day visiting Ouarzazate Province. The best film studio is Atlas Studio but you can also visit CLA Studio.
Basically, the story behind this Portuguese hotel in Morocco begins when João. He invited his sister Rita to join him and live in Morocco and start a tourism project together.
Dar Rita is located in one of Ouarzazate's typical neighborhoods called Hay Tassoumaat.
Dar Rita project has been created to provide the best in terms of Ouarzazate accommodation. The decoration of the house is in Moroccan style following the ambiance of many riads in Marrakech.
The house mixes objects from various countries of the world including Portugal, Mauritania, Iraq, Oman, Bulgaria, Turkey, etc. There is a vast library scattered around the house, table games, a computer, and even free fast wireless internet.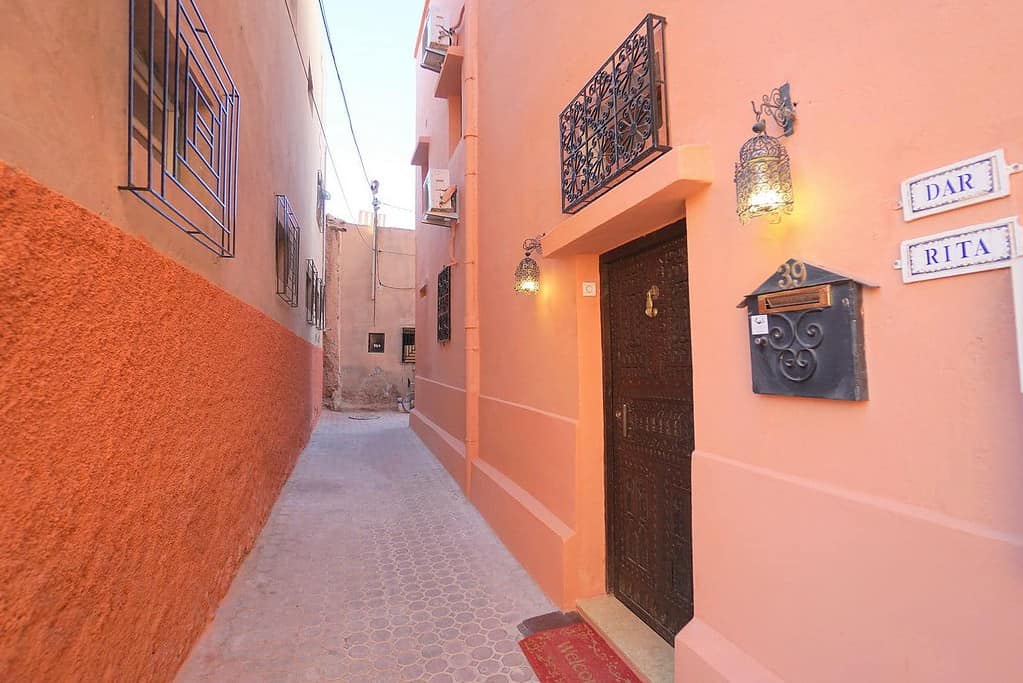 The area of ​​Ouarzazate where our traditional riad is located stands close to the river bank. It is a very interesting neighborhood, full of local life, inhabited by a community of Berber origin. Tassoumaat is the ideal place to feel how Moroccans live its daily life. This is one of the best places in Ouarzazate to interact with local people who still live according to their ancestors.
The atmosphere of Tassoumaat is very genuine, with children playing in the alleys, and women preparing bread in the communal oven. And of course, the architecture is also traditional, with houses being built with natural mud-based materials. Staying in a riad located in the heart of the local neighborhoods makes your trip much more interesting.
Dar Rita offers free wifi, authentic Moroccan cuisine and welcoming mint tea with delicious pastries. Although you don't have a swimming pool, our potential can be seen in another way. We invite you to experience a less touristic approach to Ouarzazate. After you stayed in Ouarzazate with our company, you will always want to come back. Moroccan riads often offer desert tours from Marrakech that include other nice destinations around the country.
Hotel Ouarzazate detailed information
Sté Dar Rita s.a.r.l (Maison d'hôtes 2e catégorie)
Open since 2010

7 rooms with bathroom + shower + AC + heating

1 restaurant for a total of 20 people
Terrace with caidal tent

TV, library and game area
When was Dar Rita open?
Dar Rita was open in January 2011.
How many rooms in Dar Rita?
Dar Rita has seven rooms with a private toilet and one two-bedroom apartment equipped with a kitchen, living room and private toilet.
Does Dar Rita serve dinners?
Yes, Dar Rita serves dinner upon request. The price of a multi-course meal with drinks included is 15 Euros per person. Don't forget to book in advance.
Dar Rita has private parking?
Due to Dar Rita's location inside the medina, it is technically impossible to part the car right in front of our house. You can park your car in the nearby square, or for guarded car parking service, you can leave your car in the close by a petrol station at a price of 35 DH per night.
What is the price of a room in Dar Rita?
Double rooms with breakfast at 50 Euros and others at 40 Euros (25 Euros or 20 Euros per person per night).
Dar Rita – Ouarzazate Hotel – Promo video
Where is Ouarzazate
Ouarzazate is a city in southern Morocco, situated at an altitude of 1150 meters, right in the Atlas Mountains.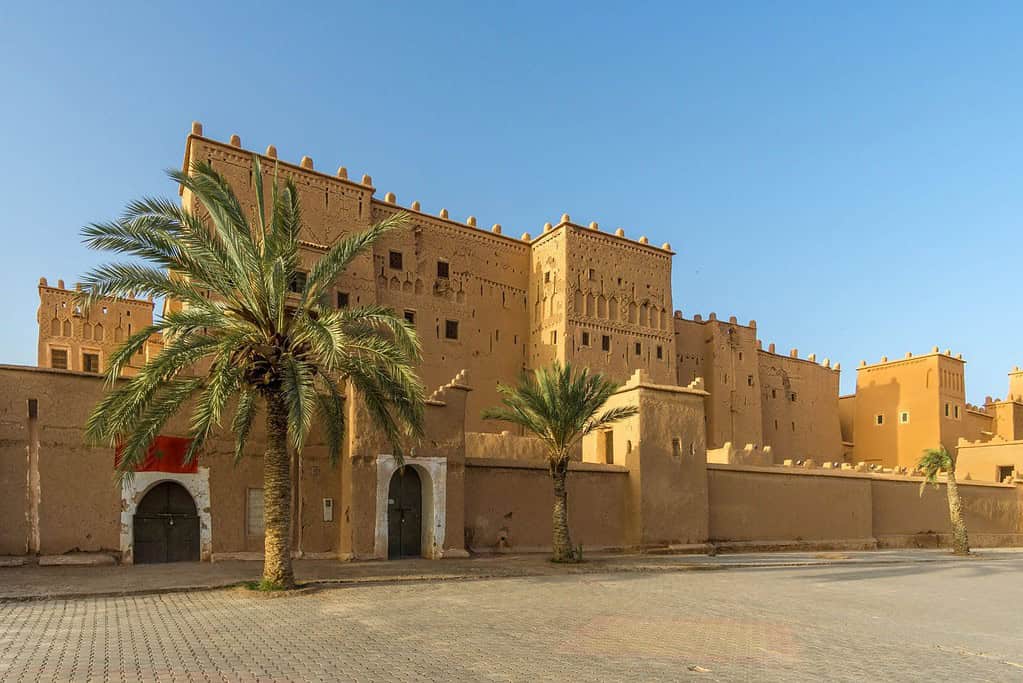 Ouarzazate is a fabulous destination. The city has a huge list of things to see and to keep you occupied for a couple of days. This city located 200km south of Marrakech.
Ouarzazate is considered a gateway to the Sahara Desert although the weather conditions here are sometimes quite different from those expected. Winters can be harsh, with snowfall in the surrounding mountains and occasionally in the city. As expected, summers are hot with temperatures rising above 40 during the month of July and August.
Ksar Ait Benhaddou • UNESCO site
Ait Benhaddou is a fortified village, 30 km from Ouarzazate.
This amazing mud-brick village is situated along the caravan route between the Sahara and Marrakech. Don't be misled, as this is one of the most beautiful places in Morocco. Ten families still live within the ksar preserving their customs and ancient traditions.
Ait Benhaddou was listed as World Heritage by UNESCO in 1987. This village is also known by Kasbah Ait Benhaddou, but in fact, the Ksar has many kasbahs inside.
What is the difference between ksar and kasbah?
Ksar is a fortified village while kasbah is a fortified house. A ksar can have many kasbahs inside.
What is Ouarzazate know for?
Ouarzazate is famous for many good reasons. Internationally, Morocco got known for many Hollywood blockbuster successes being filmed in the city. Ouarzazate province is also famous for having the only UNESCO site in south Morocco. Taourirt Kasbah in the city's ex-libris and most famous monument.
Ouarzazate is very famous, with an almost 0% crime rate. Police on the streets are constant and general safety can be felt on a daily basis.
How populous is Ouarzazate?
Ouarzazate is the 51st-most-populous city in Morocco with around 70,000 people.
How many UNESCO sites in Morocco?
There are 9 UNESCO World Heritage sites in Morocco:
Archaeological Site of Volubilis
Historic City of Meknes
Ksar of Ait-Ben-Haddou
Medina of Essaouira
Medina of Fez
Medina of Marrakech
Medina of Tétouan
Portuguese City of Mazagan (El Jadida)
Rabat, Modern Capital, and Historic City
How many kms from Ouarzazate to Ait Benhaddou?
From Ouarzazate city center to the entrance of Ait Benhaddou is exactly 30 km distance.