7-Day Travel to Yemen – Hadhramaut Classic Tour
Duration
7 days / 6 nights
Type
Multi-day Private tour
Highlights
Seiyun, Shibam, Qabr Ahmad al Habashi, Tarim, Wadi Dawan, Al Hajjrarein, Saif, Hufah, Taulabah, Al Mishqaah, Haid Al Jazeel, Beit Bukshan, Mukalla.

Yemen private tour from 1361 Euros per person.
Multi-day Private tour in Yemen
YE7/SLL/GXF/SLL
Yemen visa included
Meet and greet with Airport or hotel pick up & drop off
Hotel transfers, private transportation, driver included
All inclusive tour package (drinks, breakfast, lunch and dinner)
We are a certified tour operator to Yemen with license No. 27D/20
English speaking guide
Customer service and reservations with 24/7 assistance
Visit the impressive Shibam city (UNESCO)
Travel to Yemen with a Daily itinerary of 7 days / 6 nights
Day 1 » Salalah - Seyun
Day 2 » Seyun - Shibam - Seiyun
Day 3 » Seyun - Qabr Ahmad al Habashi - Tarim - Seyun
Day 4 » Seiyun - Wadi Dawan - Al Hajjrarein - Saif - Haed Al Jazeel Resort
Day 5 » Haed Al Jazeel Resort - Hufah - Taulabah - Al Mishqaah - Haid Al Jazeel village - Beit Bukshan - Haed Al Jazeel Resort
Day 6 » Haed Al Jazeel Resort - Mukalla - Al Shihr
Day 7 » Al Shihr - Salalah
Trip to Yemen 2022
Description
Travel to Yemen and discover an amazing country with friendly people and breathtaking views. For sure visiting Yemen is not for all types of travelers, but those who free themselves from prejudice will have one of the most impressive and unforgettable trips of their lives. Our Hadhramaut Classic Tour takes you to impressive places that you usually only see on TV and National Geographic magazine. Yes, it is possible to visit Yemen, and our trip is a secured and best possibility to do so. Although Yemen has been in conflict for many years, there are regions that don't have any kind of problems and are consequently safer areas that give travelers the chance of visiting one of the most interesting and most authentic countries of the whole Arabic Peninsula.
7-Day Travel to Yemen – Hadhramaut Classic Tour - RJ Travel Tour Operator & DMC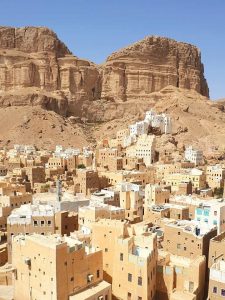 Yemen private tour from 1361 Euros per person.
Product SKU: YE7/SLL/GXF/SLL
Product Brand: RJ Travel - Tour Operator
Product Currency: EUR
Product Price: 1361
Product In-Stock: InStock