Experience the essence of the UAE's captivating destinations in our immersive 6-Day Dubai Package. Delight in the modern allure of Dubai, embrace the thrill of Desert Safari, explore Abu Dhabi's grandeur, and uncover the historical charm of Al Ain. With seamless airport transfers, expert chit-chat cum-guides, and carefully curated itineraries, this journey promises an unforgettable adventure through the Emirates.
Embark on an extraordinary 6 Days Tour of Dubai, where timeless forts, golden dunes, and lush oases beckon in the UAE.
Explore the architectural wonders of Dubai in 6 days, from ancient Al Fahidi Fort to the modern marvel of Burj Khalifa.
Feel the adrenaline rush during the heart-pounding Desert Safari adventure.
Discover Abu Dhabi's architectural wonders, including the Grand Sheikh Zayed Mosque.
Unwind amidst nature's beauty in Al Ain's lush oasis and embrace the thrill of Desert Safari's dune bashing.
Itinerary for Dubai 6 days
Day 1 » Dubai evening arrival » Airport Meet & Greet » Hotel transfer
Day 2 » Dubai morning city tour » Desert Safari » Dubai
Day 3 » Dubai » Abu Dhabi full-day city tour » Dubai
Day 4 » Visit Dubai on your own (free day)
Day 5 » Dubai » Al Ain full-day city tour » Dubai
Day 6 » Dubai morning departure » Airport transfer // End of our services
Activities Description:
Dubai Tour 5h duration» Al Bastakiya, Al Fahidi Fort, Dubai Museum, Jumeirah Mosque, Burj Al Arab, Madinat Jumeirah souk, Burj Khalifa.
Desert Tour 4h duration (shared activity) » Dune bashing, dinner with music, and dance show.
Abu Dhabi Tour 10h duration » Grand Sheikh Zayed Mosque, Etihad Towers, Abu Dhabi Corniche, Qasr Al Watan Palace.
Al Ain 10h duration » Al Jahili Fort, Sheikh Zayed Palace Museum, Al Ain Oasis, Camel market, Jebel Hafeet Mountain, Hot Spring-Al Mubazzarah.
Experience the diverse and vibrant United Arab Emirates on this six-day tour, which includes exploring the cosmopolitan city of Dubai, followed by an exhilarating desert safari.
6-Day Dubai Package UAE | Best of Emirates 2023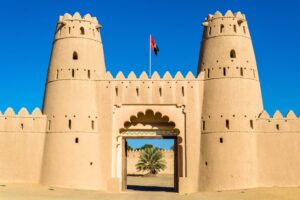 Best Dubai Package UAE » 6 Days in Dubai + Desert Safari + Abu Dhabi + Al Ain » Airport Transfers + Luxury Hotels + Day Trips with Driver.
Product SKU: UAE6/DXB/DXB
Product Brand: RJ Travel LLC
Product Currency: USD
Product Price: 693
Product In-Stock: InStock
Not decided yet? Besides the best places to visit the UAE, our Dubai excursions start at Dubai International Airport. All our Dubai Holiday Packages, Dubai Package Tour, Dubai Package, Dubai Vacation Package, and Dubai Tour Package include airport transfers, desert safaris, luxury hotels, and day trips with drivers.