Join Our Fixed Trip Starting Date
TRIP DATES
AVAILABILITY
PRICE
SPACE LEFT

15/10/2023

- 24/10/2023

Guaranteed

$2,500

15/11/2023

- 24/11/2023

Guaranteed

$2,500

15/12/2023

- 24/12/2023

Guaranteed

$2,500

15/01/2024

- 24/01/2024

Guaranteed

$2,500

15/02/2024

- 24/02/2024

Guaranteed

$2,500

15/03/2024

- 24/03/2024

Guaranteed

$2,500

15/04/2024

- 24/04/2024

Guaranteed

$2,500

15/05/2024

- 24/05/2024

Guaranteed

$2,500

15/06/2024

- 24/06/2024

Guaranteed

$2,500

15/07/2024

- 24/07/2024

Guaranteed

$2,500

15/08/2024

- 24/08/2024

Guaranteed

$2,500

15/09/2024

- 24/09/2024

Guaranteed

$2,500

15/10/2024

- 24/10/2024

Guaranteed

$2,500

15/11/2024

- 24/11/2024

Guaranteed

$2,500

15/12/2024

- 24/12/2024

Guaranteed

$2,500

15/01/2025

- 24/01/2025

Guaranteed

$2,500

15/02/2025

- 24/02/2025

Guaranteed

$2,500

15/03/2025

- 24/03/2025

Guaranteed

$2,500

15/04/2025

- 24/04/2025

Guaranteed

$2,500

15/05/2025

- 24/05/2025

Guaranteed

$2,500

15/06/2025

- 24/06/2025

Guaranteed

$2,500

15/07/2025

- 24/07/2025

Guaranteed

$2,500

15/08/2025

- 24/08/2025

Guaranteed

$2,500

15/09/2025

- 24/09/2025

Guaranteed

$2,500

15/10/2025

- 24/10/2025

Guaranteed

$2,500

15/11/2025

- 24/11/2025

Guaranteed

$2,500

15/12/2025

- 24/12/2025

Guaranteed

$2,500
Are you ready to embark on a remarkable journey that will take you through the heart of Afghanistan, where ancient history, breathtaking landscapes, and vibrant cultures await? We are thrilled to introduce our latest offering, the 10-day Group Tour of Afghanistan, designed to immerse you in the wonders of Kabul, Bamiyan, Band-e Amir National Park, Ghazni, Kandahar, and Mazar-e-Sharif.
Going on a group trip is an excellent way for solo travelers to visit Afghanistan. Enjoy the ease of having all the trip components taken care of and the peace of mind of understanding we're there for you. Traveling as part of our small group tours has its bonuses. We've carefully selected drivers with friendly local guides who can't wait to reveal their country.
Join Our Monthly Guaranteed Departures
No One Left Behind: Our monthly departures ensure your adventure, regardless of group size, from 1 to 11 people. From January to December, departures are on the 15th of each month. Fixed price 2500 USD per person in a shared twin/double room.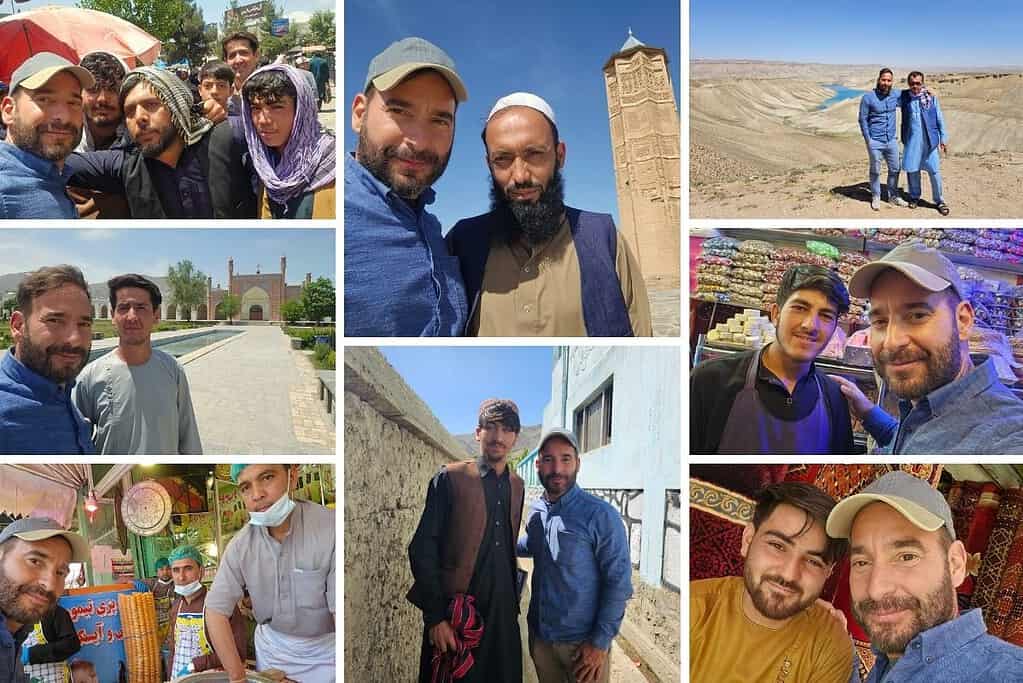 Message from RJ Travel: The situation in Afghanistan has witnessed significant improvements under the current administration of the Taliban. Strict regulations have been implemented throughout the country to ensure stability and safety. Our company's product manager, João Leitão, recently visited Afghanistan to diligently adhere to these rules and fulfill all requirements, including obtaining tourism permits, paying relevant Taliban taxes, and securing foreign tourism licenses that guarantee your security. This way, we can confidently assure you of a secure and enjoyable travel experience in Afghanistan. Don't miss out on this incredible opportunity to explore the hidden treasures of this remarkable nation.
Afghanistan Group Tour
Your Afghanistan Group Tour begins in Kabul, the bustling capital, where you'll explore centuries-old bazaars and historical landmarks that showcase the city's tumultuous history and vibrant present.
From there, you'll journey to Mazar-e-Sharif, renowned for its stunning Islamic architecture and the historic Shrine of Hazrat Ali.
Next, you'll venture to Bamiyan, the site of the once-magnificent Buddhas carved into cliff faces. The remaining niches and the breathtaking beauty of the surrounding landscapes are a testament to their former glory.
Your final stop will be Ghazni, an ancient city that once stood at the crossroads of major routes and empires. Here, you'll discover the impressive Ghazni Minarets, remnants of the city's golden age as a thriving cultural and intellectual hub in the medieval era.
On this comprehensive Afghanistan Tour, experience the unspoiled beauty, diverse traditions, and historical richness of Afghanistan. It's more than just a trip; it's an intimate journey through a land that's often misunderstood, offering a unique perspective and an unforgettable adventure.
This Afghanistan group tour focused on Afghanistan's top essential sights. Don't miss this opportunity to safely visit Afghanistan's tourist attractions in our affordable group tours in Afghanistan.
10-day Group tour of Afghanistan
Day 1 » Kabul morning arrival » Airport Meet & Greet » Hotel transfer » Kabul city tour 12 pm » (Bird Market, Shah Do Shamshira Mosque, Farkhonda Memorial, Id Gah Mosque, Wazir Akbar Khan Hill) » Kabul Overnight.
Day 2 » Kabul » Ghazni city tour (Minarets, Citadel, Military Open Air Museum) » Ghazni Overnight.
Day 3 » Ghazni » Full day drive » Kandahar city tour (Chihil Zina Top, Red Mosque) » Kandahar Overnight.
Day 4 » Kandahar city tour (Ahmad Shah Durrani Tomb, Mirwais Hotak Shrine) » Airport transfer » Flight to Kabul » Kabul Overnight.
Day 5 » Kabul » Zuhak Ancient City » Ancient Buddhas » Bamiyan Overnight.
Day 6 » Bamiyan » Band-e Amir National Park » Gholghola Ancient City » Bamiyan Overnight.
Day 7 » Bamiyan » Full day drive » Mazar-e-Sharif Overnight.
Day 8 » Mazar-e-Sharif » Kholm (Bagh e Jahan Nama Palace) » Takht-i Rustam (Buddhist Stupa, Cave Bazaar) » Mazar-e-Sharif Overnight.
Day 9 » Mazar-e-Sharif city tour (Bazaar, Baba Mazari Mausoleum, Blue Mosque) » Balkh city tour (Khoja Parsa Mausoleum, Bala Hisar, No Gombad Mosque) » Airport transfer » Flight to Kabul » Kabul Overnight.
Day 10 » Kabul city tour (Sakhi Shrine, Gardens of Babur) » Lunch 1 pm » Airport transfer 3 pm » Departure from Kabul 5:25 pm // End of our services.
Note: Please keep in mind that the itinerary could be subject to change due to factors like weather conditions, temporary security updates, or last-minute logistical adjustments.
Travel to Afghanistan
Traveling in Afghanistan is always a fabulous experience. Join our group tours now since it is safe to travel to Afghanistan. Don't miss this opportunity to visit Afghanistan's tourist attractions safely. We will pick you up directly at the airport. The trip to Afghanistan is very straightforward. Arrive at Kabul airport quickly with the Afghanistan tourist visa.
Book our small group holidays in Afghanistan in 2023 & 2024 & 2025 to join a small group of people you haven't met yet as you go along with our local guide around Afghanistan's best destinations. Our leader-led group tours will certainly put you in contact with other travelers just like you.
10-day Afghanistan Group Tour » Kabul + Mazar + Bamiyan + Ghazni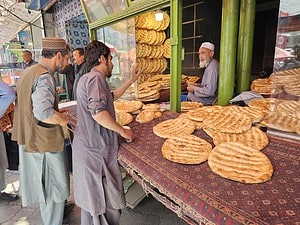 2023 Scheduled Afghanistan group tour for solo travelers until 11 people » Airport transfers, hotels, transportation, English-speaking guides, Tickets.
Product SKU: AFG10G/KBL/KBL
Product Brand: RJ Travel - Tour Operator
Product Currency: USD
Product Price: 2500
Product In-Stock: InStock
10-day Afghanistan Itinerary