Our choices of tours in Syria are divided into thematic features such as the castles and fortifications, the historical cities, the archaeological sites, and the Palmyra experience.
Syria is a fantastic country located in the Middle East. It is quite straightforward touring Syria mainly because the country has improved its security standards, and ongoing conflict is only to be found far from touristic areas.
Syria tourism packages options are quite extensive since the country is full of monuments and things to do.
Choosing and booking a tour of Syria can be complicated because most people don't understand the geographic complexity of the country.
Quick links:
Visiting the main Syria tourism attractions will delight those who enjoy old archaeological sites, impressive fortresses, delicious gastronomy, and a welcoming atmosphere.
Your Syria holidays will be unforgettable because of the country's unique history, fascinating destinations, and hospitable people.
The opportunity of being a Syria tour operator gives us great pleasure since we're very pleased to promote this lovely and unique destination. Being a tourist in Syria is quite fascinating because you visit living history with unique religious sites.
Join one of our Syria tour packages and travel the country safely with our expertise.

Syria
Syria practical information
Area: 185,180 km2 » 1.3 times smaller than the U.K.
Land borders: Iraq 605 km, Israel 76 km, Jordan 375 km, Lebanon 375 km, Turkey 822 km.
Length of coastline: 180 km.
Capital city: Damascus (2 million people).
Population: 17.5 million people.
Languages: Arabic, Kurdish, Turkish, Neo-Aramaic, Circassian, Chechen, Armenian, and Greek.
Electricity/Plug Type: 220 V / 50 Hz / plug types: C, E and L.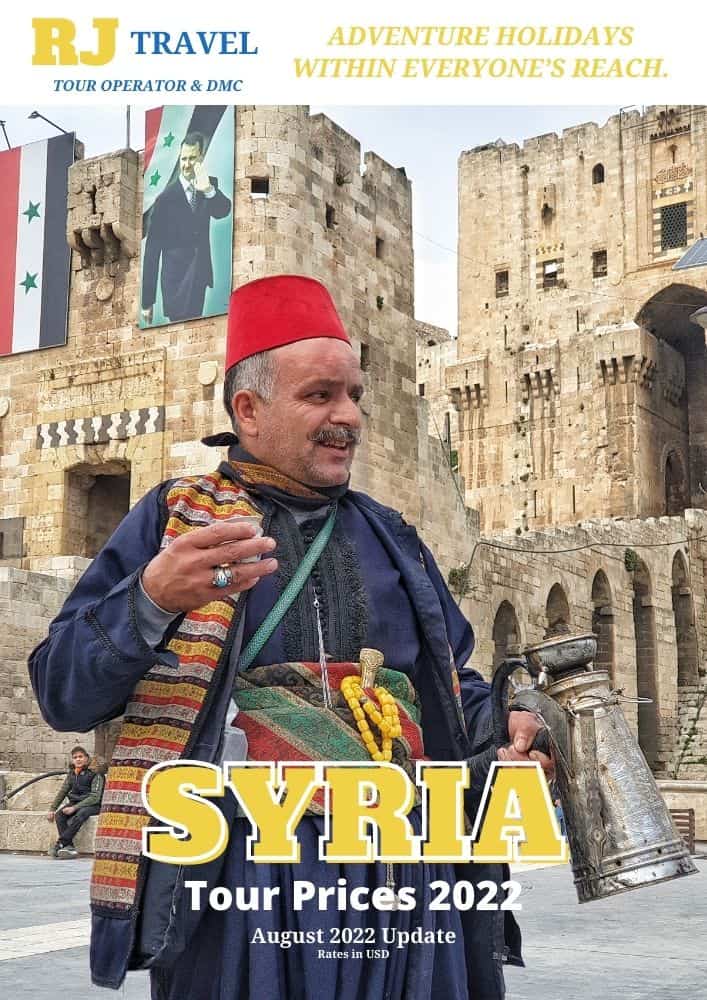 Download Free Catalogue!
Check all our tours and personalize your trip.
Highlights of the most Beautiful Places in Syria:
Palmyra, Krak des Chevaliers, Dead City of Serjilla, Musyaf Castle, The Citadel of Aleppo, Church of Saint Simeon the Stylite, Souk al-Saqatiya, Deir Mar Musa al-Habashi, Sayyidah Zaynab Mosque, Norias of Hama, Monastery of Our Lady of Sednayah, Tomb of Hafez al-Assad, October War Panorama.
Syria Tours & Vacation Packages
Syria Group Tours from Beirut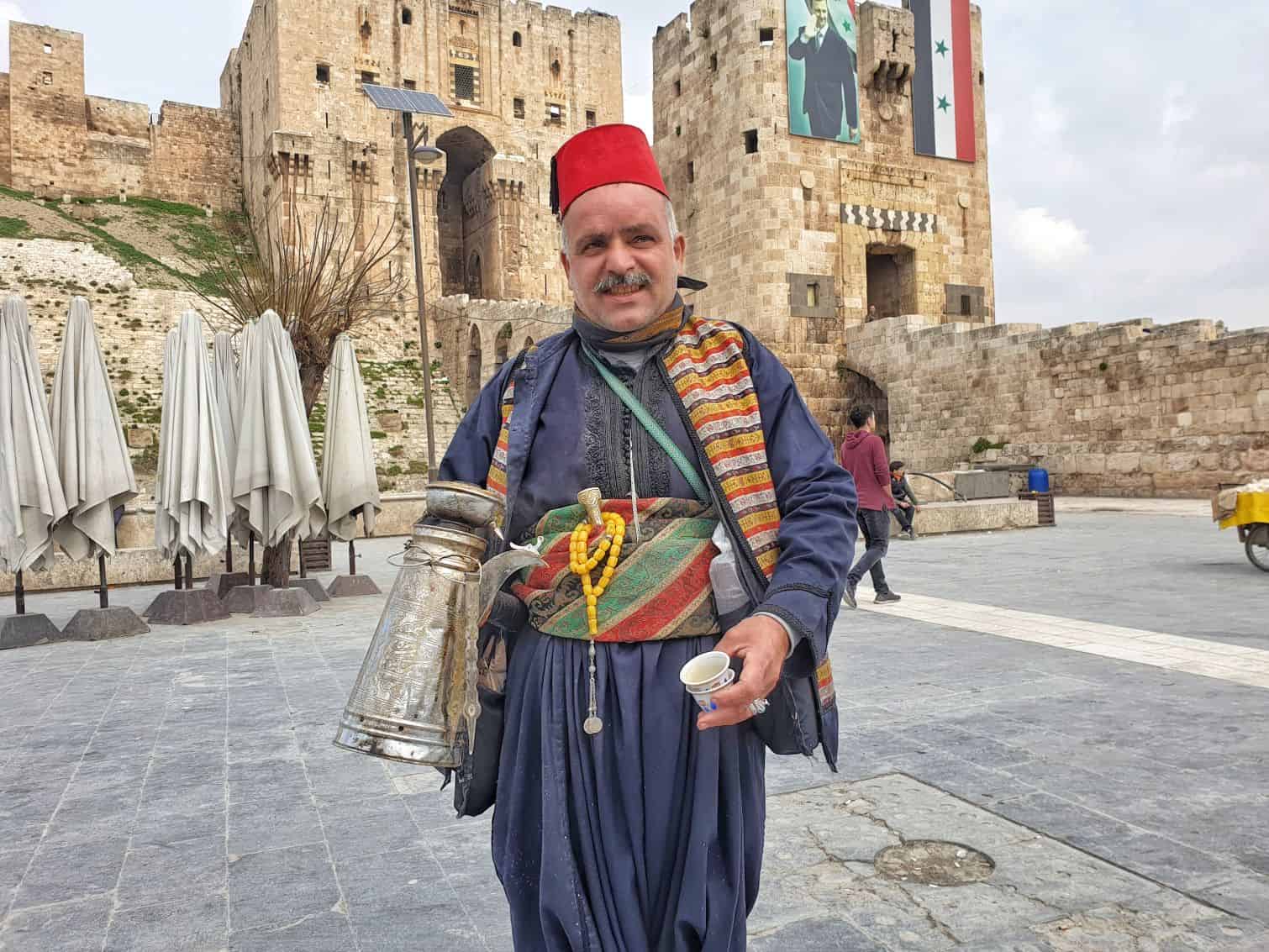 This Syria group tour focused on Syria's top essential sights. Don't miss this opportunity to visit Syria's tourist attractions safely in our affordable group tours….
Syria Private Tours from Beirut
Tour to Syria FAQ
Are these trips private tours?
Yes, these Syria tours are made so that only you, your family, and your friends will travel together. You will not be traveling to Syria along with people you never met. We also have group tours available if you're interested.
How much is the price of monument tickets in Syria?
Considering that you're interested in one of our tours, the prices of monuments and museum entrances in Syria are irrelevant. All our tours include entrance tickets for the most famous attractions. So you don't have to worry about this matter.
What is the best way to fly in and out of Syria?
Without a doubt, the best hub to fly to Syria is Beirut airport – in Lebanon – from where we pick up and drop off in total security. We can pick you up at a place of your choice in Beirut, either at your hotel in the morning or directly from the Beirut Airport arrivals gate. You can combine visiting Syria with one of our tours in Lebanon.
How much will the flight tickets for this tour cost?
Prices vary depending on the time of the year and how much you purchase your tickets in advance. But usually, we can say that a round-trip ticket from most European cities to Beirute will cost around 250 Euros up to 500 Euros, depending on the season. Flying in and out of Beirut, Middle East Airlines can be much cheaper, as it is Lebanon's national carrier.
What is the capital city of Syria?
Syria's capital is Damascus, with a population of approximately 1.7 million people. Many people actually ask, "is Syria in Africa" but in fact, Syria is located in the Middle East (Asia), bordering Lebanon, Turkey, Iraq, Jordan, and Israel.
Is Syria a country that is safe to travel to?
Our destination manager was in Syria recently preparing this tour, so you can safely enjoy your holidays in Syria. This way, we know what to expect and guarantee the best service with reliable, updated knowledge. Is Syria a safe country to travel to is a very important subject to understand this prime adventure holiday destination fully. Many parts of Syria are very safe, while other parts of Syria are not safe to travel to. Obvsislouy, our Syria tour packages are limited to safe Government-controlled regions; therefore, with us, you can be sure to travel trouble-free. Our adventure travel company aims to ensure the best service with maximum safety standards. During your tour in Syria, you will always be accompanied by an English-speaking professional guide and a driver. Both are local people who adapted to take you around the country, proudly show you around, and make you have a great time exploring this amazing historical nation. Nevertheless and very important to mention that you should follow your guide's orders. Conclusion: Within the Syrian government-controlled regions, the country is safe to visit except for some specific regions you will not visit during this trip.
How to get a Syrian tourist visa?
Most nationalities can make a Syrian visa at the border after having the visa reference number document. When you book our Syria tours, consider that it takes two weeks for us to order your border security clearance and visa reference number (American passports need to wait two months). Journalists are denied tourist visas. Your passport must be valid for at least six months. After having this number, you can easily buy your Syrian tourist visa at the border. Before entering Syria, you must exchange money (Euros or Dollars) for Syrian pounds. You can always exchange the money if you have some Syrian pounds left at the end of the tour. Our driver for the transfer Beirut-Damascus-Beirut will guide you and help you with all these simple procedures.
How to buy a Syria SIM Card?
The best Syria Sim Card for tourists is widely available, and how to buy a prepaid Sim Card in Syria during your trip is relatively easy. You can get a local Sim card at the border or in Damascus, and the price is 5 USD for 2 gigabytes.
Can Americans travel to Syria?
No, American citizens can't enter Syria at the moment. At the time of writing (November 18, 2022), the Syria travel ban only applies to US passport holders who refused entrance to Syria. Before that refusal, US citizens had about a 70% chance of getting a Syrian visa. After sending us your documents, you will get your visa clearance code after a few days. We needed 7 to 15 workdays to issue the security clearance and arrange the trip requirements for US citizens traveling to Syria. Now, this is not possible anymore. This will undoubtedly change in the future, so check the news and contact us as soon as the situation changes.
Is Syria a tourist country?
Syria is one of the world's most unique countries regarding historical, natural, and cultural heritage. Being at the junction of different cultures, the country possesses a rich history reflecting the number of Syrian tourist attractions and monuments spread throughout the nation's massive size within its region.
While you visit Syria, you can indulge in thousand-year-old ancient monuments of all types and shapes.
There are 6 properties inscribed on the World Heritage List by UNESCO in Syria: the Ancient City of Damascus, the Ancient City of Bosra, the Site of Palmyra, the Ancient City of Aleppo, Crac des Chevaliers and Qal'at Salah El-Din, the Ancient Villages of Northern Syria.
In addition to its inscribed UNESCO sites in Syria, there is a list of more than 12 properties on its tentative list: Noréas de Hama, Ugrarit (Tell Shamra), Ebla (Tell Mardikh), Mari (Tell Hariri), Dura Europos, Apamée (Afamia), Un Château du désert : Qasr al-Hayr ach-Charqi, Maaloula, Tartus : la cité-citadelle des Croisés, Raqqa-Ràfiqa : la cité abbasside, L'île d'Arwad, Mari & Europos-Dura sites of Euphrates Valley. The perfect example of Syria's history can be seen when choosing your itinerary.
As Syria tour operators, we fully design our packages to fulfill all your needs. We know the country by heart and provide the best services, partners, guides, and accommodations we personally visited and examined.
Who is denied entrance to Syria?
Currently, citizens of the United States of America are blocked from entering Syria.
Admission is also refused to holders of passports or travel documents containing an Israeli visa or stamp or any data showing that the visitor has been to Israel or indication of any connection with the state of Israel.
If you have an Israeli stamp and wish to visit Syria, you must get a new passport. When requested, Israeli authorities don't stamp passports, but consider that having a stamp from a border crossing entry or departure into/from Jordan or Egypt is also seen as you have been to Israel if that specific border crossing is with the State of Israel.
For example, you can't have a Taba Border Crossing stamp in or out of Egypt without entering or departing from Israel itself. The Menachem Begin Crossing is the international border crossing between Taba, Egypt, and Eilat, Israel.
Also, citizens of the State of Israel are banned from entering the Syrian Arab Republic.
Journalists on a mission are denied tourist visas. You need a specific type of press visa. But, if you're a journalist and want to travel in tourism-related activity, contact us directly so we analyze your situation and make the necessary process to get you a tourist visa.
Syria tourist attractions
The world's first alphabet was discovered in Syria, as one of the oldest civilizations was born there. Undoubtedly, Syria is a country to visit now that things have calmed down. Traditional hammams, the Umayyad Mosque of Damascus, caravanserais, the souks of Aleppo, citadels … in short, we cannot mention all the historical and sumptuous archaeological sites of the country in one single phrase. Another asset of Syria is the variety of landscapes that invites one to explore mountain ranges, steppes, valleys, beaches, deserts, and oases. Syria is a privileged adventure destination for lovers of old rocks, fascinating Biblical sites, and history. For example, one can also marvel at other architectural treasures and the cultural life of Damascus street markets. We now show you a list of the best tourist attractions possible during our Syria tours. Read our page about important Syria travel information we supply to our customers.