Our choices of tours in Turkey are divided into thematic features such as Ankara, Pamukkale, Mount Nemrut, Troy, and Hagia Sophia (Aya Sofya) Mosque Experience.
Turkey is a fantastic travel destination with exciting and engaging cultural elements. It has a rich history, remarkable architecture, and natural wonders spread across a tiny part of Western Asia. Soaked in history, amazing landscapes, and absorbing cultural heritage, Turkey is a country often forgotten by many travelers. Nevertheless, Turkey has everything to impress those pursuing adventure travel packages. The exotic Turkey culture can be experienced with our carefully selected Turkey tours to its vast variety of monuments and cities, mixed landscapes, and very welcoming population.
Turkey is a country located in Western Asia.
It is easy touring Turkey mainly because of its geographic location.
Choosing and booking a tour of Turkey can be complicated because most people don't understand the country's geographic proportions.
Join one of our Turkey packages and travel the region safely with our expertise.
Our Turkey excursions have one option for departure. You can choose the city of Ankara as your arrival city for our Turkey tours.
Turkey tour package options are extensive since the country is full of monuments and things to do.
Visiting the top Turkey tourist places will delight those who enjoy ancient archaeological sites, history, religion, stunning nature, and friendly smiles.
Your vacation in Turkey package will be unforgettable because of the region's unique architecture, exotic destinations, and generous people.
The opportunity of being a Turkey tour operator gives us great joy since we're very proud of promoting this beautiful and unique destination.
We feel happy to provide unforgettable Turkey travel experiences that will create long-lasting memories.

Turkey
Turkey's practical information
Population: 84.5 million people.
Area: 302,455 sq. km. 3.2 times the size of the U.K.
Land borders: Armenia 268 km, Azerbaijan 9 km, Bulgaria 240 km, Georgia 252 km, Greece 206 km, Iran 499 km, Iraq 352 km, Syria 822 km.
Length of coastline:8,333 km.
Capital city: Ankara (5.7 million people).
Languages: Turkish (official).
Electricity/Plug Type: 230 V / 50 Hz / plug types: C, F.
A Turkish tour package offers an enchanting blend of ancient history, breathtaking landscapes, and vibrant cultural experiences, promising an unforgettable journey through the fascinating wonders of Turkey.
Highlights of the most Beautiful Places in Turkey:
Cappadocia, Basilica Cisterns of Istanbul, Pamukkale Water Terraces, Lycian Rock Tombs, Myra Necropolis, Gobekli Tepe, Troy, Pluto's Gate, Kekova Island Sunken Ruins, Ottoman Bird Palaces, Ani Ghost City, Tombs of the Sultans, Tombili, Viking Runes at Hagia Sophia, Abandoned Village of Kayakoy, Termessos, City of Manazan, Minyatür's Nautical Instruments, Gamirasu Cave Hotel, Obelisk of Theodosius, Asitane Restaurant, Derinkuyu Underground City, Piri Reis Map at Topkapi Palace, Yanartaş, Safranbolu, Turkey, Kaymaklı Underground City, Panorama 1453 Museum, Cave of Zeus, Aspendos Theater, The Museum of Innocence, Hagia Sophia Wishing Column, Olympos Coastal National Park (Çıralı), Ishak Pasha Palace, St. Stephen Bulgarian Iron Church, Sumela Monastery, Vlora Hanı, Armenian Cathedral of the Holy Cross, Kuşadası, Nakilbent Cistern, Miniaturk, Çatalhöyük, Nemrut Dagi, Tünel, Camondo Stairs, Pudding Shop (Lale Restaurant), Kaiser Wilhelm Fountain, Serpent Column, Harran Beehive Houses.
Turkey Tours & Vacation Packages
Turkey Tours from Istanbul
Start: Istanbul | Time of year: January to December | Tour type: Private
Turkish Tour Package – Join a Group from Istanbul
Start: Istanbul | Time of year: January to December | Tour type: Join a Group
Travel in Turkey FAQ
All you need to know about travel to Turkey and visit the most famous Turkey tourist attractions.
Are these trips Turkey private tours?
Yes, most of these Turkey tours are made so that only you, your family, and your friends will travel together. You will not be traveling to Turkey along with people you never met. But we also have Turkey group tours available if you're interested.
At a certain point, while searching on the Internet, you might ask about the difference between private and group tours. The difference is whether you will share transportation with unknown people, family, or friends.
Imagine you buy a tour of Turkey and come with your family. This will be a regular private tour, where you will have private transportation and a guide during the whole trip. Package for Turkey tour prices changes depending on the number of days and the quality of hotels. Consequently, a 3-star or 4-star hotel tour will be cheaper than a luxury tour featuring 5-star hotels. The trip cost gets cheaper depending on the people that travel with you since the transportation price will be divided by everyone.
The second situation is if you buy one place in our guaranteed departures for Turkey group tours. In this case, you will join a group of people traveling along using the same transportation. We set up specific dates with a certain number of open seats so solo travelers can quickly and affordably join our Turkey tour agency.
As a tour agency in Turkey, we offer packages focusing on different thematics such as desert, architecture, culture, photography, and nature. Our tour guides in Turkey will ensure your trip follows the plan, and you will have an unforgettable journey. Traveling in Turkey is always one of the best options for your following holidays in Western Asia.
How much is the price of monument tickets in Turkey?
For the most famous attractions, Turkey's monument and museum entrances range between USD 10 and USD 25.
Turkey has some exciting and critical registered monuments under the Ministry of Tourism. Our tours usually have all the entrances included in the price, so this is something you don't have to worry about.
The prices of monuments in Turkey differ between destinations. The very high price difference seems unusual, but it is how the government and local authorities compensate for the option of receiving visitors.
Most tourist attractions in Turkey are very well maintained, so expect major tourist sites to be clean and well organized, with proper facilities, available tourist guides, opening times, decent opening hours, etc.
Is Turkey a tourist country?
Turkey is one of the world's most unique countries regarding historical, natural, and cultural heritage. Being at the junction of different cultures, the country possesses a rich history reflecting the number of Turkey tourist attractions and monuments spread throughout the nation's massive size within its region.
While you visit Turkey, you can indulge in thousand-year-old ancient monuments of all types and shapes.
There are 19 properties inscribed on the World Heritage List by UNESCO in Turkey: Göreme National Park and the Rock Sites of Cappadocia, Great Mosque and Hospital of Divriği, Historic Areas of Istanbul, Hattusha: the Hittite Capital, Nemrut Dağ, Hierapolis-Pamukkale, Xanthos-Letoon, City of Safranbolu, Archaeological Site of Troy, Selimiye Mosque and its Social Complex, Neolithic Site of Çatalhöyük, Bursa and Cumalıkızık: the Birth of the Ottoman Empire, Pergamon and its Multi-Layered Cultural Landscape, Diyarbakır Fortress and Hevsel Gardens Cultural Landscape, Ephesus, Archaeological Site of Ani, Aphrodisias, Göbekli Tepe, Arslantepe Mound.
In addition to its inscribed UNESCO sites in Turkey, there is a list of more than 84 properties on its tentative list: Karain Cave, Sümela Monastery (The Monastery of Virgin Mary), Alahan Monastery, St. Nicholas Church, Harran and Sanliurfa, The Tombstones of Ahlat the Urartian and Ottoman citadel, Seljuk Caravanserais on the route from Denizli to Dogubeyazit, Konya-A capital of Seljuk Civilization, Alanya, Mardin Cultural Landscape, St.Paul Church, St.Paul's Well and surrounding historic quarters, Ishak Pasha Palace, Kekova, Güllük Dagi-Termessos National Park, Ancient Cities of Lycian Civilization, Archaeological Site of Sagalassos, Archaeological Site of Perge, Esrefoglu Mosque, Hatay, St. Pierre Church, Aizanoi Antique City, Archeological Site of Zeugma, Gordion, Historic Town of Birgi, Mausoleum and Sacred area of Hecatomnus, Medieval City of Beçin, Historical Monuments of Niğde, Yesemek Quarry and Sculpture Workshop, Odunpazari Historical Urban Site, Mamure Castle, Haci Bektas Veli Complex, Archaeological site of Laodikeia, Lake Tuz Special Environmental Protection Area (SEPA), The Ancient City of Sardis and the Lydian Tumuli of Bin Tepe, İznik, Zeynel Abidin Mosque Complex and Mor Yakup (Saint Jacob) Church, Tomb of Ahi Evran, Vespasianus Titus Tunnel, Mahmut Bey Mosque, Archaeological Site of Kültepe-Kanesh, Ancient City of Kaunos, Anatolian Seljuks Madrasahs, Ancient City of Korykos, Ancient City of Anazarbos, Çanakkale (Dardanelles) and Gelibolu (Gallipoli) Battles Zones in the First World War, Eflatun Pinar: The Hittite Spring Sanctuary, Akdamar Church, The Theatre and Aqueducts of the Ancient City of Aspendos, Eshab-ı Kehf Kulliye (Islamic-Ottoman Social Complex), Historic Guild Town of Mudurnu, Mount Harşena and the Rrock-tombs of the Pontic Kings, Mountainous Phrygia, Ancient City of Stratonikeia, The Bridge of Uzunköprü, Ismail Fakirullah Tomb and its Light Refraction Mechanism, Yıldız Palace Complex, The Malabadi Bridge, Tushpa/Van Fortress, the Mound and the Old City of Van, Sultan Bayezid II Complex: A Center of Medical Treatment, Yivli Minaret Mosque, Sivrihisar Great Mosque, The Bodrum Castle, Nuruosmaniye Complex, Ancient city of Kibyra, Haci Bayram Mosque and its Surrounding Area (the Haci Bayram District), Kızılırmak Delta Wetland and Bird Sanctuary, Archaeological Site of Assos, Ayvalık Industrial Landscape, Ivriz Cultural Landscape, Early Period of Anatolian Turkish Heritage: Niksar, The Capital of Danishmend Dynasty, The Underground Water Structures in Gaziantep; Livas' and Kastels, Wooden Roofed and Wooden Columned Mosques in Anatolia, The Bridge of Justinian, Archaeological Site of Priene, Historic City of Harput, Basilica Therma (Sarıkaya Roma Hamamı), Nature Park of Ballıca Cave, Trading Posts and Fortifications on Genoese Trade Routes from the Mediterranean to the Black Sea, Historic Town of Beypazarı, Karatepe-Aslantaş Archaeological Site, The Historical Port City of Izmir, Zerzevan Castle and Mithraeum, Koramaz Valley, Late Antique and Medieval Churches and Monasteries of Midyat and Surrounding Area (Tur ʿAbdin), Historic Town of Kemaliye. The perfect example of Turkey's history can be seen when choosing your itinerary.
As a tour operator Turkey, we fully design our packages to fulfill all your needs. We know the country by heart and provide the best services, partners, guides, and accommodations we personally visited and examined.
Is it safe to travel to Turkey?
Yes, Turkey is safe to travel to.
Most people have the wrong idea regarding whether Turkey is safe to travel to. Still, the reality doesn't match the misleading news we often see on television, picturing Turkey as a dangerous country.
People are extremely friendly and welcome tourists with open arms. Before traveling to Turkey, you must open your mind, go out of your comfort zone, and embrace this fantastic destination. You will realize the country is "normal" just a few minutes after arrival.
The crime rate toward tourists is relatively low. Turkey is one of the safest countries in the region. This Ankara vacation Package for Turkey Tour options is extensive since the country has big monuments and things to do.
Is Turkey safe for tourists? Definitely yes.
Also, if you're wondering if Turkey tours for US citizens are safe, local people are very welcoming and love tourists from all over the world. People from Turkey learned not to mix politics with personal relations and human interaction throughout history.
Are you asking either if Turkey is safe for Indian tourists? YES, it is.
How can tourists communicate with people in Turkey?
The official language of Turkey is Turkish.
It is highly recommended to have specific knowledge of English. In large cities, the middle and upper class know English as it allows them to have more accessible contact with the rest of the world, making the trip much more accessible. Either way, all our Turkey tours optionally include a full-time guide who speaks the local language so that you feel comfortable learning about the culture of Turkey, its history, and traditions.
Turkey tourist attractions
Images of Turkey with the most important tourist attractions.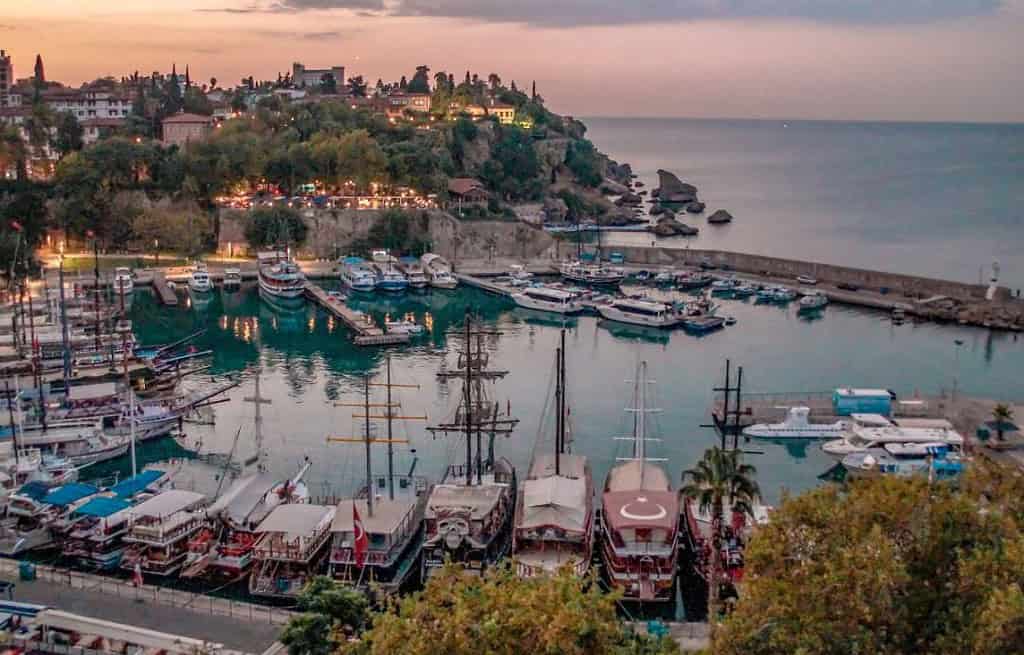 Turkey tour packages
Our Turkey images on Pinterest