Our choices of tours in Kyrgyzstan are divided into thematic features such as Ala Archa Gorge, Bishkek, Jety-Oguz Canyon, Karakol, and the Son Kul Lake experience.
Kyrgyzstan is a fantastic travel destination with exciting and engaging cultural elements. It has a rich history, remarkable architecture, and natural wonders spread across a tiny part of Central Asia. Soaked in history, amazing landscapes, and absorbing cultural heritage, Kyrgyzstan is a country often forgotten by many travelers. Nevertheless, Kyrgyzstan has everything to impress those pursuing adventure travel packages. The exotic Kyrgyzstan culture can be experienced with our carefully selected Kyrgyzstan tours to its vast variety of monuments and cities, mixed landscapes, and very welcoming population.
Kyrgyzstan is a country located in Central Asia.
It is easy touring Kyrgyzstan mainly because of its geographic location.
Choosing and booking a tour of Kyrgyzstan can be complicated because most people don't understand the country's geographic proportions.
Join one of our Kyrgyzstan packages and travel the region safely with our expertise.
Our Kyrgyzstan excursions have one option for departure. You can choose the city of Bishkek as your arrival city for our Kyrgyzstan tours.
Kyrgyzstan tour package options are extensive since the country is full of monuments and things to do.
Visiting the top Kyrgyzstan tourist places will delight those who enjoy ancient archaeological sites, history, religion, stunning nature, and friendly smiles.
Your vacation in Kyrgyzstan package will be unforgettable because of the region's unique architecture, exotic destinations, and generous people.
The opportunity of being a Kyrgyzstan tour operator gives us great joy since we're very proud of promoting this beautiful and unique destination.
We feel happy to provide unforgettable Kyrgyzstan travel experiences that will create long-lasting memories.
Kyrgyzstan's practical information
Population: 7 million people.
Area: 77,202 sq. km. 1.2 times smaller than the size of the U.K.
Land borders: China 1,063 km, Kazakhstan 1,212 km, Tajikistan 984 km, Uzbekistan 1,314 km.
Length of coastline: 1620 miles.
Capital city: Bishkek (1.1 million people).
Languages: Kyrgyz, Russian (official).
Electricity/Plug Type: 220 V / 50 Hz / plug types: C, F.

Kyrgyzstan
Highlights of the most Beautiful Places in Kyrgyzstan :
Tash Rabat, Muzey Sulayman Too, Monument to Yuri Gagarin, Dungan Family Restaurant, National Museum of Kyrgyzstan, Merzbacher Lake, Bishkek Circus, Dungan Mosque, Burana Tower, Ala Kul Lake, Aalam Ordo, Kojomkul Memorial, Min Kush, Frunze Museum, Saimaluu Tash, Jeti-Ögüz Rocks, Eki-Naryn Forest Swastika, Great Emptiness Museum, Przhevalskiy Museum, San Tash Burial Mound.
Kyrgyzstan Tours & Vacation Packages
Kyrgyzstan Tours from Bishkek
Start: Bishkek | Time of year: January to December | Tour type: Private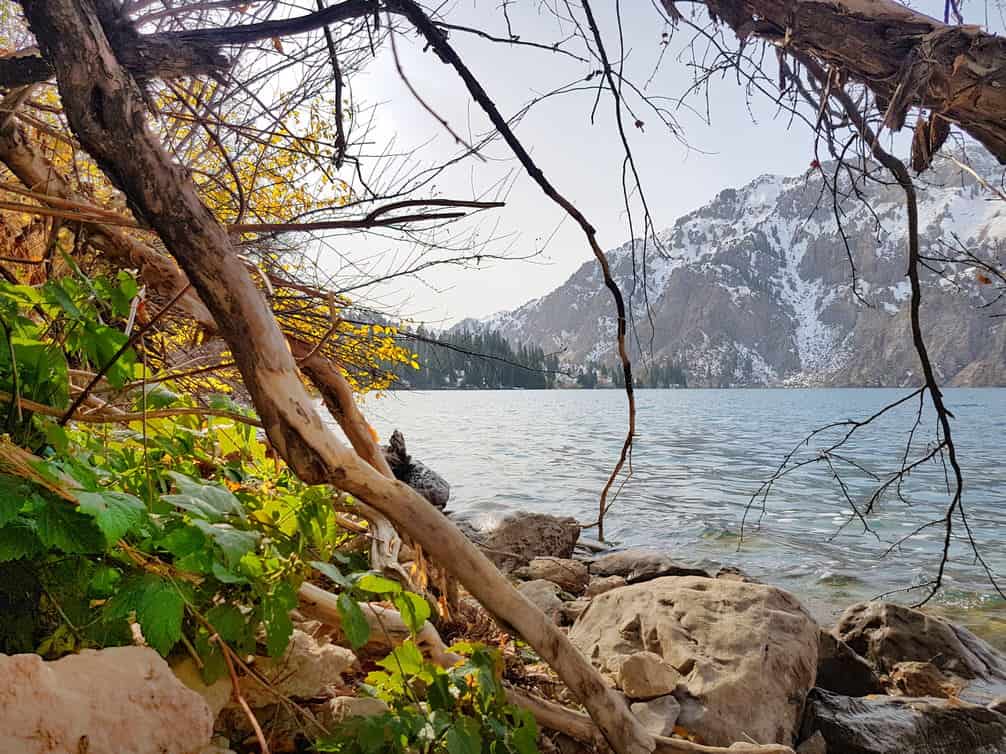 Central Asia is an authentic location; traveling to Kyrgyzstan is always a fantastic experience. In this Kyrgyzstan Classic Tour, you will depart from Bishkek and…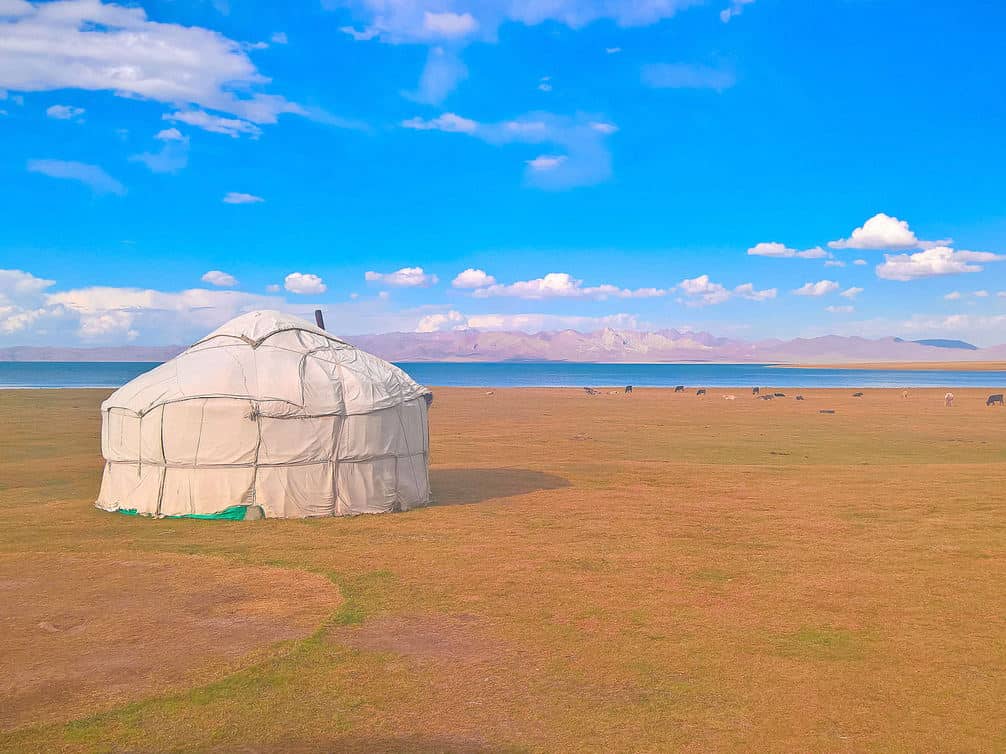 Getting yourself a Bishkek to Almaty tour package is the perfect way to travel from Kyrgyzstan to Kazakhstan while visiting fantastic places on the way….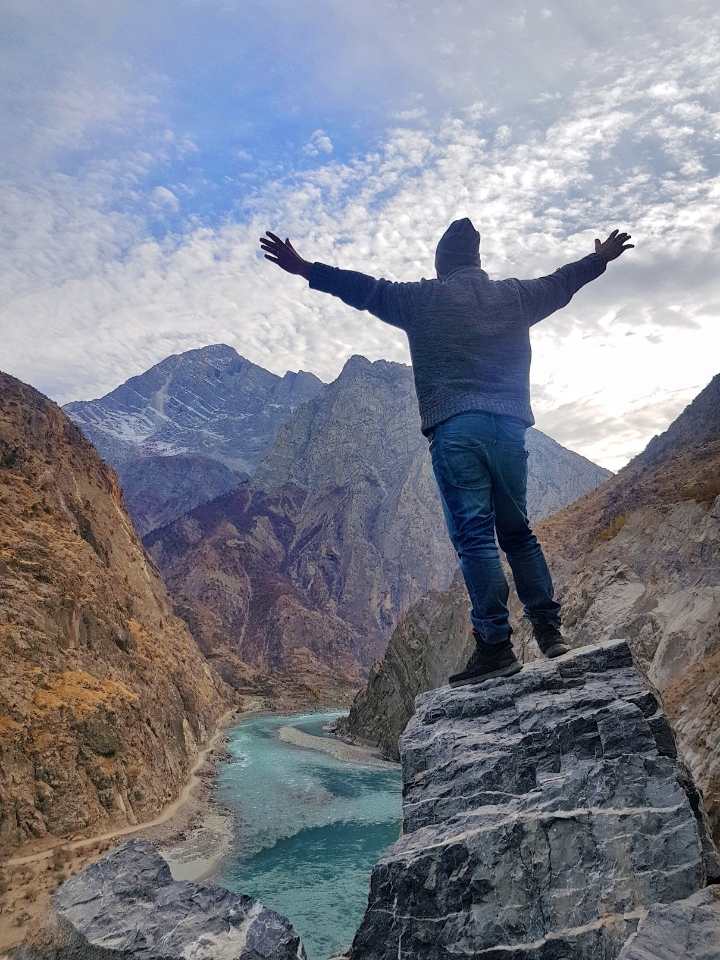 Undoubtedly one of the most beautiful parts of Central Asia, the Pamir Highway road trip offers a lifetime experience. Travel from Bishkek to Dushanbe on…
Kyrgyzstan Group Tours from Bishkek
Start: Bishkek | Time of year: January to December | Tour type: Join a Group
Tour in Kyrgyzstan FAQ
Are these trips private tours?
Yes, these Kyrgyzstan tours are made so that only you, your family and friends will travel together. You will not be traveling along with people you never met. We also have group tours available if you're interested.
Do you need a visa to Kyrgyzstan?
Holders of passports issued by the following 69 nations are not required to obtain a visa for Kyrgyzstan. Check out the Kyrgyzstan visa policy map to see if your country is mention as visa-free.
When is the best time to visit Kyrgyzstan?
The best time to visit Kyrgyzstan is from June until September, during the season of pleasant temperatures and very little rain. The highest average temperature in Kyrgyzstan is 26 ° C in July and the lowest -1 ° C in January. The weather and climate of Kyrgyzstan is suitable for sunny holidays and winter sports.
Is Kyrgyzstan safe for tourists?
Yes, Kyrgyzstan is safe to travel to.
Most people have the wrong idea regarding whether Kyrgyzstan is safe to travel to. Still, the reality doesn't match the misleading news we often see on television, picturing Kyrgyzstan as a dangerous country.
People are extremely friendly and welcome tourists with open arms. Before traveling to Kyrgyzstan, you must open your mind, go out of your comfort zone, and embrace this fantastic destination. You will realize the country is "normal" just a few minutes after arrival.
The crime rate toward tourists is relatively low. Kyrgyzstan is one of the safest countries in the region. This Bishkek vacation package for Kyrgyzstan tour options is extensive since the country is big and full of monuments and things to do.
Is Kyrgyzstan safe for tourists? Definitely yes.
Also, if you're wondering if Kyrgyzstan tours for US citizens are safe, local people are very welcoming and love tourists from all over the world. Throughout history, people from Kyrgyzstan learned not to mix politics with personal relations and human interaction.
Are you asking either if Kyrgyzstan is safe for Indian tourists? YES, it is
What is the capital city of Kyrgyzstan?
Kyrgyzstan's capital is Bishkek with a population of approximately 1 million people.
Is Kyrgyzstan a touristic country?
Kyrgyzstan is one of the world's most unique countries regarding historical, natural, and cultural heritage. Being at the junction of different cultures, the country possesses a rich history reflecting the number of Kyrgyzstan tourist attractions and monuments spread throughout the nation's massive size within its region.
While you visit Kyrgyzstan, you can indulge in thousand-year-old ancient monuments of all types and shapes.
There are 3 properties inscribed on the World Heritage List by UNESCO in Kyrgyzstan: Sulaiman-Too Sacred Mountain, Silk Roads: the Routes Network of Chang'an-Tianshan Corridor, and Western Tien-Shan.
In addition to its inscribed UNESCO sites in Kyrgyzstan, there is a list of more than 2 properties on its tentative list: Saimaly-Tash Petroglyphs, Silk Roads Sites in Kyrgyzstan.
As Kyrgyzstan tour operators, we fully design our packages to fulfill all your needs. We know the country by heart and provide the best services, partners, guides, and accommodations we personally visited and examined.
Kyrgyzstan tourist attractions
Images of Kyrgyzstan with the most important tourist attractions.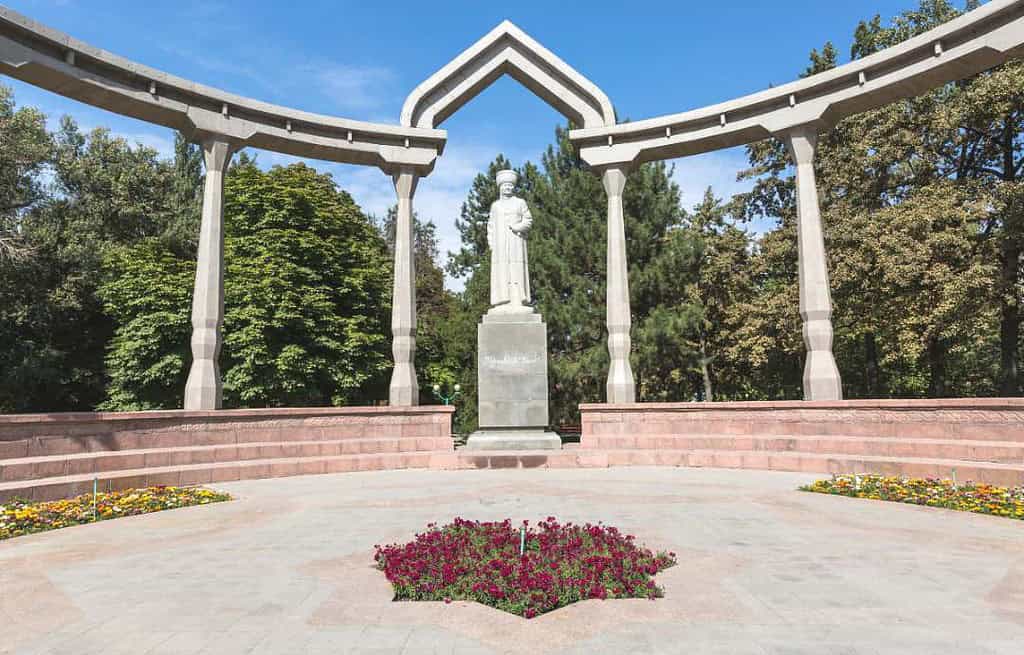 Kyrgyzstan tour packages
Our Kyrgyzstan images on Pinterest