Our choices of tours in Yemen are divided into thematic features such as the Wadi Dawan desert valley, the historical cities, the UNESCO site of Shibam (the Manhattan of the Desert), the religious sites, and the Socotra experience.
Yemen is a fantastic travel destination with exciting and engaging cultural elements. It has a rich history, remarkable architecture, and natural wonders spread across a tiny part of the Middle East. Soaked in history, amazing landscapes, and absorbing cultural heritage. Many people want to travel in Yemen, but it is a country many forget. Nevertheless, Yemen has everything to impress those pursuing adventure travel packages. The exotic Yemen culture can be experienced with our carefully selected Yemen tours to its wide variety of monuments and cities, mixed landscapes, and very welcoming population.
Yemen is a country located in the Middle East.
It is easy touring Yemen mainly because of its geographic location.
Choosing and booking a tour of Yemen can be complicated because most people don't understand the country's geographic proportions.
Join one of our Yemen packages and travel the region safely with our expertise.
Our Yemen excursions have one option for departure. You can choose the city of Sana'a as your arrival city for our Yemen tours.
Yemen tour package options are extensive since the country is full of monuments and things to do.
Visiting the top Yemen tourist places will delight those who enjoy ancient archaeological sites, history, religion, stunning nature, and friendly smiles.
Your vacation in Yemen package will be unforgettable because of the region's unique architecture, exotic destinations, and generous people.
The opportunity of being a Yemen tour operator gives us great joy since we're very proud of promoting this beautiful and unique destination.
We feel happy to provide unforgettable Yemen travel experiences that will create long-lasting memories.

Yemen
Yemen's practical information
Population: 30 million people.
Area: 214,000 sq. km. 2.16 times the size of the U.K.
Land borders: Saudi Arabia (1,458 km or 906 mi), Oman (288 km or 179 mi).
Length of coastline: 1,906 km.
Capital city: Sanaa (3.5 million people).
Languages: Arabic (official).
Electricity/Plug Type: 230 V / 50 Hz / plug types: A, D, G.
Recent reviews on Trip Advisor

Highlights of the most Beautiful Places in Yemen :
Socotra Island, Seiyun, Shibam, Nabi Hud Shrine, Qabr Ahmad al Habashi, Tarim, Wadi Dawan, Al Hajjrarein, Saif, Haid Al Jazeel, Beit Bukshan, Mukalla, Al-Ghaydah, Shahan, Hababah Water Cistern, Brick Buildings of Zabid, Shaharah, Dar al-Hajar, Cisterns of Tawila, Queen Arwa Mosque, Bayt Baws, Minaret of Al-Muhdhar Mosque, Tower of Silence.
Yemen Tours & Vacation Packages
Yemen Tours from Salalah Oman
Start: Salalah Oman | Time of year: January to December | Tour type: Private
Socotra Tours from Abu Dhabi
Start: Abu Dhabi | Time of year: January to December | Tour type: Private
Yemen Group Tours from Salalah Oman
Start: Salalah Oman | Time of year: January to December | Tour type: Join a Group
Also read about Yemen:
Tour to Yemen FAQ
Are these trips private tours?
Yes, these Yemen tours are made so that only you, your family, and your friends will travel together. You will not be traveling to Yemen along with people you never met. We also have group tours available if you're interested.
How much is the price of monument tickets in Yemen?
Considering that you're interested in one of our tours, the prices of monument and museum entrances in Yemen are not really relevant. All our tours include entrance tickets for the most famous attractions. So you don't have to worry about this matter.
What is the best way to fly in and out of Yemen?
Our tours in mainland Yemen only start in Salalah city. So, the best way to fly to Yemen is through Oman. It is crucial to have an early hotel or airport pick-up so that we have a decent time to drive to the border, make all necessary border formalities, and drive all the way to Seiyun before dark. We will pick you up at your hotel at 6 am or directly at the airport if your flight arrives before that and you are ready to leave early.
How much will the flight tickets for this tour cost?
Prices vary depending on the time of the year and how much you purchase your tickets in advance. But usually, we can say that a round-trip ticket from most European cities to Oman will cost around 500 Euros up to 800 Euros, depending on the season. You can also try to fly to Dubai and, from there, get another airplane straight to Salalah.
What is the capital city of Yemen?
The capital of Yemen is Sanaa, with a population of approximately 2.5 million people. Sanaa is still not safe enough for a visit. But the Hadramout region can be visited.
Is Yemen a country that is safe to travel to?
Our destination manager was in Yemen recently preparing this tour, so you can safely enjoy your holidays in Yemen. This way, we know what to expect and guarantee the best service with reliable, updated knowledge. Is Yemen a safe country to travel is essential to fully understand this prime adventure holiday destination.
Many parts of Yemen are relatively safe, while other parts of Yemen are not safe to travel to. The itinerary might change due to last-minute arrangements or security warnings. Always follow the guide's instructions, and above all, be flexible with plan changes.
Obvsislouy, our Yemen tour packages are limited to the safe controlled regions of Hadhramaut. Hadhramaut Governorate in Yemen is safe to visit, yet the country is unstable, and you have to be open to changing your itinerary. Following the lead of our private tour guide is crucial to travel safely.
Our adventure travel company aims to ensure the best service with maximum safety standards. During your tour in Yemen, you will always be accompanied by an English-speaking professional guide who will also be your driver.
Conclusion: Within the Hadhramaut Governorate government-controlled regions, the country is safe to visit except for some specific regions you will not visit during this trip.
Is Yemen a tourist country?
Yemen is one of the world's most unique countries regarding historical, natural, and cultural heritage. Being at the junction of different cultures, the country possesses a rich history reflecting the number of Yemen tourist attractions and monuments spread throughout the nation's massive size within its region.
While you visit Yemen, you can indulge in thousand-year-old ancient monuments of all types and shapes.
There are 4 properties inscribed on the World Heritage List by UNESCO in Yemen: the Old Walled City of Shibam, the Old City of Sana'a, the Historic Town of Zabid, Socotra Archipelago.
In addition to its inscribed UNESCO sites in Yemen, there is a list of more than 10 properties on its tentative list: The archaeological site of Marib, the Historic city of Saada, The Historic City of Thula, The Madrasa Amiriya of Rada, Jibla and its surroundings, Jabal Haraz, Jabal Bura, Balhaf/Burum coastal area, The Hawf Area, Sharma/Jethmun coastal area. The perfect example of Azerbaijan's history can be seen when choosing your itinerary.
As Yemen tour operators, we fully design our packages to fulfill all your needs. We know the country by heart and provide the best services, partners, guides, and accommodations we personally visited and examined.
How to get a Yemen tourist visa?
When you book our Yemen tours, please consider that it takes two weeks for us to order your visa to Yemen. Your passport must be valid for at least six months. Our driver for the transfer, Salalah-Seiyun will guide you and help you with all these simple procedures.
Why do our tours start in Salalah, Oman?
After operating in Yemen for a while, we decided only to sell and provide trips departing from the Omani city of Salalah. We share our thoughts about the trip taking into account this trip's detail.
1- The unreliability of the flights from Cairo-Seyun-Cairo. Although there are five weekly flights between Cairo and Seyun, the situation on the ground is that if they don't have enough passengers, they postpone the flights to the next one, the next one, and the next one. We cannot afford to have clients stuck on the ground because of uncertain flight departures.
2- We understand that the way from Salalah to Seyun is almost a one-day lost feeling, yet, enjoy the ride and live it as it is. You're in Yemen. After crossing the border, our guide will make sure you go to the local qat market, and you will enjoy a local restaurant before heading to the hotel and rest, preparing yourself for the next day.
3- Don't book a flight out of Oman on the day of arrival from Yemen. You must ensure you get your flight and can afford a few-hour delay to arrive in Salalah. Book a hotel in Salalah in advance.
4- Consequently, the Yemeni visa (included in the tour package) that we negotiated with the local authorities reflects our decision, and it works as a border-crossing visa.
How are the hotels in Yemen?
Hotel standards in Yemen will possibly not be the best in terms of Western standards,m but our tour tries to offer you the best in terms of security, staff, and service. Check our page about Hotels in Yemen.
Yemen tourist attractions
Images of Yemen with the most important tourist attractions.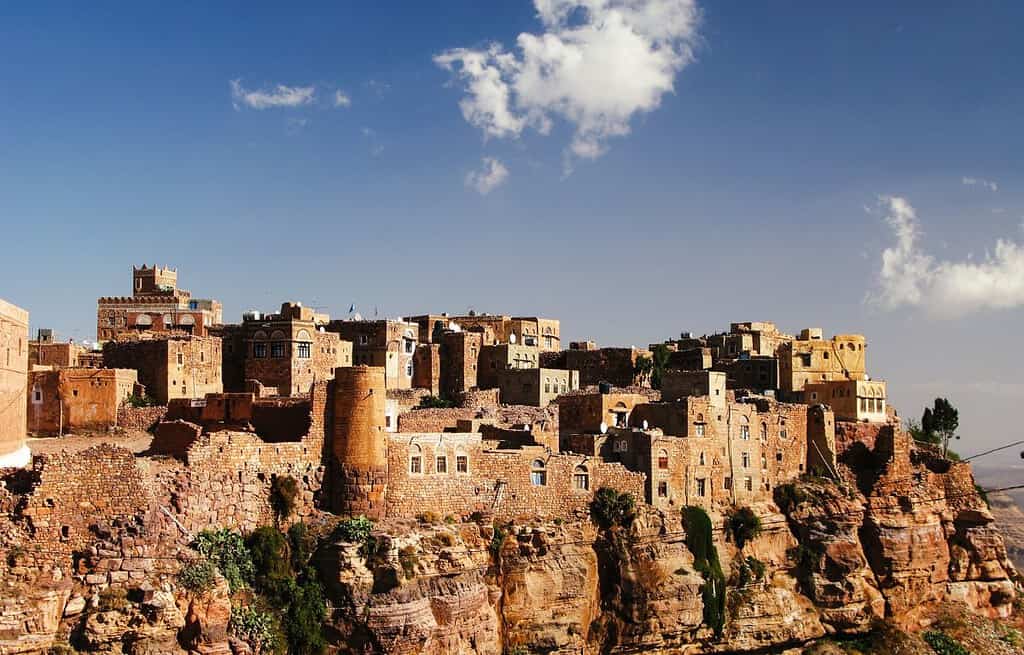 Yemen tour packages
Our Yemen images on Pinterest