Iraq groups for solo travelers fixed dates
TRIP DATES
AVAILABILITY
PRICE
SPACE LEFT

07/10/2023

- 14/10/2023

Guaranteed

$1,680

04/11/2023

- 11/11/2023

Guaranteed

$1,680

02/12/2023

- 09/12/2023

Guaranteed

$1,680

08/01/2024

- 15/01/2024

Guaranteed

$1,680

12/02/2024

- 19/02/2024

Guaranteed

$1,680

04/03/2024

- 11/03/2024

Guaranteed

$1,680

22/04/2024

- 29/04/2024

Guaranteed

$1,680

13/05/2024

- 20/05/2024

Guaranteed

$1,680

16/09/2024

- 23/09/2024

Guaranteed

$1,680

07/10/2024

- 14/10/2024

Guaranteed

$1,680

04/11/2024

- 11/11/2024

Guaranteed

$1,680

02/12/2024

- 09/12/2024

Guaranteed

$1,680
This Iraq group tour focused on Iraq's top essential sights. Don't miss this opportunity to safely visit Iraq's tourist attractions in our affordable group tours.
On a trip starting and ending in Baghdad, you will visit the great sites of Babylon, Karbala, Najaf, the great Ziggurat of Ur, Mesopotamian marshes, Mosul, Samarra, and Baghdad. These are prime world monuments that are revered by historians and sightseers alike. Being a tourist in Iraq is always a great experience. Our destination manager was personally in Iraq recently preparing this tour for you. Join our group tours to Iraq and travel with our expertise.
Traveling in Iraq is always a fabulous experience. Join our group tours now since it is safe to travel to Iraq. Don't miss this opportunity to visit Iraq's tourist attractions safely. We will pick you up directly at the airport or your hotel. The trip to Iraq is very straightforward. Arrive at Baghdad airport quickly with the Iraqi tourist voucher we offer so that you get your Iraqi visa on arrival upon payment.
Book our small group holidays in Iraq in 2023 & 2024 to join a small group of people you haven't met yet as you go along with our local guide around Iraq's best destinations. Our leader-led group tours will certainly put you in contact with other travelers just like you.
8-day Iraq group tours 2023-2024 » Travel to Iraq 100%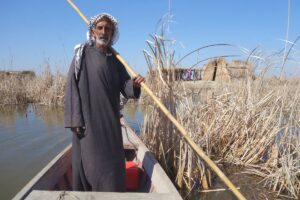 2023 Scheduled travel to Iraq small group tours for solo travelers until 25 people » Airport transfers, hotels, breakfast, transportation, English-speaking guides.
Product SKU: IQ9G/BGW/BGW
Product Brand: RJ Travel - Tour Operator
Product Currency: USD
Product Price: 1680
Product In-Stock: InStock