12 days Morocco itinerary, historical description, and photo gallery support page, for our tour Grand Tour of Morocco. Morocco is an amazing country and full of beautiful places. On this page, we list the top Morocco tourist attractions for that specific trip. This Morocco 12 days itinerary presents the best places to visit in Morocco on our Marrakech to Marrakech trip through Casablanca, Rabat, Chefchaouen, Volubilis, Fes, Erg Chebbi Dunes, Khamlia, Todra Gorges, Dades Valley, Ouarzazate, Ait Benhaddou, Tanger, Essaouira, El Jadida, Tetouan, Volubilis, and Moulay Idriss Zerhoun. Our Morocco tours are very well organized and with a great thematic selection.
12-Day Grand Tour of Morocco – North, South, East and West
| Number of people | Standard Superior (price per person) |
| --- | --- |
| 1 person | 2238€ |
| 2 person | 1366€ |
| 3 person | 1087€ |
| 4 person | 1002€ |
Includes: Morning hotel pick-up. All transportation in a minivan (possible upgrade to 4X4). English speaking driver (other languages available). All accommodation in standard superior with A/C & ensuite bathroom (upgrade and downgrade available). Desert camp Deluxe tent (A/C & ensuite bathroom). Half-board tour package (breakfast and dinner). Camel trekking in the desert.
Morocco 12 days itinerary
Day 1 – 205km » Marrakech – Telouet Kasbah – Ounila Valley – Ksar Ait Benhaddou – Ouarzazate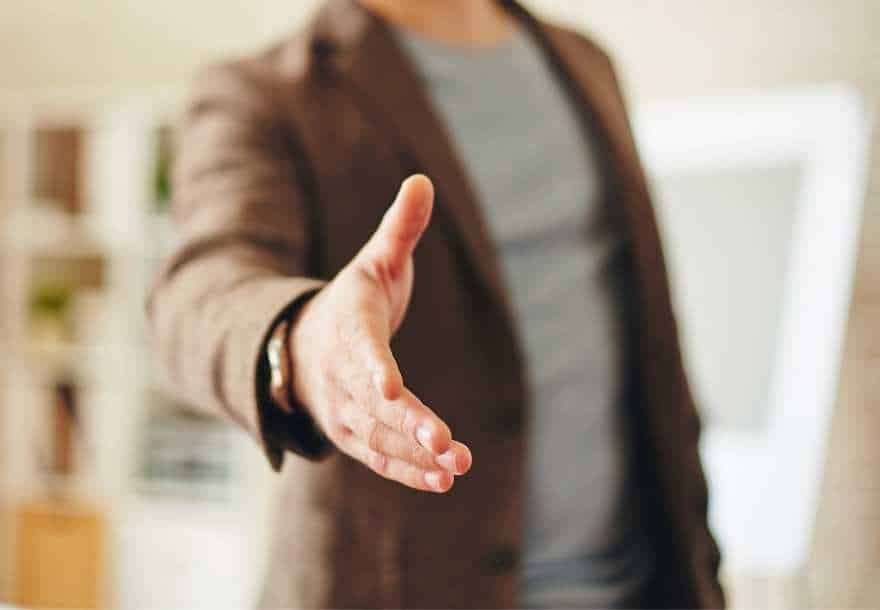 Hotel morning pick up
Our driver will pick you up at your hotel in the early morning. You will be taken to the vehicle and start your 12-day trip in Morocco.
All our tours are customizable, so you can also select to get airport transfers and the first and last nights included within the same Morocco holiday package.
Optional while booking:
Airport pickup and hotel transfer;
Nights in Marrakech;
Activities, excursions, and day-trips.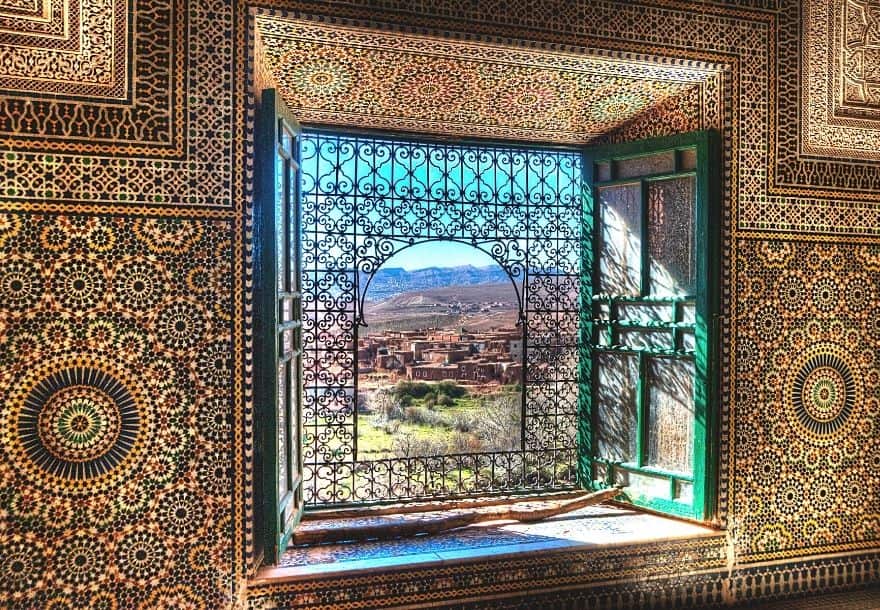 Telouet Kasbah
Telouet Kasbah in located in the High Atlas Mountains and it show up as a birrliant surprise. No one could ever image that somewhere in the remote mountain area, such a interesintg building would exist.
The Telouet Kasbah, sometimes also called the Glaoui palace, is a kasbah built between the 18th and 19th centuries and can be visited during the whole day.
The kasbah was the seat of the El Glaoui family's power, headed by Thami El Glaoui, the Pasha of Marrakech from 1912 to 1956, and also known as Lord of the Atlas.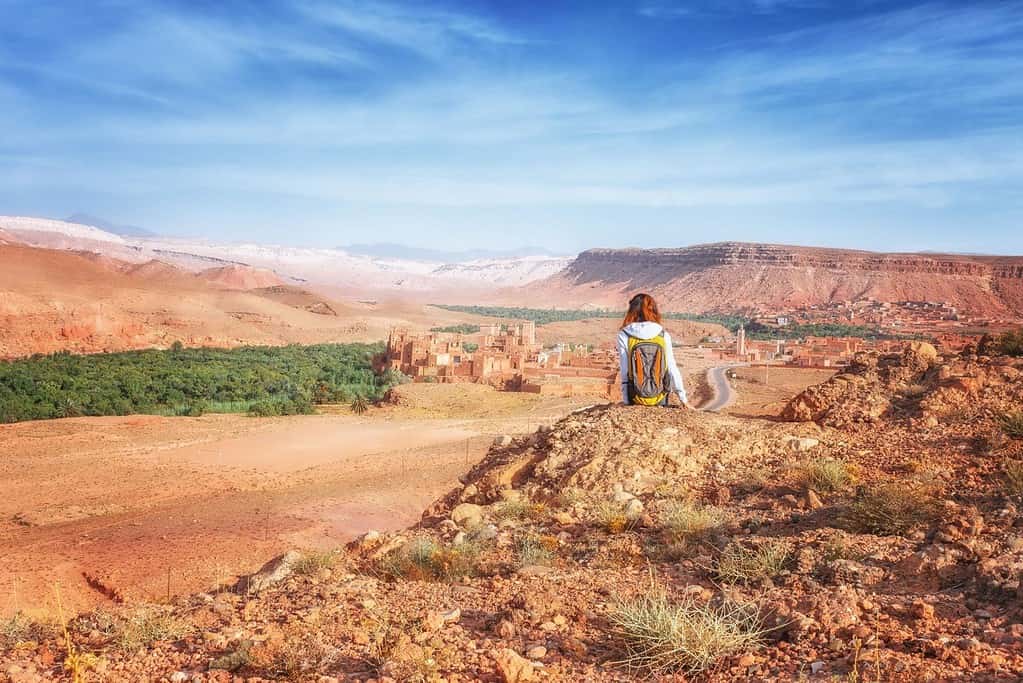 Ounila Valley
Ounila Valley is among one of the best and most beautiful valleys in south Morocco.
Located in the Atlas Mountains, this desert like valley is followed by a green oasis formed with thousands of palm trees, that once in a while encounter a typical picturesque mud-brick Berber village.
The Ounila valley runs from Telouet all the way to Ait Benhaddou, your next destination.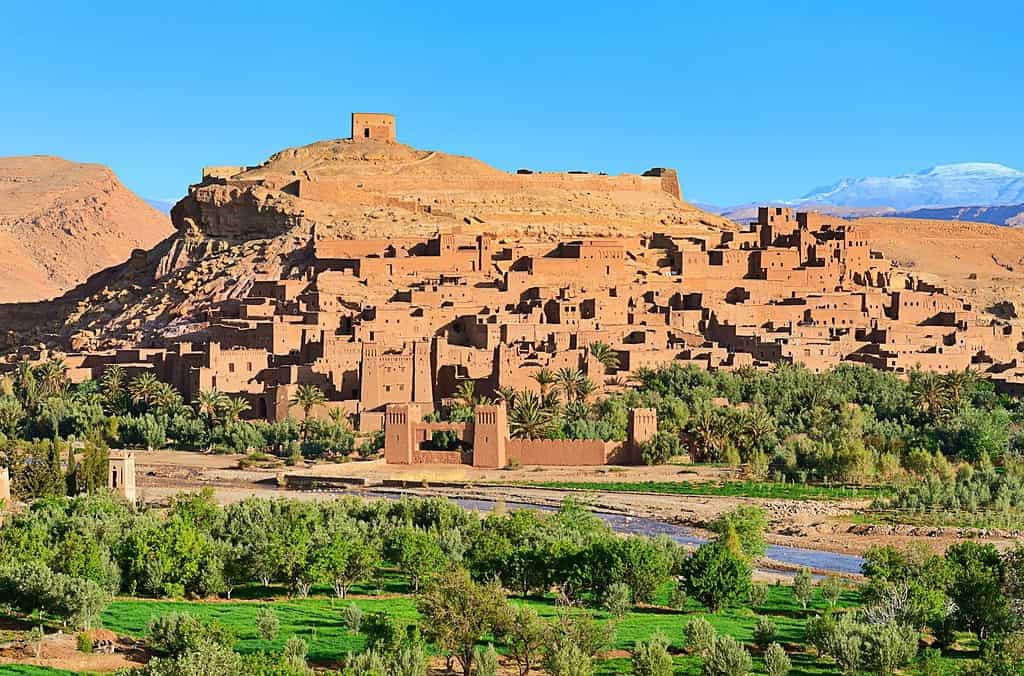 Ksar Ait Benhaddou
Ksar Ait Benhaddou is the only UNESCO World Heritage site in south Morocco. Its surreal looks were actually the reason that many famous movies were shot here.
The mud village with a few families still living inside astonishes visitors especially during the winter months since the snowy white Atlas Mountains serve as an extraordinary background.
Ait Benhaddou dates back from the 17th century and served as a main desert outpost in the caravan crossing the Sahara desert from sub-Saharan Africa all the way to Marrakech.
Day 2 – 411km » Ouarzazate – Dades Valley – Todra Gorges – Erg Chebbi Dunes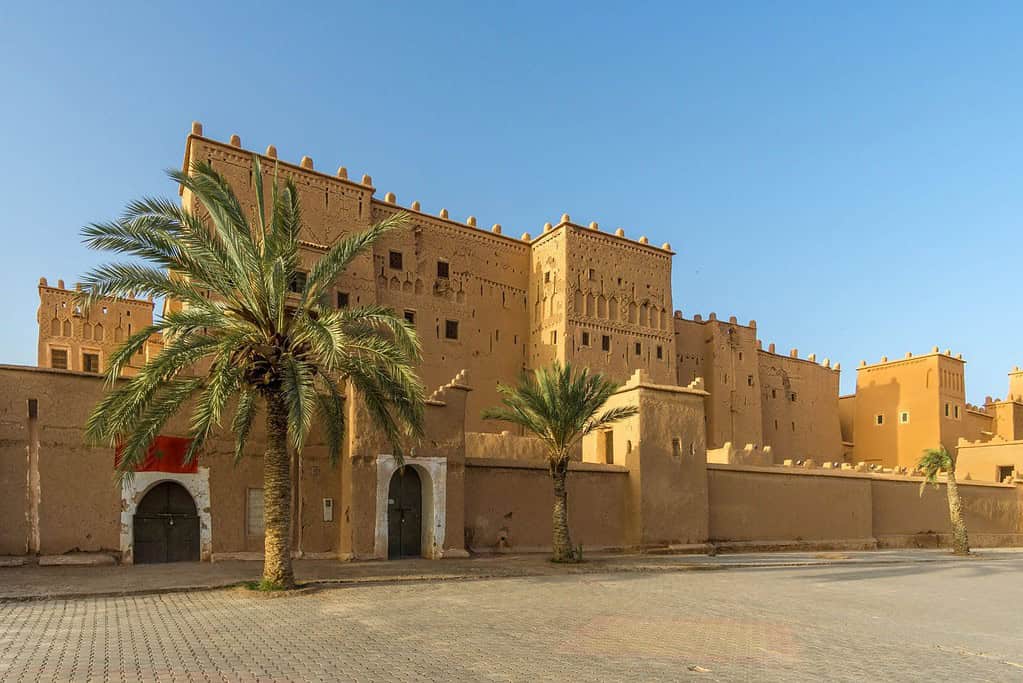 Ouarzazate
Ouarzazate is the capital city of the Ouarzazate Province, and famous for the Taourirt Kasbah (on the picture), the Atlas Studios, and Fint Oasis.
Ouarzazate was mainly made up of two villages a century ago (Taourirt and Tassoumaate), that when the French arrived and made the city center, eventually connect the two villages, giving shape to modern-day Ouarzazate.
Nowadays Ouarzazate is a clean and beautiful city surrounded by mountains and blue sky.
Ouarzazate is home to the 582 MW Noor Power Station, the world's largest concentrated solar power plant occupying an area of 2,500 hectares just outside the city, after the airport.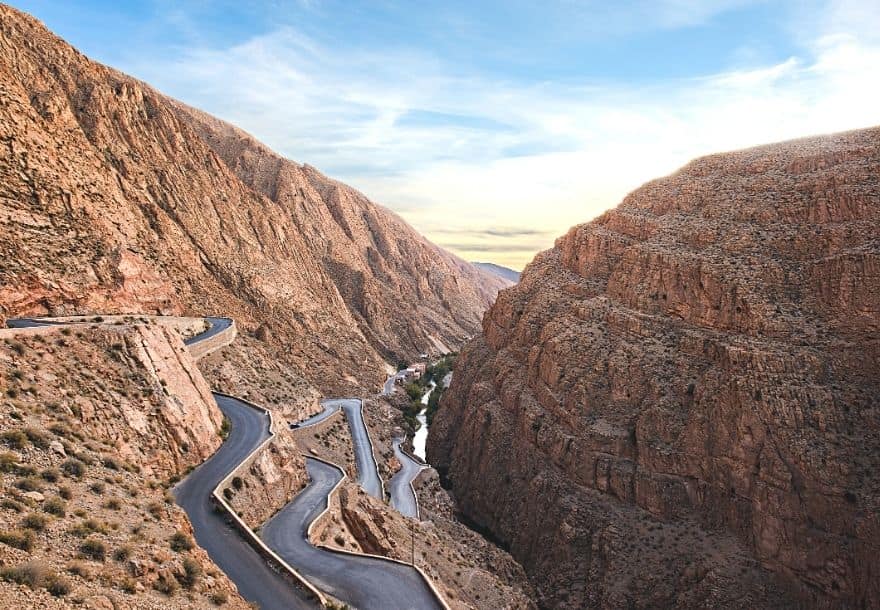 Tissedrine Road
Tissedrine Road is located deep inside the Dades Valley and for many times was called or mentioned as one of the most beautiful roads in the world.
Situated in a narrow canyon, Tissedrine road was built by the French troops back in the 1920s and still, today serves a the only existing road that connects the city of Boumalne Dades to all the inner mountain villages.
On the top of the road, there is a café/restaurant where you can enjoy a tasty Moroccan tea or expresso while enjoying the amazing views from the terrace.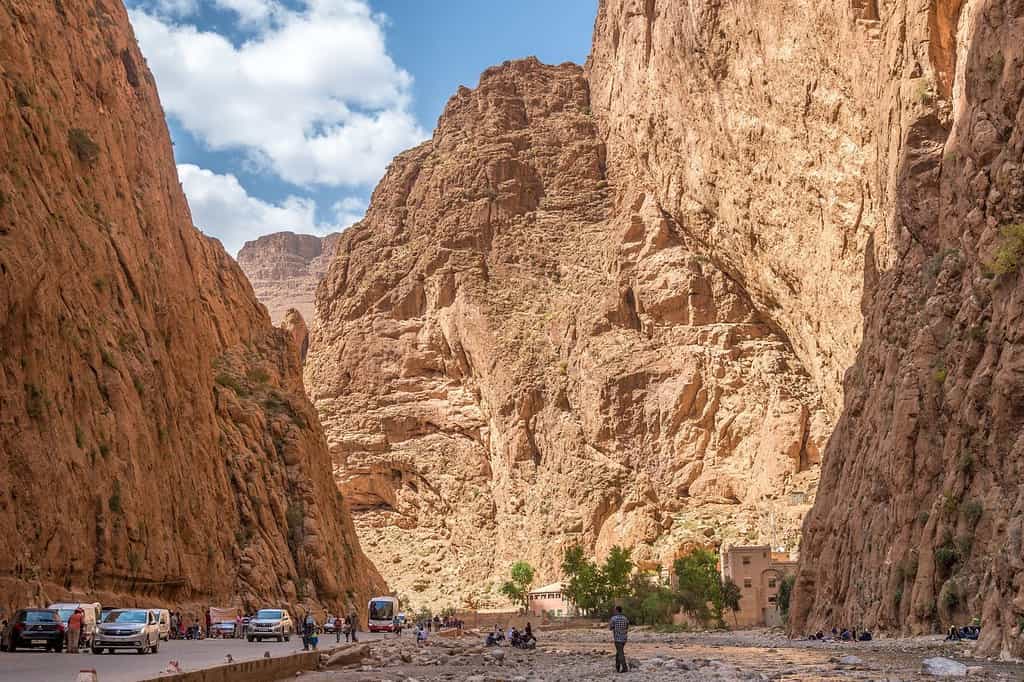 Todra Gorges
Todra Gorges are the most famous canyons in Morocco, since their strategic location just a few km out of the main road connecting Ouarzazate to the Merzouga Dunes.
The 300 meters high rocky cliffs that follow the Todra river provide great photo opportunities. You can walk along the river bank and enjoy the impressive views.
Your driver will drop you off at the end of the canyons, and you will slowly walk down the road where he will meet you so that we continue the trip.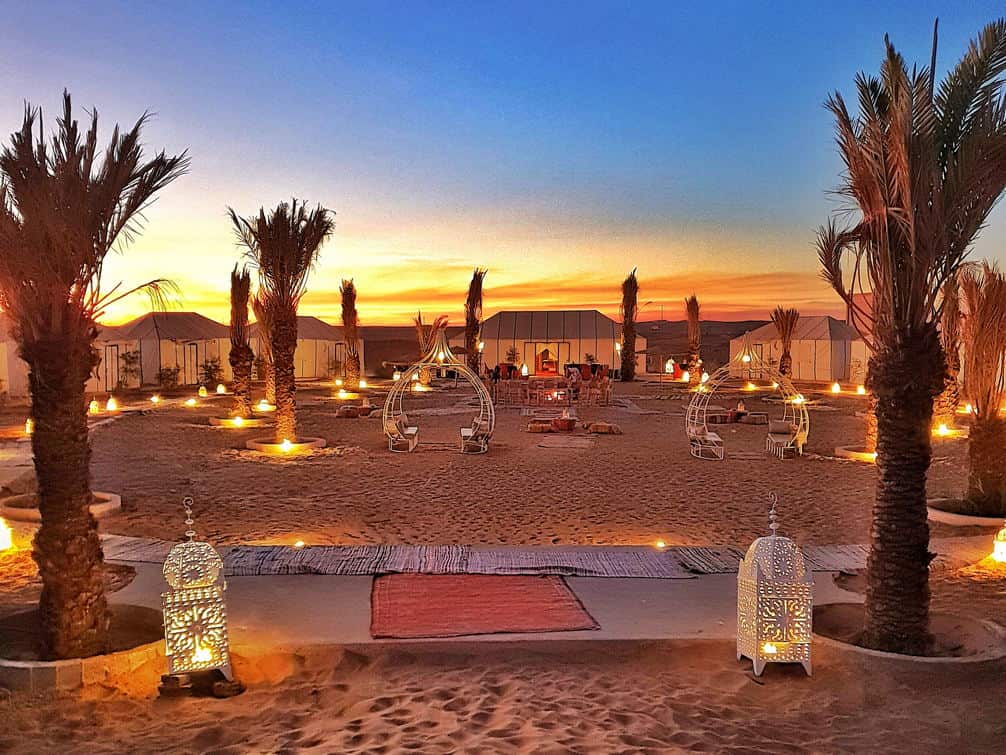 Erg Chebbi Dunes
Morocco's most famous desert, Erg Chebbi dunes indeed deserves the fuss. imagine 250-meter high orange sand dunes, where you will have the chance of camel ride and overnight in a luxury Desert camp.
Erg Chebbi Dunes is where your Marrakech desert tour comes to life and where you will have one of the most special moments of your journey.
After arriving at the dunes, you will be taken on a camel trekking all the way to your desert camp, where your tent will be ready to accommodate you. In the night you will be served a special traditional food and enjoy an evening show of music with local drums and desert rhythms.
Day 3 – 60km » Erg Chebbi – Rissani – Oasis Hassilabied – Khamlia – Erg Chebbi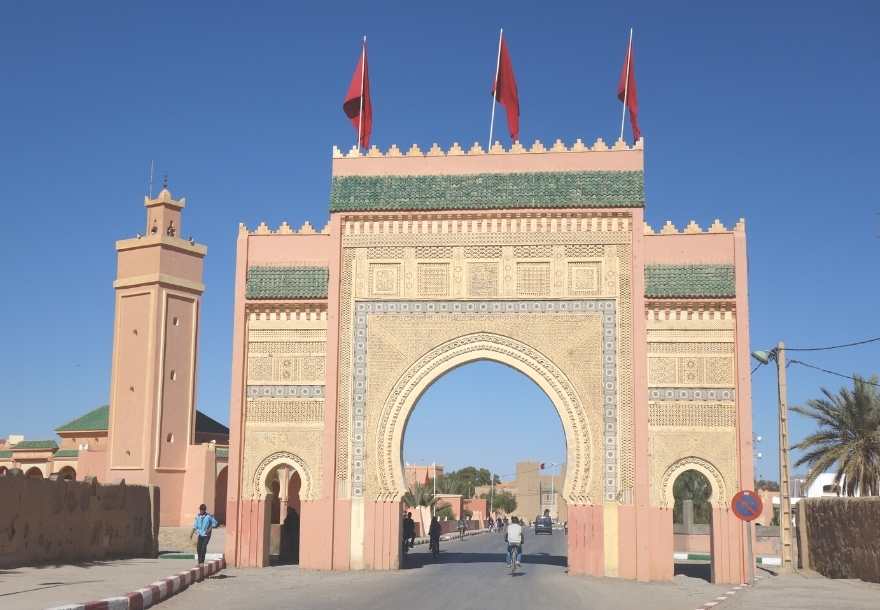 Rissani
A desert city by excellence, you will have the opportunity of visiting one of the most important desert markets that go back hundreds of years.
Rissani is the exact location of the ancient city of Sijilmassa, which served as an important outpost of desert trade in ancient times.
Explore the central market and the amazing nearby Ksar Abouam.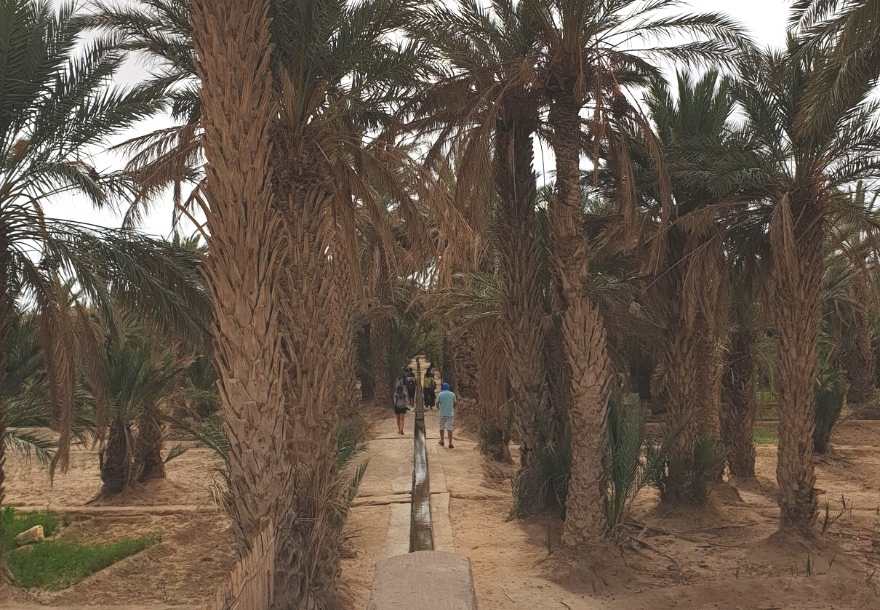 Hassilabied
One of the many villages located on the button of Erg Chebbi Dunes, Hassilabied is easily accessible and where you can visit the oasis, and learn how locals plant their veggies just aside the dunes.
With a functioning water system, the oasis is irrigated by water channels, that serve each part of the terrain to ensure proper water supply to people's crops of tomatoes, peppers, carrots, onions, etc.
You will walk inside the oasis and learn about local agriculture, one of the most important features for desert people.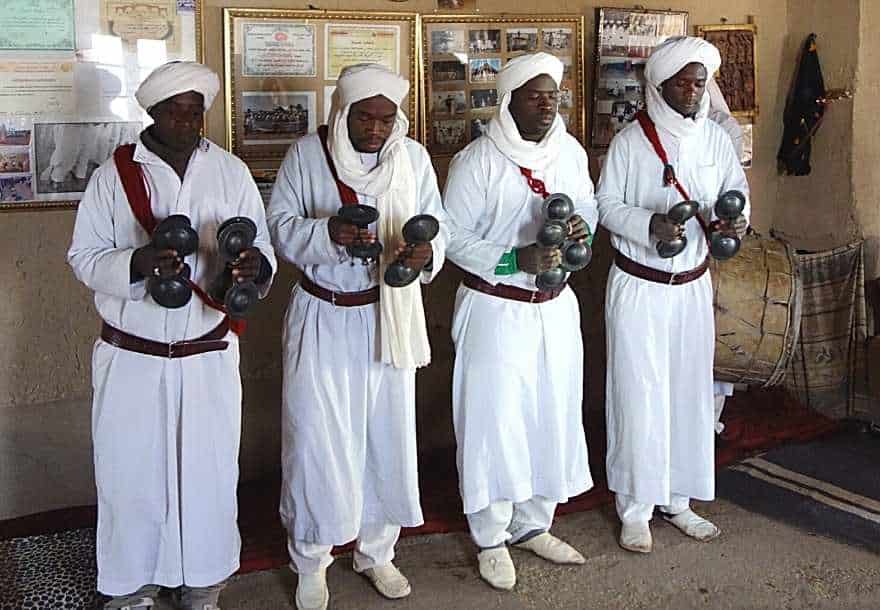 Khamlia
Set about 7 km from Merzouga, the village of Khamlia is an unusual place that bears witness to the permanent historical traces of the Moroccan trans-Saharan trade, and how big Morocco was before the 19th century.
Khamlia is also known as the "black village" or "African village", and it is home to "Bambaras", a population also identified under the name of Gnawa (Gnaoua).
These descendants of sub-Saharan African populations settled here after the territorial disintegration of Morocco back in 1880, due to the arrival of colonial power of Span and French, that broke the geography of the country into pieces.
You will have the chance of enjoying an amazing music and dance show, where these men showcase their amazing cultural heritage.
Day 4 – 448km » Erg Chebbi – Ziz Valley – Midelt – Azrou – Fes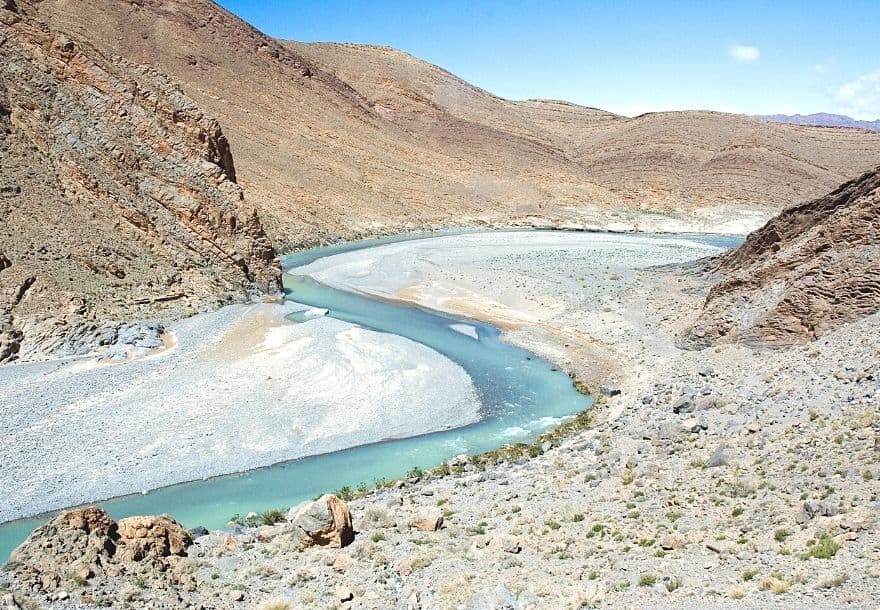 Ziz Valley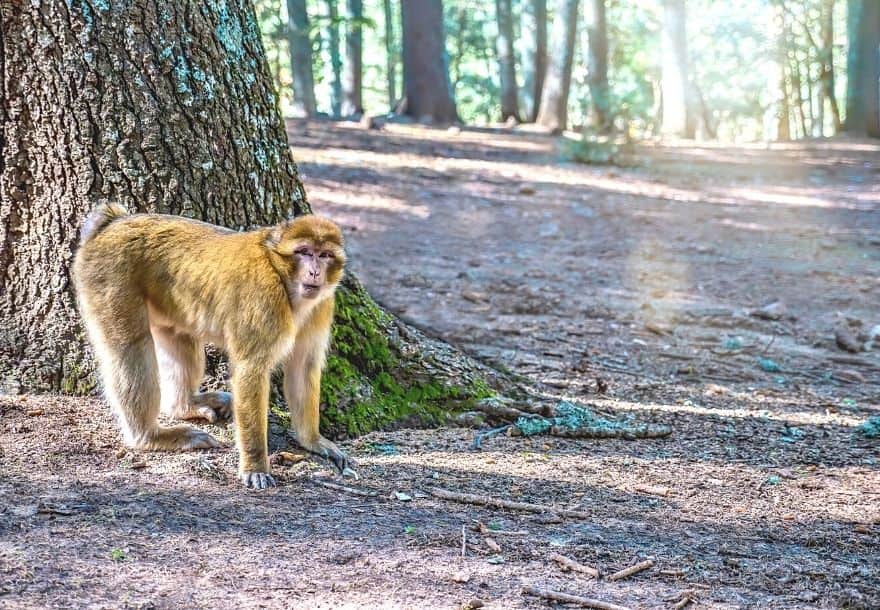 Azrou
Wild monkeys in the Cedar Gouraud Forest in Azrou
Day 5 – 70km » Fes City Tour with official guide – Meknes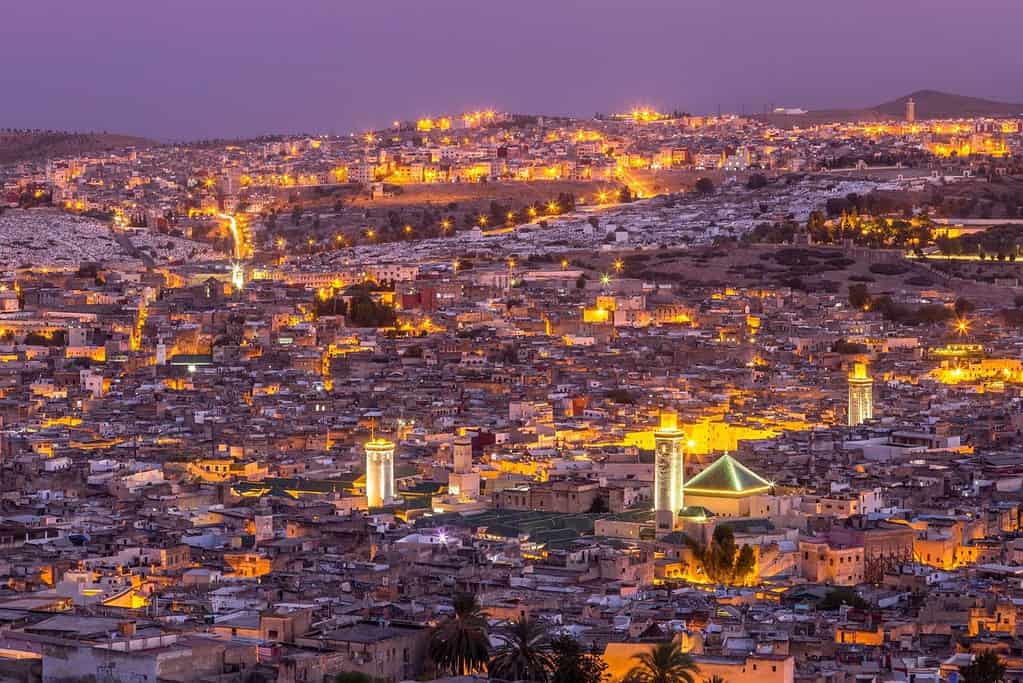 Fes
Day 6 – 199km » Meknes – Moulay Driss Zerhoun – Volubilis – Chefchaouen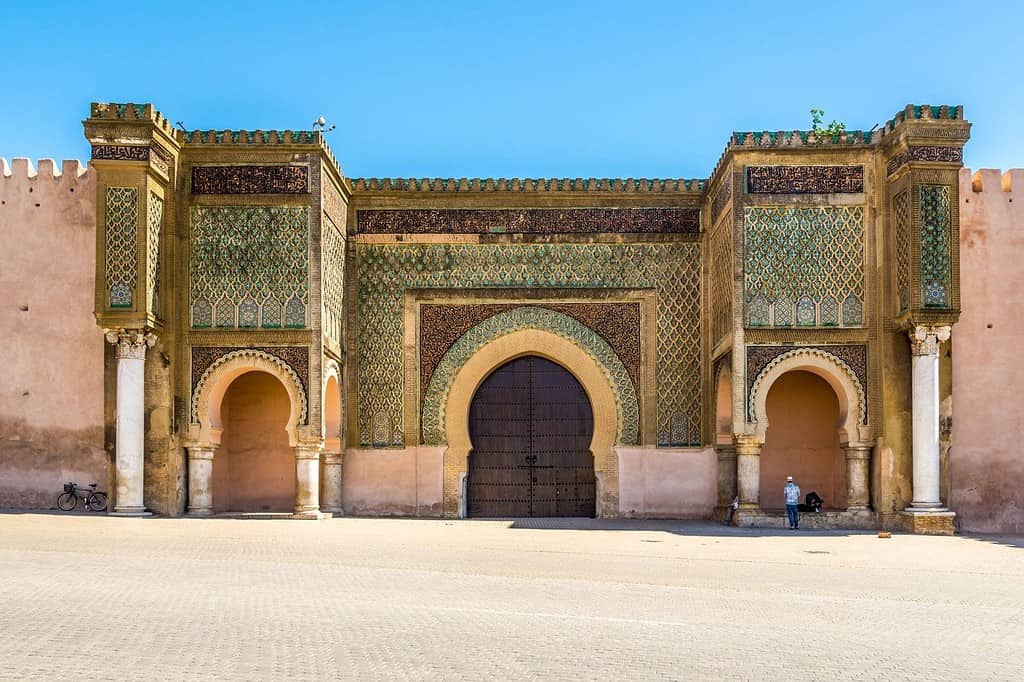 Meknes
City Tour (Mausoleum of Mulai Ismail, Kara Prison, Bab Mansour, Madraça Bu Inania)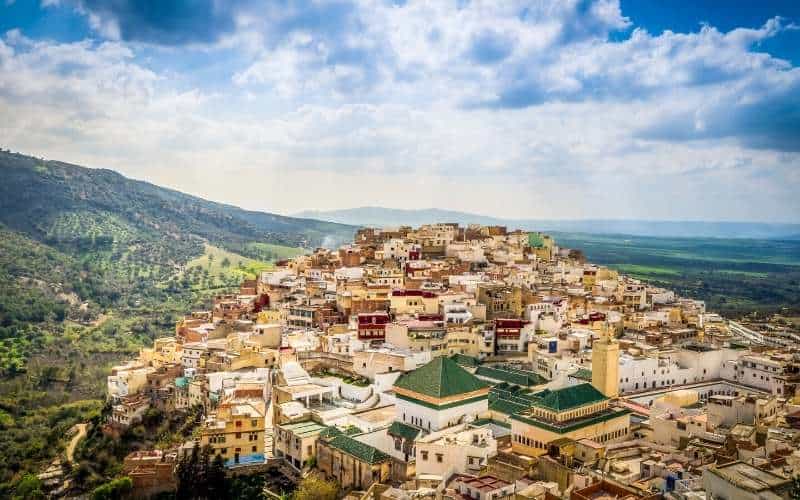 Moulay Driss Zerhoun
City Tour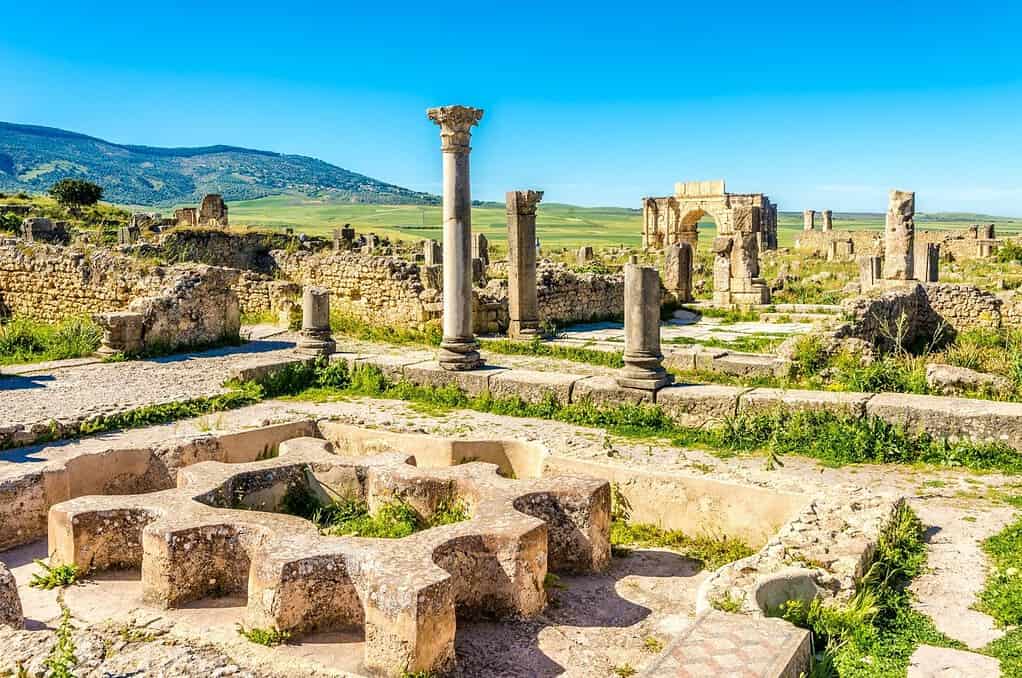 Roman ruins of Volubilis
Day 7 – 0km » Chefchaouen (free day)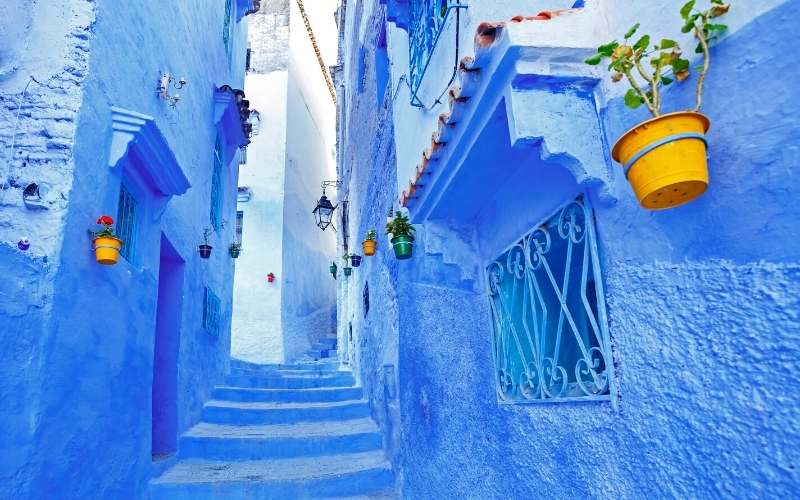 Chefchaouen
Day 8 – 160km » Chefchaouen – Tetouan – Tanger
Tetouan
Tetouan City Tour in the morning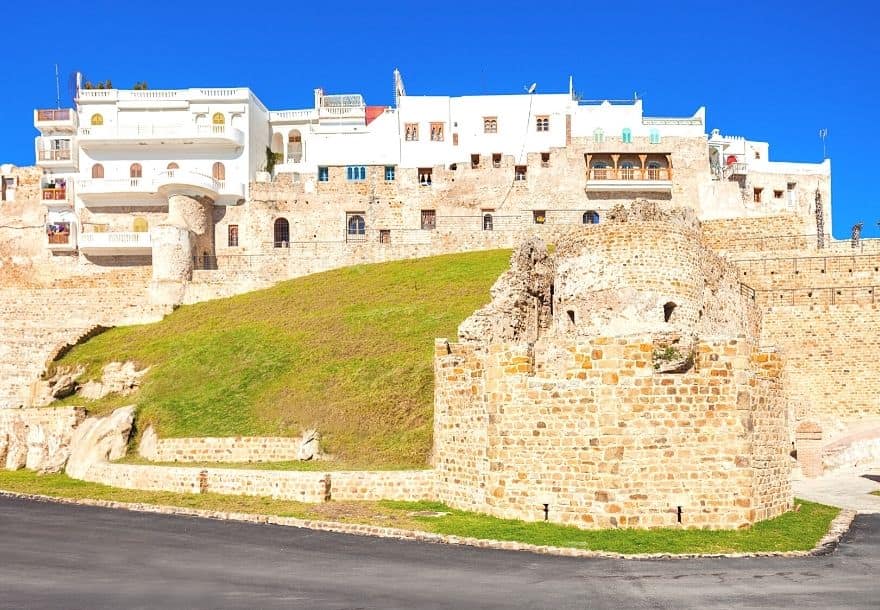 Tanger
Tanger City Tour in the afternoon
Day 9 – 250km » Tanger – Rabat City Tour in the afternoon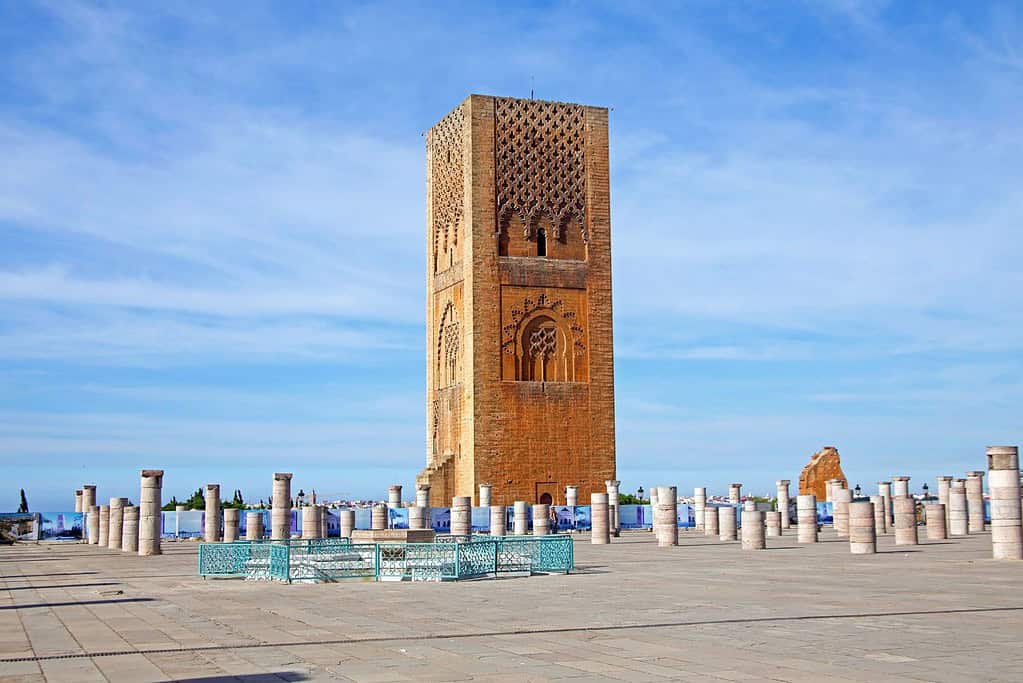 Rabat
Day 10 – 196km » Rabat – Hassan II Mosque in Casablanca – Azemmour- El Jadida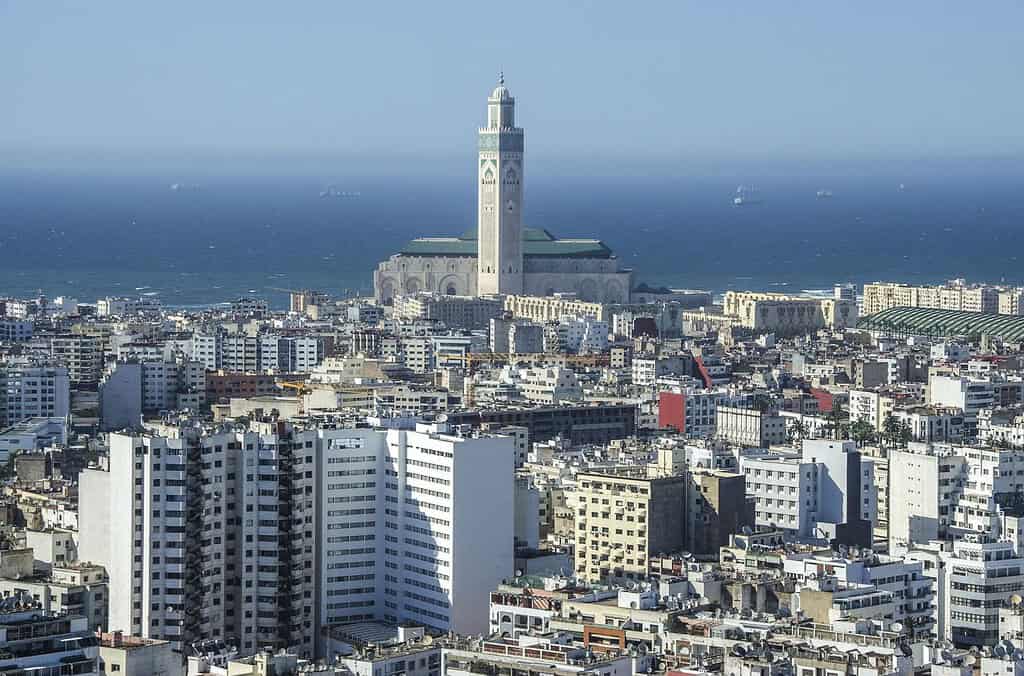 Casablanca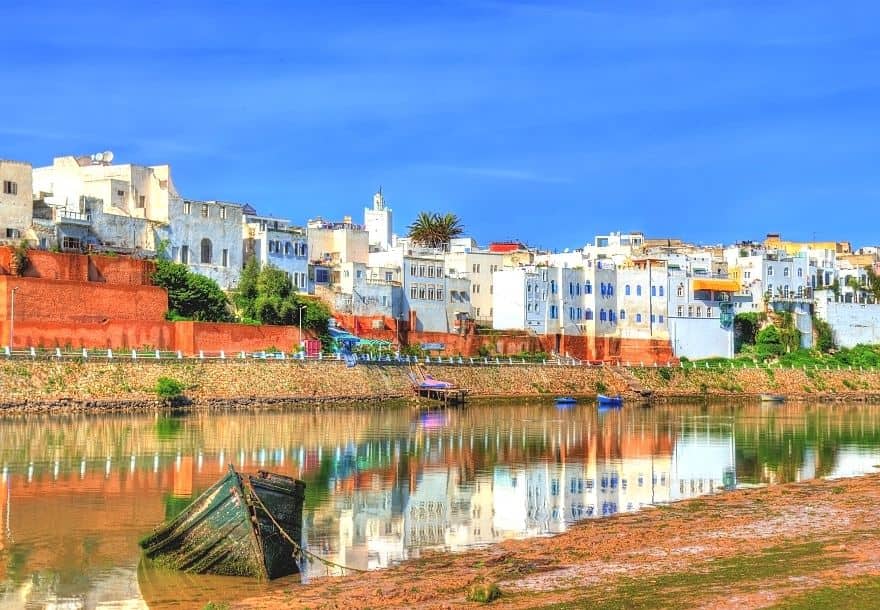 Azemmour
Day 11 – 268km » El Jadida City Tour – Safi – Essaouira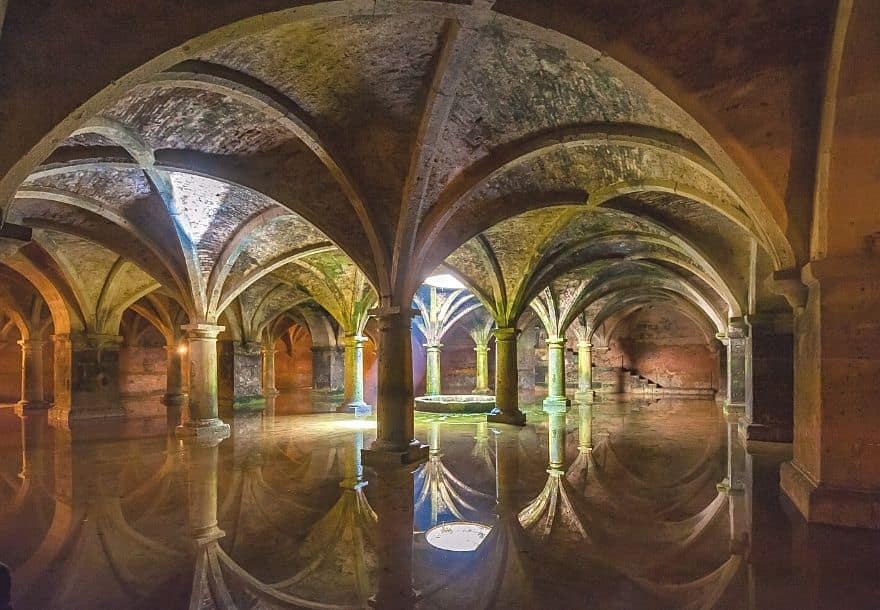 El Jadida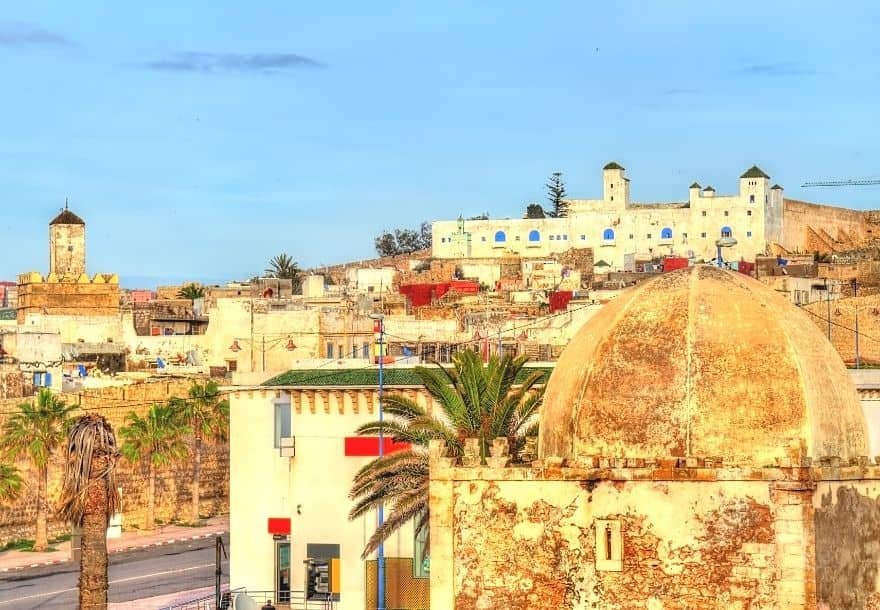 Safi
Day 12 – 185km » Essaouira (free day) – transfer to Marrakech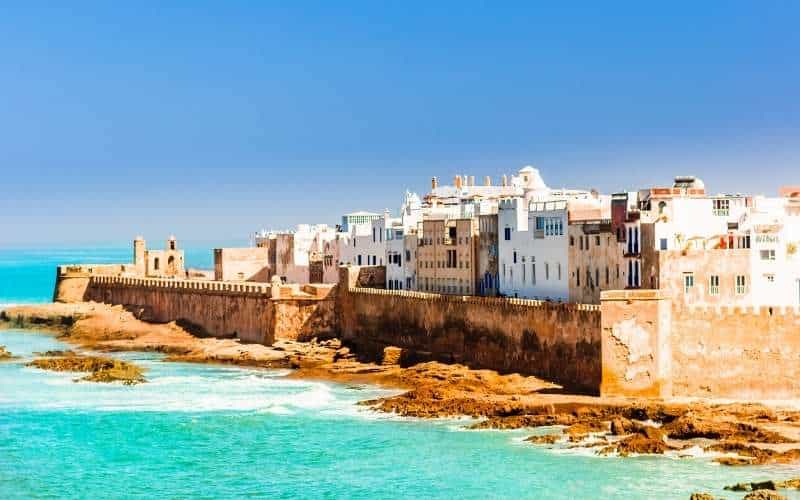 Essaouira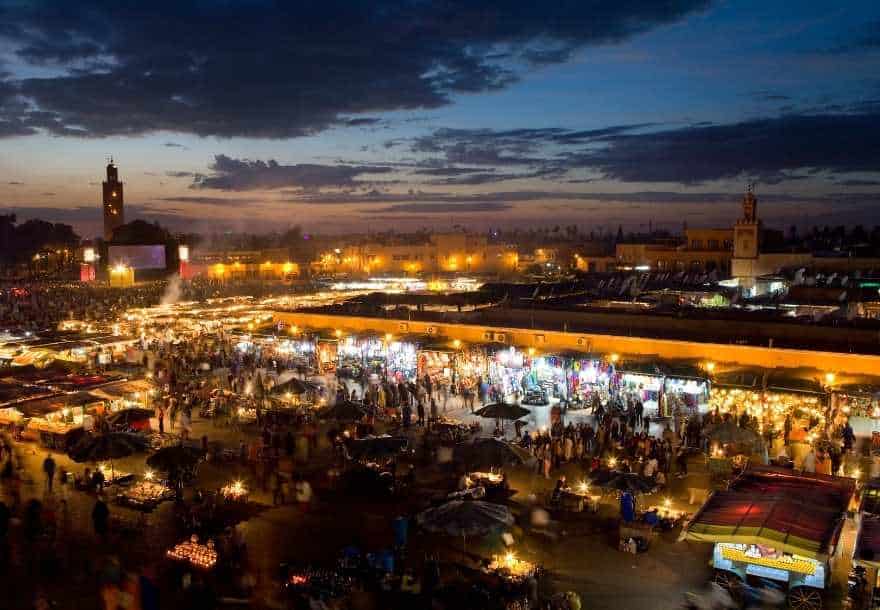 Return to Marrakech
Returning to Marrakech is the last stage of your trip, and you'll be excited to go back home and tell your friends and family about traveling in Morocco.
Our staff will drop you off at a place of choice in Marrakech. You can be delivered at a riad, hotel, train station or the airport if your flight is late at night.
If you want we can book your last nights in Marrakech for you. All our tours are fully customizable, and you can also select to get airport transfers and the last nights included within the same travel package.
Optional while booking:
Hotel transfer with Airport drop off;
Nights in Marrakech;
Activities, excursions, and day-trips.