17 days Iran itinerary with detailed historical description, and photo gallery for our holiday package Iran Persian Paradise Tour. Iran is an amazing country and full of beautiful places. On this page, we list the top Iran tourist attractions for that specific trip. This Iran 17 days itinerary displays the program of our private services to travel from Shiraz to Tehran trip through Qeshm Island, visiting Shiraz, Persepolis, Naqsh-e Rostam, Pasargad, Kashan, Jahrom, Hengam Island, Hormuz Island, Minab, Bam, Kalut Shahdad Desert, Kerman, Rageh Canyon, Meymand, Saryazd, Yazd, Meybod, Chak-Chak, Kharanaq, Isfahan, Abyaneh, Kashan, Maranjab Desert, Nushabad, Qom, and Tehran. Our Iran tours are very well designed and have an excellent selection to offer you the best adventure holidays of your life.
17-Day Iran Tour Persia Paradise – Shiraz to Tehran with Persian Gulf
| Number of people | 3-star hotel | 4-star hotel | 5-star hotel |
| --- | --- | --- | --- |
| 1 person | 1880€ | 2078€ | 2684€ |
| 2 person | 1337€ | 1531€ | 2177€ |
Includes: Iranian visa application and reference nº for VOA, skip the line at the airport. Iranian travel insurance. Meet and greet at the airport and private transfer to your hotel. All transportation in a private car with a driver. Boat from Bandar-e Abbas to Qeshm Island. Boat excursion from Qeshm Island to Hengam Island. Boat from Qeshm Island to Hormuz Island. All accommodation in 3-star hotels (upgrade to 4-star and upgrade to 5-star available). Half-board tour package (breakfast and dinner). Admission fees to museums and monuments.
Iran 17 days itinerary
Day 1 » Meet at Shahid Dastgheyb International Airport (SYZ) » Transfer to your hotel – Shiraz city afternoon visit (depending on your arrival time).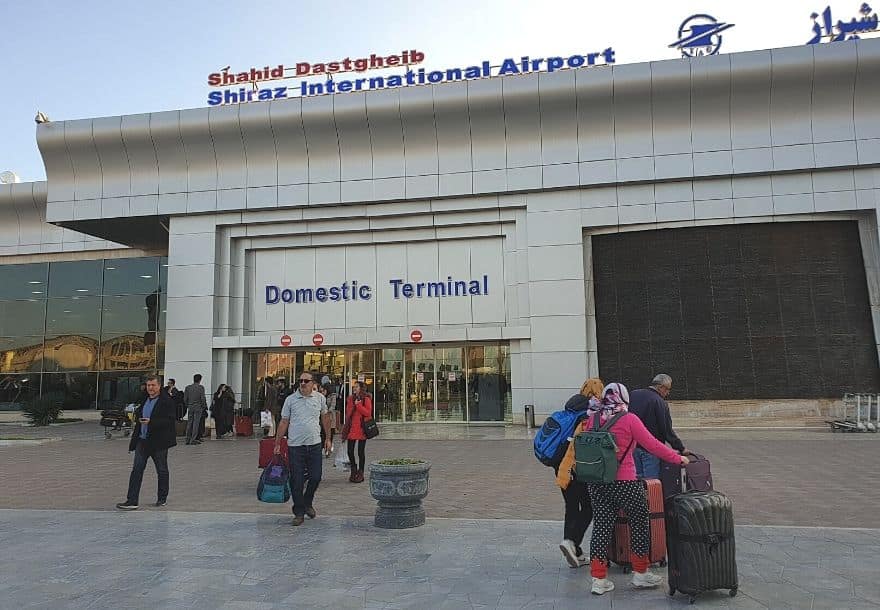 Shiraz International Airport
Shiraz International airport you will have to deliver the papers we sent to your Client Area: Iranian visa reference number, the Iranian travel, medical insurance, and our agency voucher.
After paying for your visa and have all been checked, you go to the passport control area to be able to pass into the arrivals gate where our staff will be waiting for you with a paper with your name written or RJ Travel logo. Welcome to Iran!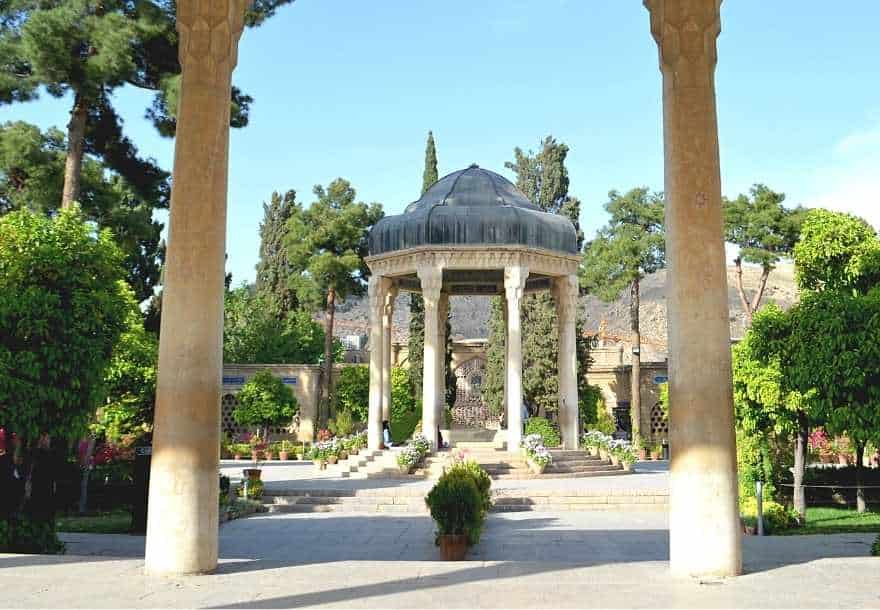 Shiraz
After the airport and depending on your arrival time, you will have the chance of visiting a site that represents the soul of the Shirazi people, and the mood of many Iranians as well.
You will visit the Mausoleum of Hafez, a famous 14th-century Iranian poet: This calm mausoleum was designed by the Frenchman André Godard. The park and garden complex is also very pleasant and Iranians meet there in the evening.
If your airplane arrives in the morning, you will explore the bazaar of Shiraz, and also the Regent's Mosque and the fantastic 17th-century Citadel of Karim Khan.
Day 2 » Shiraz morning visit » Persepolis » Naqsh-e Rostam » Pasargad » Shiraz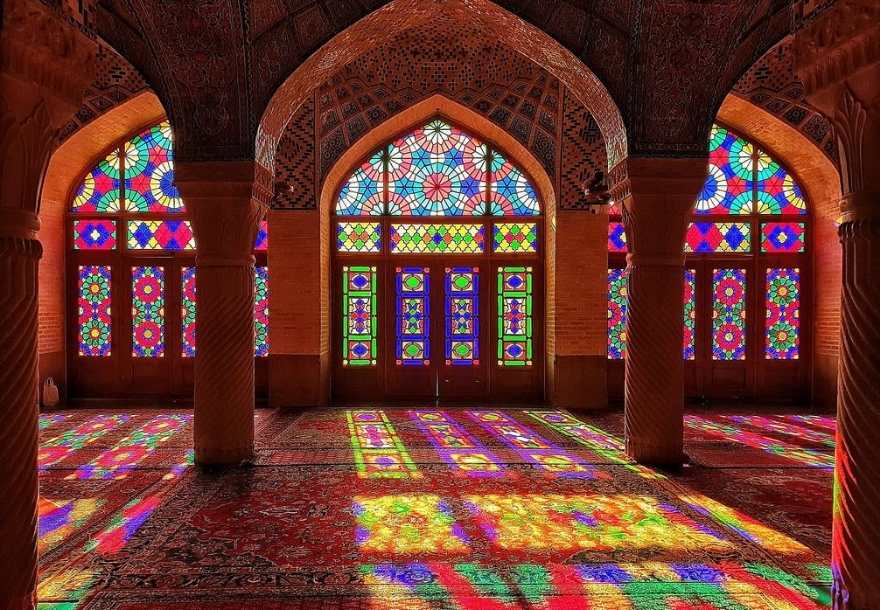 Shiraz
Shiraz is one of the most famous cities in Iran, and one of the unmissable destinations while on holidays in Iran.
Shiraz is the romantic city par excellence. Here, we are not talking about economics, crisis, or geopolitics, we are talking more about poetry, flowers, and soft songs.
In Shiraz, mosques are covered in pink and blue windows, parks and gardens are perfumed with the fragrance of orange trees and roses. Not to mention religion, Shiraz naturally calls for meditation and inner reflection.
During the morning visit to Shiraz, you will visit Nasir-Ol-Molk Mosque also known as the pink mosque.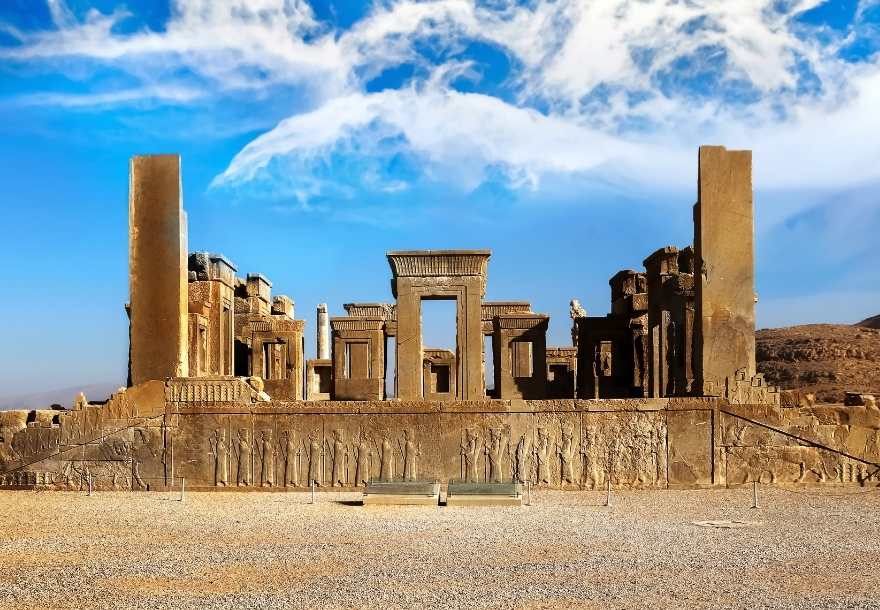 Persepolis
Persepolis is a prime archaeological site and the reason why many people decide to visit Iran.
Persepolis is one of the most fascinating places in Iran and, we dare to say, in the entire world. Grandiose and mysterious at the same time, more than one visitor will be amazed by this symbol of the diversity and the power of the Persian kingdom.
Persepolis is the very symbol of the diversity of the Persian kingdom: built by workers from all the provinces of the Empire, we find various architectural and artistic influences. Built during the reign of three kings, Darius 1 st , his son and his little son, Persepolis is a symbolic place of the power of the Persian Empire.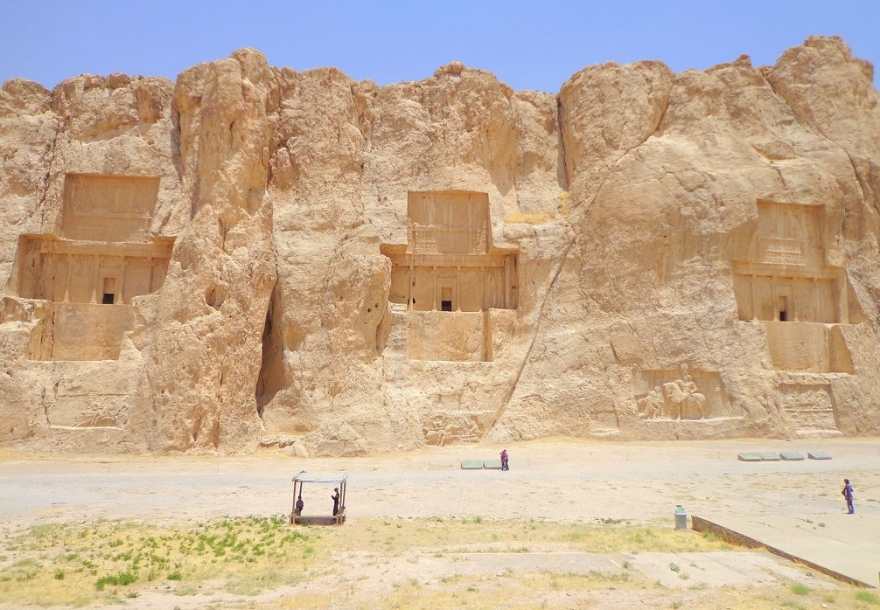 Naqsh-e Rostam
Naqsh-e Rostam is a wonderful and charming ancient site in Fars province. This rocky tourist attraction is located a few kilometers from Persepolis and near the city of Shiraz. You will visit one of the jewels of the archaeological sites in Iran that was in reality, a holy place in pre-Islamic times.
The name of the site relates to Rostam, an ancient Persia mythological hero. Naqsh-e Rostam has four ancient tombs sculpted by the Achaemenids in the form of a cross, midway up the rocky hill, facing five magnificent Sassanid bas-reliefs.
Naqsh-e Rostam is one of the most impressive sites in Iran and you will have the chance of exploring.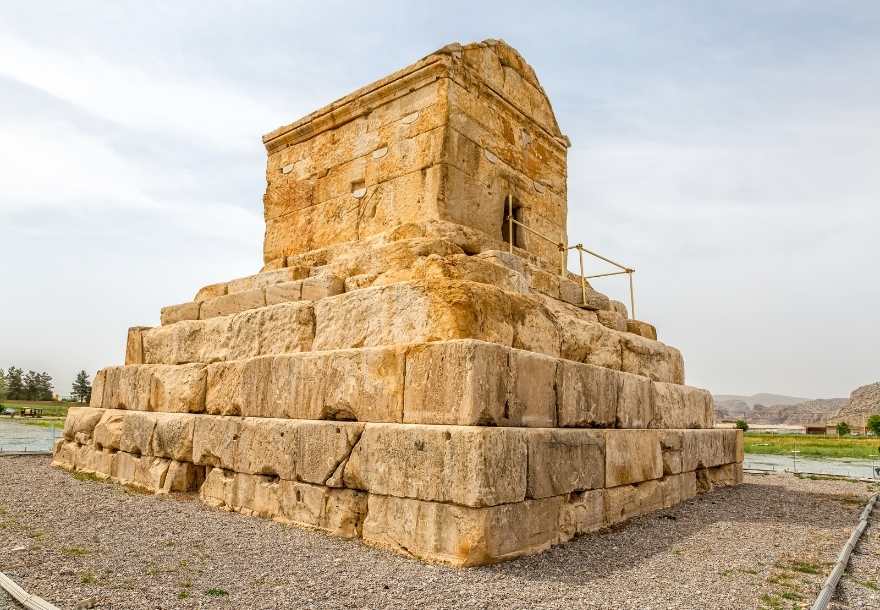 Pasargadae
Pasargadae archaeological complex dates back to the 6th century BC, at the time of Cyrus II the Great, the creator of the Achaemenids dynasty.
Apart from the ancient city ruins and the fortress on the nearby hill, you can admire the massive mausoleum of Cyrus II the Great.
When Alexander the Great captured Persia, he visited Pasargadae and in respect for the king, he commanded its renovation.
Day 3 » Shiraz » Drive to Bandar-e Abbas via Jahrom » Boat to Qeshm island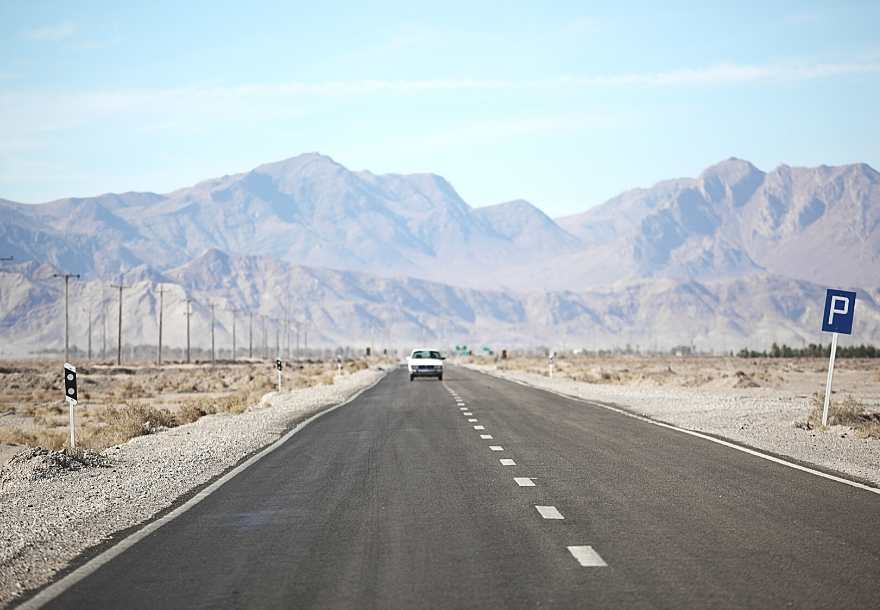 Zagros and Persian Gulf
Today is a long day, as we mostly drive between Shiraz and the city of Bandar-e Abbas in the Persian Gulf.
You will cross the Zagros mountains, on an epic road trip in Iran, and down the mountains, while getting closer to Bandar-e Abbas, you will feel the humid and warm weather, typical from the coastal areas of the Gulf.
We do not have much time to visit Jahrom properly, but possibly and depending on how early we leave Shiraz, we will be able to visit the Ghadamgah fire temple and enjoy a panoramic view of the city from above.
By the end of the day, we will cross to Qeshm Island by boat from the ferry terminal at Eskeleye Bandare Pol. Our hotel is in Laft village where we will have dinner also.
Day 4 » Visit islands of Qeshm and Hengam » Qeshm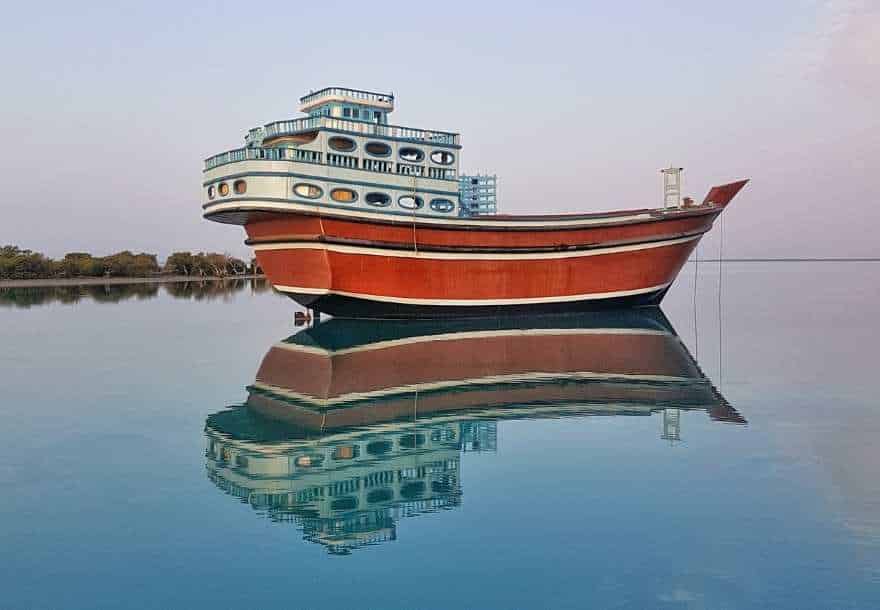 Qeshm Island
Qeshm Island is a natural wonder of Iran, and a mix of lunar landscapes, fabulous wildlife refuge, desert lands, rich and particular Gulf society, and a peculiar mix of cultures and traditions.
After arriving on the island in the evening, after your 550 km road trip from Shiraz, you will rest in one local guesthouse to get ready to travel the next day.
No one stays indifferent after exploring Qeshm Island beat attractions. You will have the chance to visit the Stars Valle, the Chakooh Canyon, and the Qeshm Portuguese Castle built back in 1507.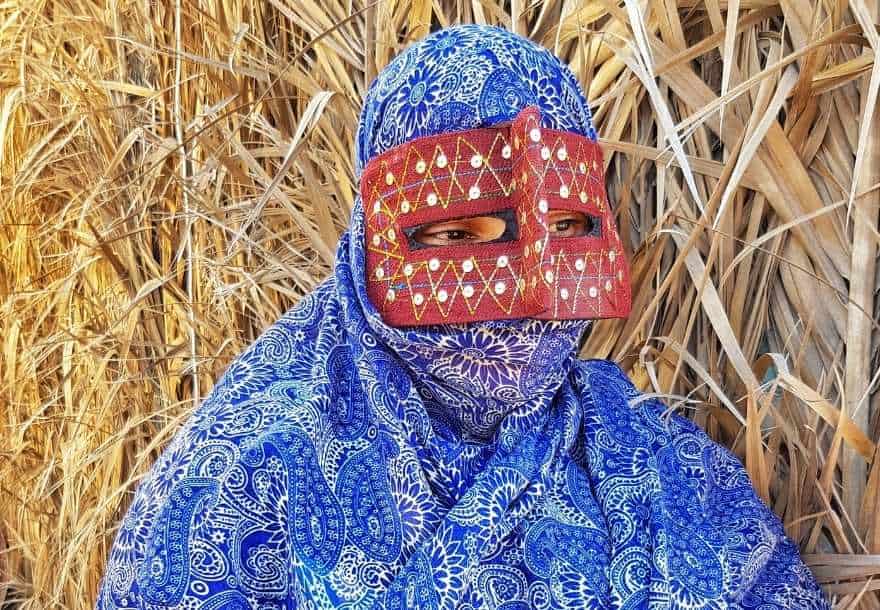 Hengam Island
Hengam Island is one of the most special places to visit while in Qeshm, due to its incredible particular nature and specific bandari culture.
The main sights of Hengam Island are the harbor buildings, the old Portuguese shipwrecks, and turtles, dolphins, and sharks sighting.
One of the most interesting features about this place is the battoulah masks worn by bandari women. This now-traditional face mask was originally used 500 years ago by Portuguese women for sun protection.
From Qeshm Island you will join a boat excursion that will take you around Hengam to spot dolphins, and you will have about 1 hour to explore Hengam markets and try one of the local home-made pastries.
Day 5 » Qeshm » Hormuz Island » Boat to Bandar-e Abbas » Minab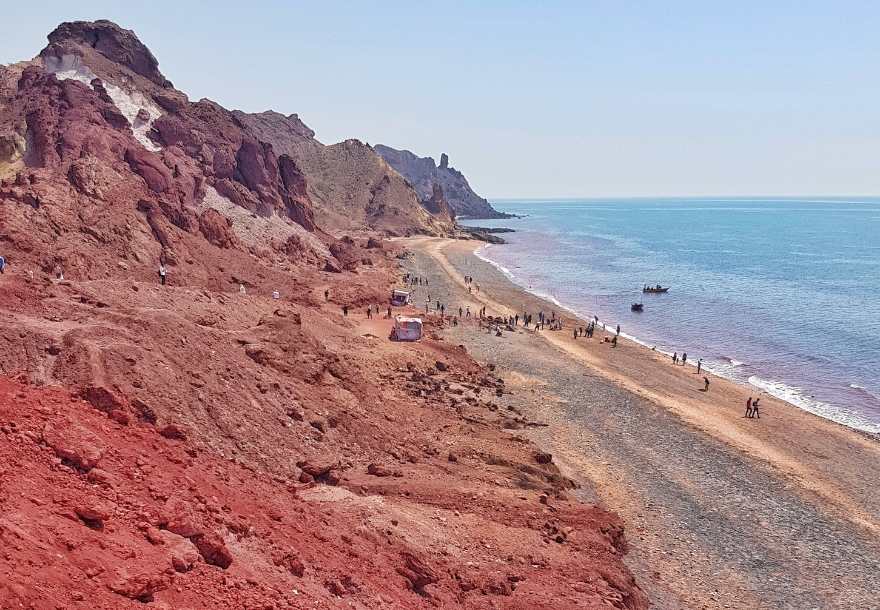 Hormuz Island
Hormuz Island is a place many people can really believe is real. Often called the rainbow island, Hormuz features incredible natural sights and the interesting 15th-century Portuguese fortress.
After taking a boat from Qeshm island, you will go on an excursion and full tour of the island and visiting its most special places such as the Rainbow Valley, the Red beach, and the Valley of the Statues.
Also, you will have the chance of visiting the castle before going back to Qeshm to get another boat back to the Iran mainland. The Fort of Our Lady of the Conception, also called the Portuguese Castle, is a red stone fortification, and one of many surviving monuments of Portuguese colonial rule in the Persian Gulf 500-hundred-years ago.
Day 6 » Minab market » Drive to Bam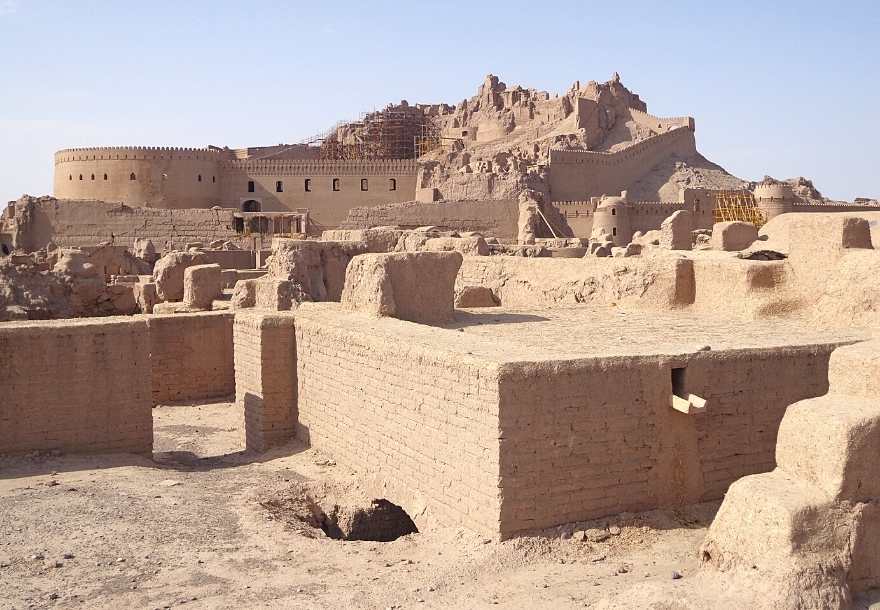 Bam
Bam is a magnificent mud-built city, and its ancient citadel dates back 2000 years ago.
Although there was a massive earthquake massively destroying the site, still the archeological complex looks astonishing.
You will be able to explore this place, where its most recent building was build during the Safavid dynasty, which ruled the region from 1501 to 1722.
This is a prime UNESCO World Heritage site that you will have the chance of visiting during this Iran tour itinerary.
Day 7 » Bam morning visit » Kaluts » Shur salt river » Shahdad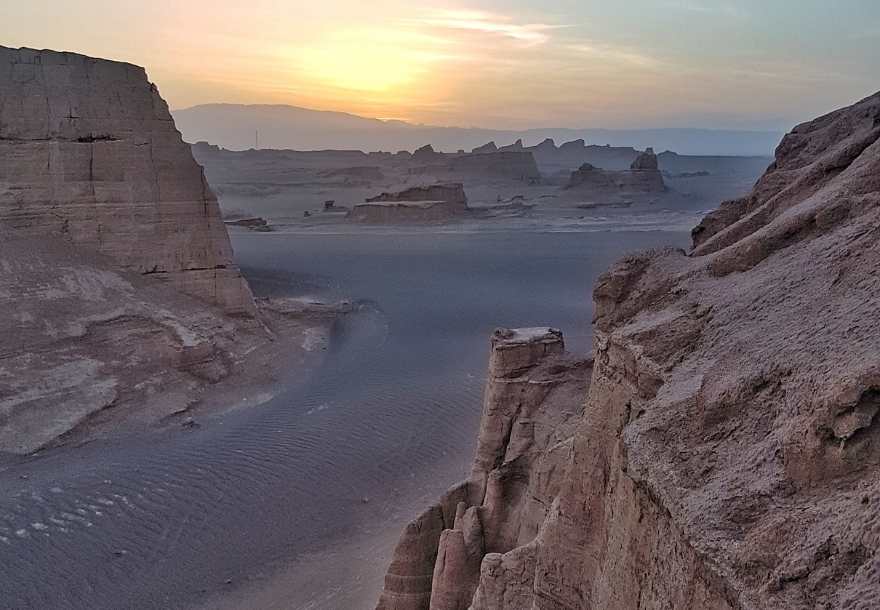 Kaluts desert
One of the 17 days in Iran tour highlights will undoubtedly be to visit the Dasht-e Lut desert.
The Kalut desert is known as the san-castle mountains of Iran, and its unique natural formations are breathtaking.
These peculiar desert structures are shaped by ages of extreme water and soil erosion.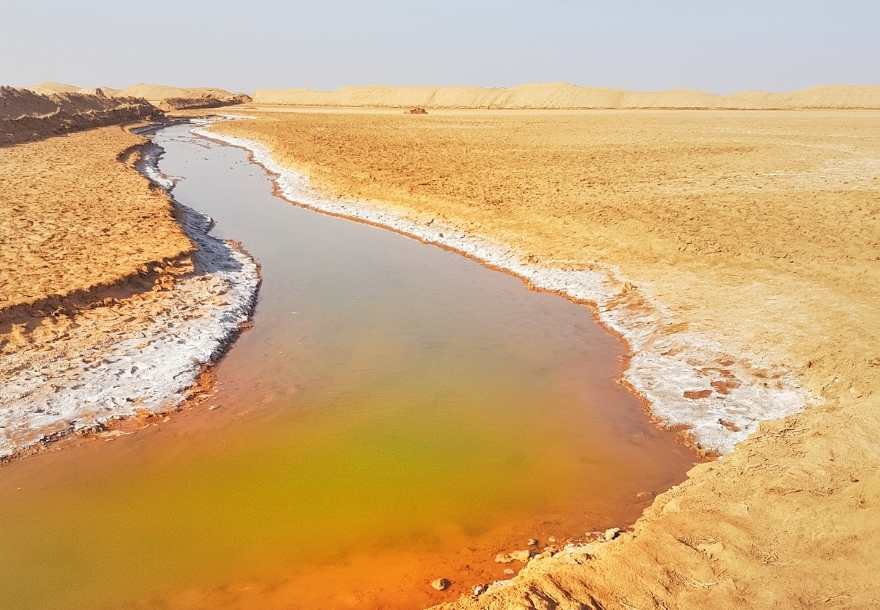 Shur salt river
The interesting Shur river crosses the arid Dasht-e Lut desert and this is the actual section of the river that you will visit during your trip to the Kaluts.
The Shur River is a river in the south part Iran that runs into the Gulf of Oman in near Qeshm Island.
Very interesting to see the white colored river banks of the river, and the strange yellow, greenish tons of water, crossing and flowing in the desert.
Day 8 » Shahdad » Kerman morning visit » Rageh Canyon » Rafsanjan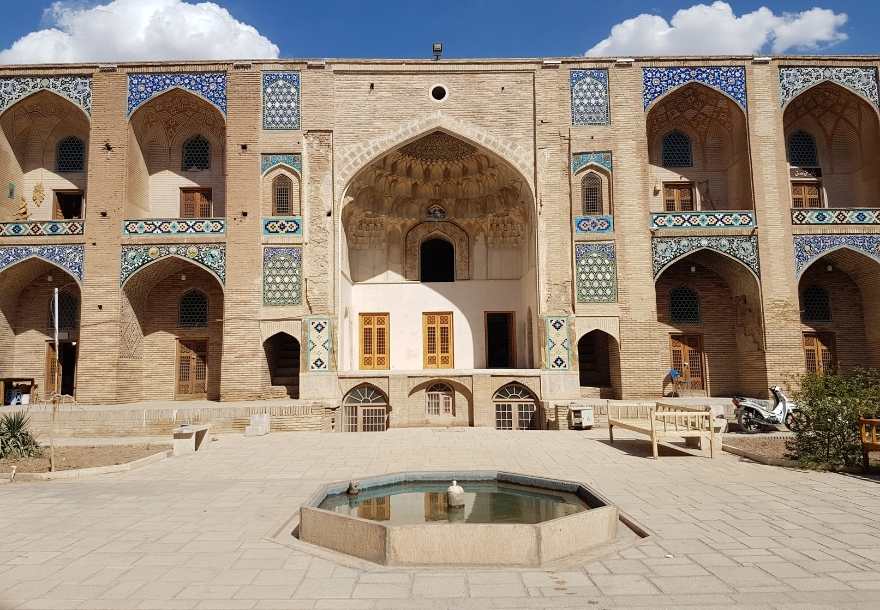 Kerman
Kerman is the capital city of the Iranian Kerman Province, and it has a few special monuments and attractions worth a visit.
You will visit the city's Ganjali Khan Safavid-era building complex, located in the old center. In this complex, you will visit the caravanserais, the hammams, the huge bazaar, and other interesting buildings.
Kerman city center and its ancient buildings truly present Iran Safavid architecture and its amazing market culture. you will feel this when you visit the bazaar.
Day 9 » Rafsanjan » Meymand rock village » Saryazd Castle » Yazd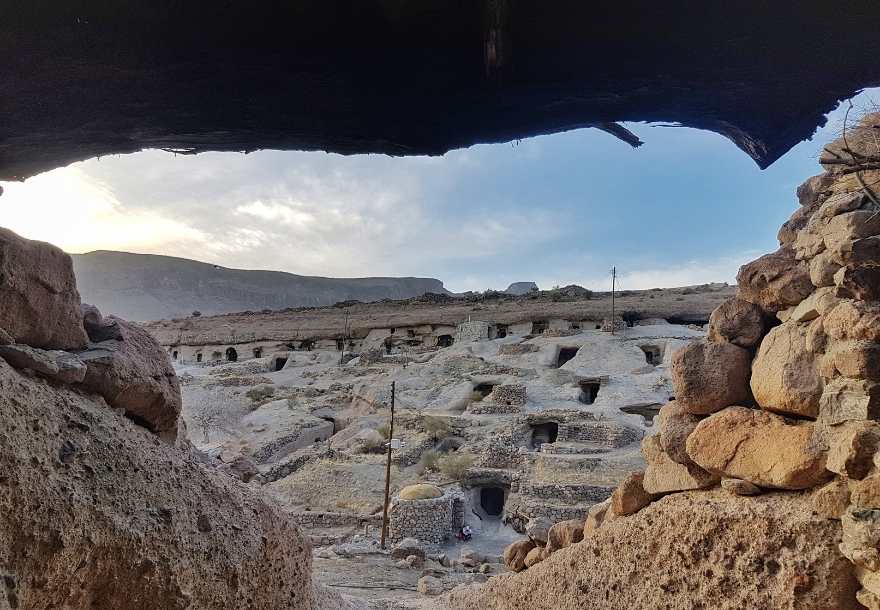 Meymand
Meymand is a a incredible and surreal village, where all the houses are digged into the ground, on the rock.
This village is included in UNESCO World Heritage site list due to its cultural and historical importance.
Many of the residents live in more than 300 hand-dug houses amid the rocks, some of which have been inhabited for as long as 3,000 years.
You will have the chance to visit one of these houses and drink tea with the locals and enjoy a true cave house in Iran.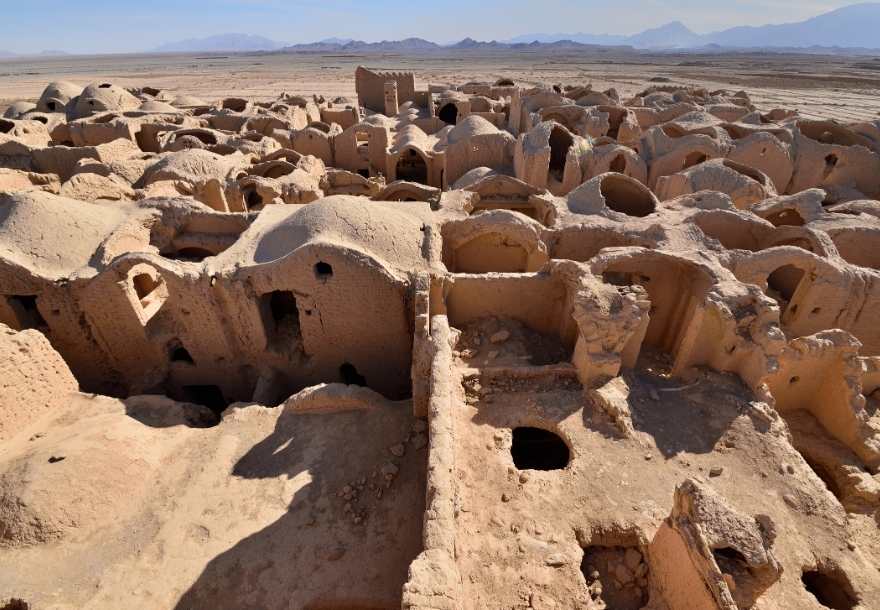 Saryazd
Just a 50 km distance to Yazd, you will visit the Sar Yazd fortress. This is a Sassanid castle and an important city and Zoroastrian religious complex center during that time.
The incredible mud-built Sar Yazd Castle dates back to the 3rd and 7th centuries AD and is entirely constructed of adobe, a building substance made from earth and organic materials.
Explore this ancient castle, and discover its hidden alleys and picturesque tunnels that we inhabited and had a busy life.
Day 10 » Yazd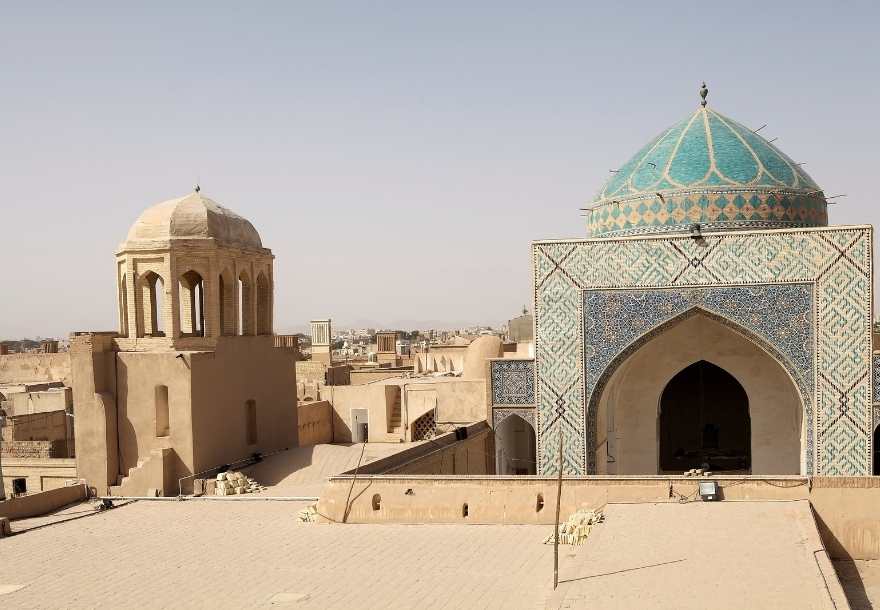 Yazd
Yazd is the heart of Zoroastrianism in the country and is home to several religious and historical places.
The most beautiful Iranian desert town city dated from the 5th-century CE and was described as the "noble city of Yazd" by Marco Polo.
To visit Yazd is an authentic journey back in time, where you will have the chance to explore its old and charming streets within the old city walls.
Adjacent to the Spice and Silk Roads the City of Yazd is one of the highlights of your travel to Iran.
Day 11 » Yazd » Meybod » Chak-Chak » Kharanaq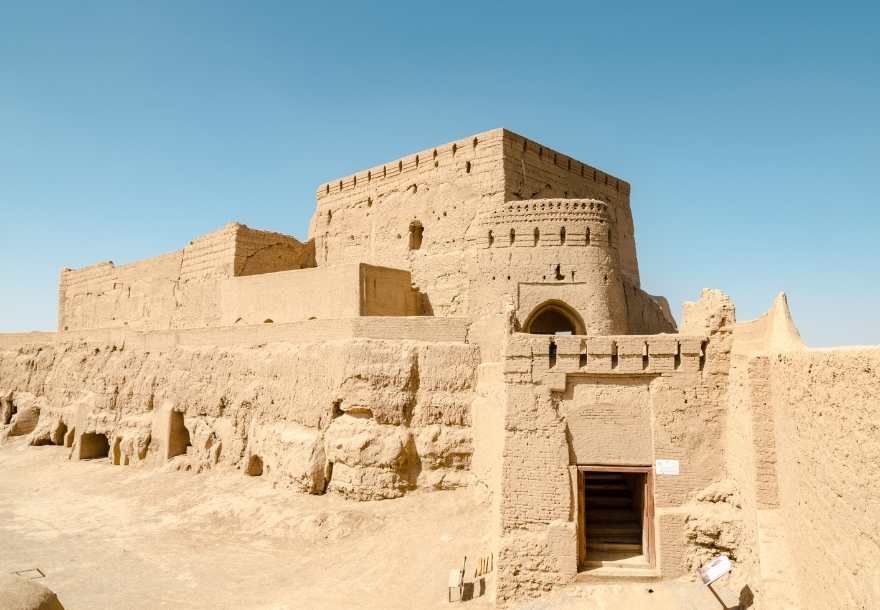 Meybod
Meybod is a city located near Yazd, and that you will have the chance of visiting the Narin Castle, the Meybod Chapar Khaneh, and the interesting pigeon's tower.
Meybod is a sprawling mud-brick town that is at least 1800 years old. You will love your brief passage in this place as you can have a different perspective of Yazd Province.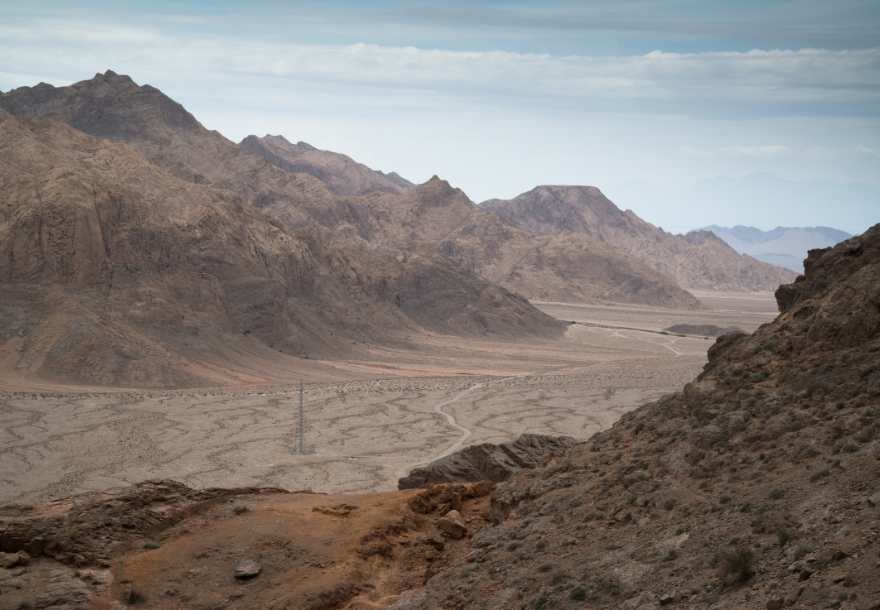 Chak-Chak
Pir'e Sabz, also known as Chak Chak (meaning "Drip Drip" in Persian), is an important Zoroastrian Fire Temple and pilgrimage site built underneath a rocky cliff facing the desert of central Iran.
It's amazing as you will approach this place, in the middle of the desert, in an arid environment and rocky mountains, Chak-Chak appears as a small little oasis.
You can go up the many stairs until you reach the main temple, and actually see water dropping from the rock wall inside a cave, turned into a sacred Zoroastrian chapel where thousands of people gather every year.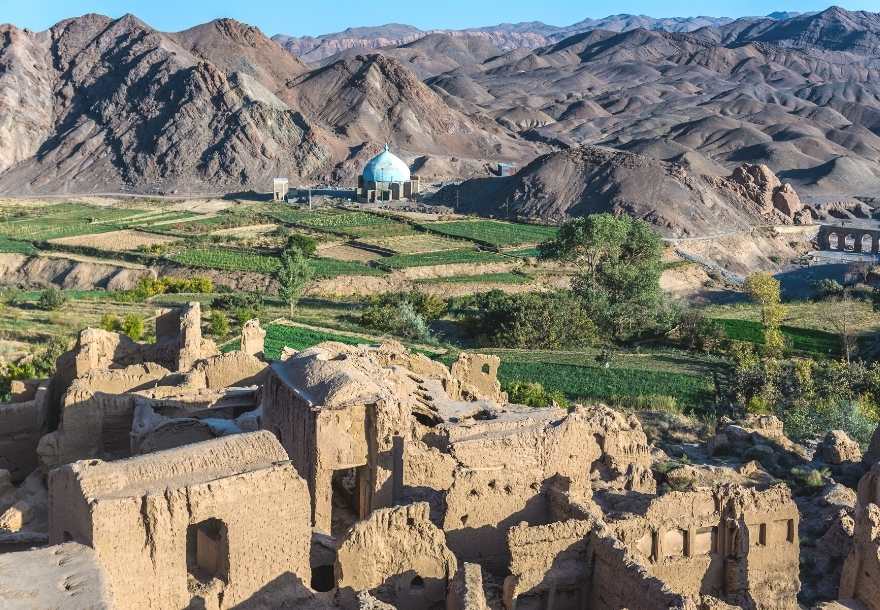 Kharanaq
Kharanaq is an ancient abandoned mud village built between a green oasis and arid desert mountains.
Many of the houses inside Kharanaq are actually more than 1000 years old, yet the city's existence dates back to 4000 years ago.
Local people are very friendly and while exploring Kharanaq you will encounter welcoming locals, always ready to engage in small conversation with travelers. Don't be surprised if you get invited for tea at someone's house. And you know what? You should accept and enjoy Iranian hospitality.
You will spend the night inside an authentic ancient caravanserai converted into an eco-lodge.
Day 12 » Kharanagh » Nain » Isfahan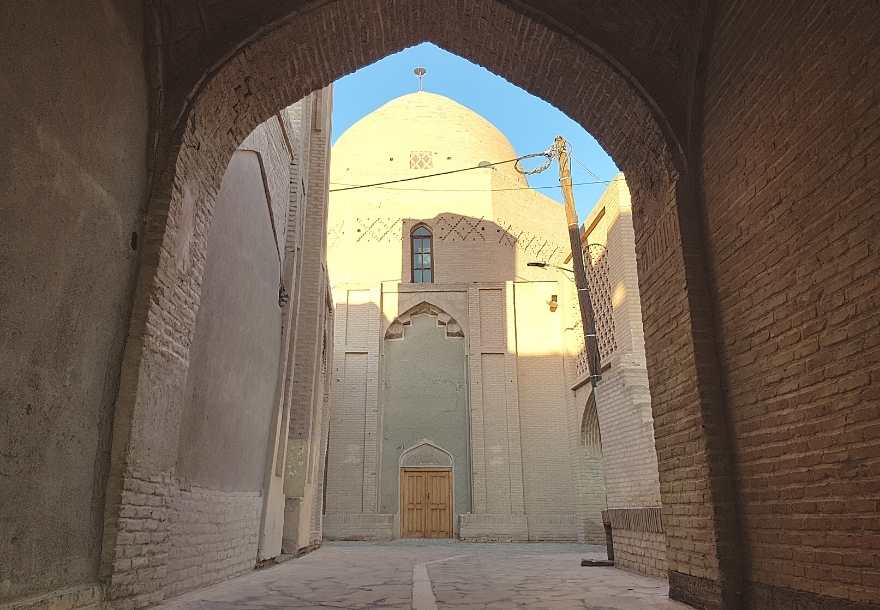 Nain
You will visit the inside of the impressive Jameh Mosque of Nain. This incredible historical building, not only has beautiful architecture but in fact, it is one of the oldest mosques in Iran.
Notwithstanding being built hundreds of years ago, the Jameh Mosque of Nain still maintains its initial architecture.
You will explore the mosque, and have a concise guided visit to the complex, in order to fully understand its importance.
Day 13 » Isfahan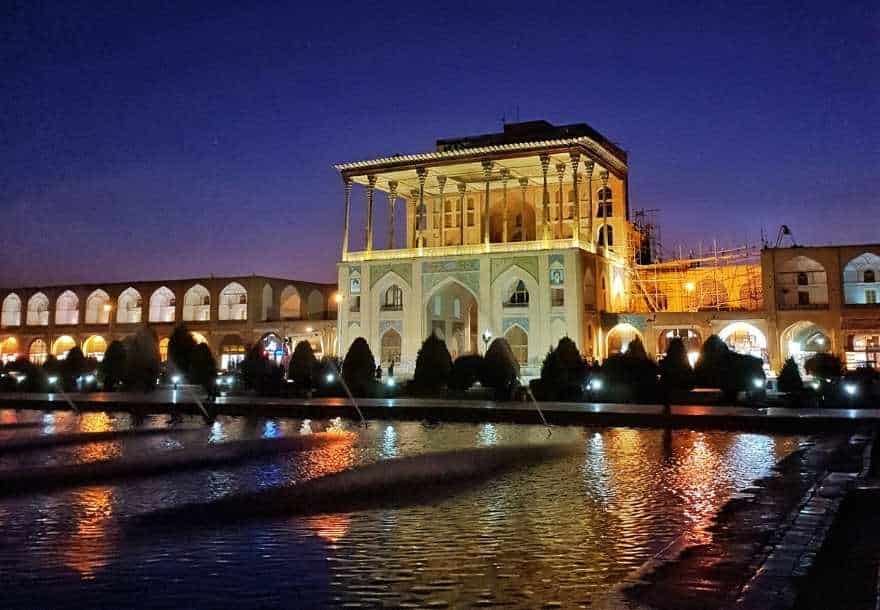 Isfahan
Isfahan is one of the reasons why many people visit Iran. This Persian wonder city attracts visitors due to its variety of monuments, and you will have the chance of having a full day visit or Isfahan.
Although Isfahan is the third-largest city in the country after Tehran and Mashhad, you will visit its most important attractions and feel like you are not stressed, since the city maintains an inner spirituality and calmness inherent to its energy and local habitants.
One of Isfahan's highlights is the magnificent Naqsh-e Jahan Square, the largest historic public square in the world. The square comprises two mosques, a palace, and a bazaar where you can shop for your Iranian souvenirs.
Day 14 » Isfahan » Abyaneh » Kashan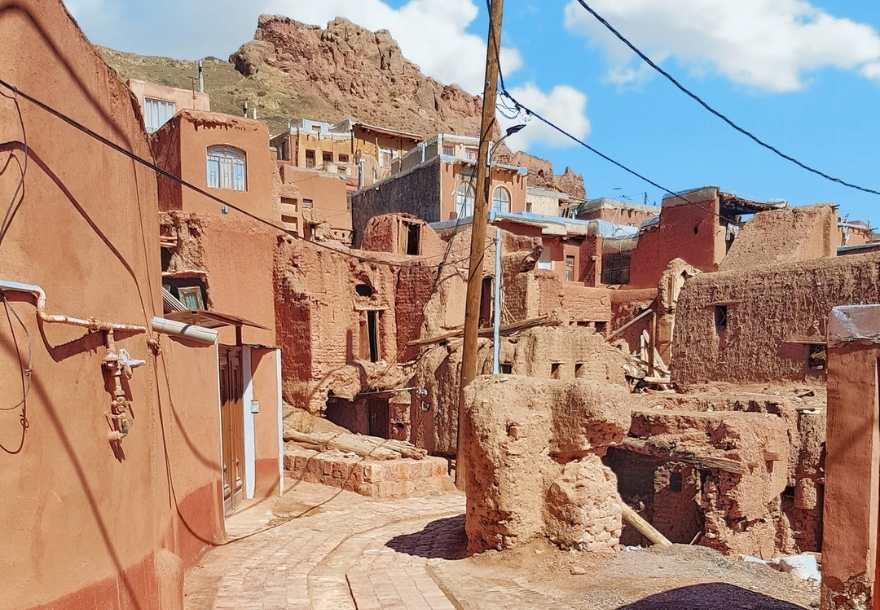 Abyaneh
Abyaneh is a spectacular and picturesque small mountain village that surprises visitors due to its intense red color mud-built houses, women dressed in traditional clothes, and the mausoleum of Bibi Zobeideh.
Abyaneah belongs to the list of most beautiful villages in Iran, and for sure you will enjoy it to the most, and will stay in your travel memoires for ever.
All the houses in Abyaneh are built with dried earth bricks, assembled by water, straw, and soil.
Along the tiny alleys, there are a few souvenir shops that support the local families in terms of becoming self-sufficient running some valuable touristic activities.
Day 15 » Kashan visit » afternoon Maranjab desert 4×4 safari and dinner » Maranjab overnight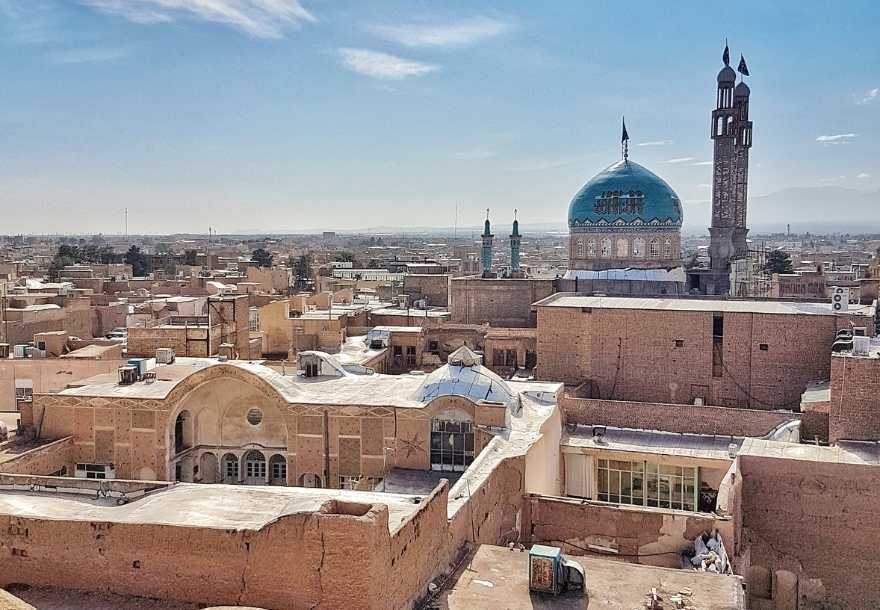 Kashan
Kashan is one of those unmissable Iranian destinations that somehow get out of the main tourist route.
Full of interesting features, Kashan's most famous attractions are its famous noble houses, the Bazaar of Kashan, the amazing Aminoddole caravanserai, the UNESCO World Heritage Site of Fin garden (one of the historical Persian gardens of Iran), and the Sultan Amir Ahmad Bathhouse.
You will also have the chance of visiting the impressive large ancient archeological site of Tepe Sialk.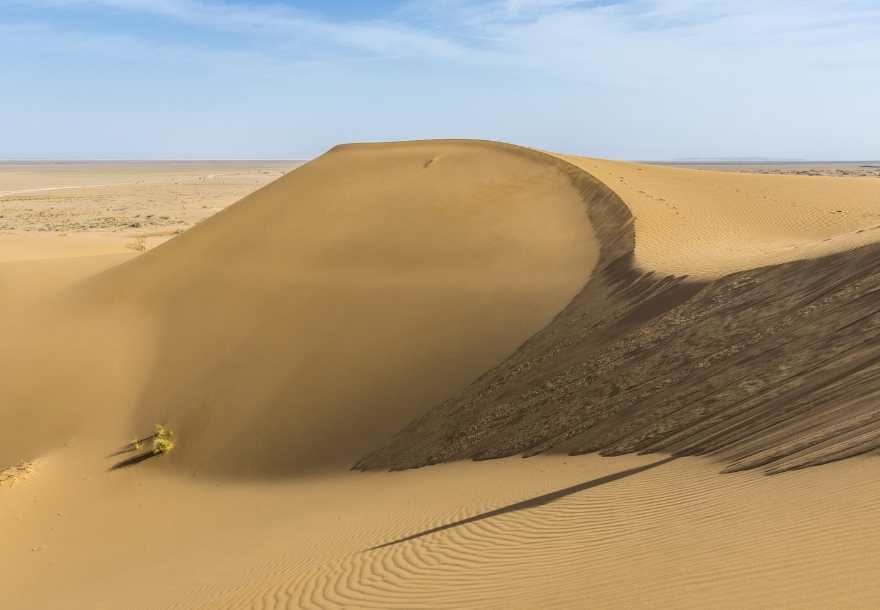 Maranjab desert
Among the most famous desert in Iran, Maranjab is easily reached from Yazd.
You will sleep in a local desert camp or ancient caravanserai (depending on availability).
Many Iranians come to this part of the Marajnab for adventure activities such as 4X4 desert safaris, spend the night under the starry sky, and small weekend family excursions.
Day 16 » Kashan » 1,500-year-old Nushabad Underground City » Qom holy city » Tehran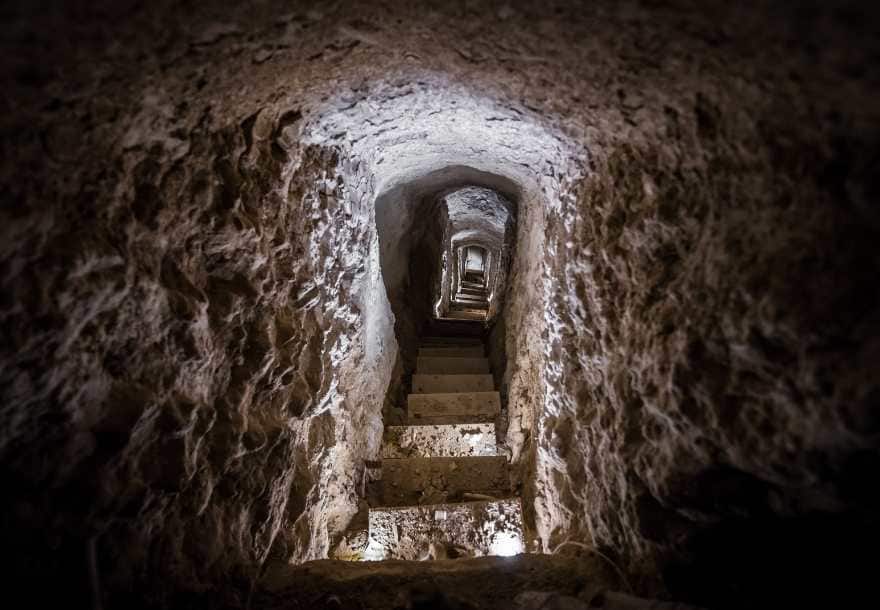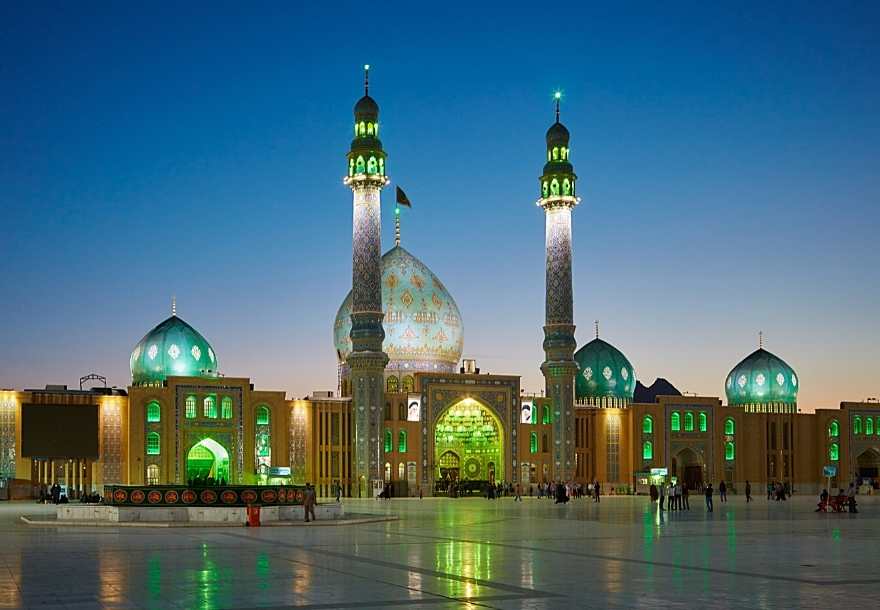 Qom
After Mashhad, the holy city of Qom is the second most religious city in Iran where you will have the opportunity of visit inside the shrine of Fatimah bint Musa, the sister of Imam Ali ibn Musa Rida.
The incredible architecture of this religious complex is astonishing, and no one get indifferent in visiting an Iranian holy site, to deep its knowledge about the Iranian religious doctrine and beliefs.
Qom is the largest center for Shi'a scholarship in the world, and is a significant destination of pilgrimage, with around twenty million pilgrims visiting the city every year.
While on the streets of Qom, taste the traditional confectionery called sohan, which is a tasty and sweet Persian saffron brittle toffee.
Day 17 » Full day visit of Tehran » Evening departure with transfer to Tehran Imam Khomeini International Airport (IKA)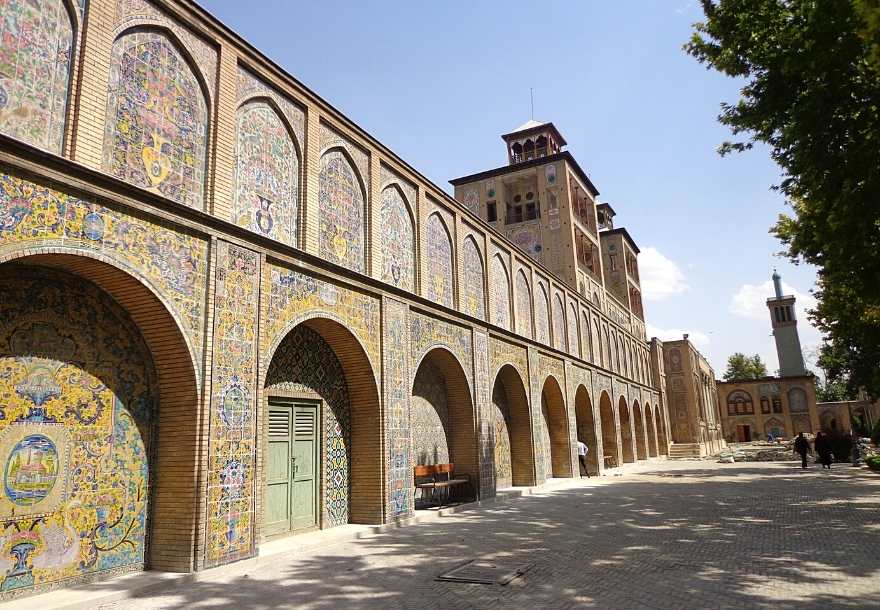 Tehran
Tehran is the capital of Iran and a metropolis with almost 20 million people. Although Tehran's massive size tends to scare most tourists in Iran, the fact is that its historical center does indeed deserve a visit.
You will spend a full day visiting the most famous Tehran attractions such as the Khanat Caravanserai, Tehran Grand Bazar, Golestan Palace (UNESCO site), and the impressive Treasury of National Jewels.
Other not to be missed Tehran sightseeing sites are: Saint Thaddeus Church, Malek Historical House, Imam Jomeh Historic House, Bob Homayoun Traditional Bath, Sardar é Bagh Melli Gate, and the National Museum of Iran.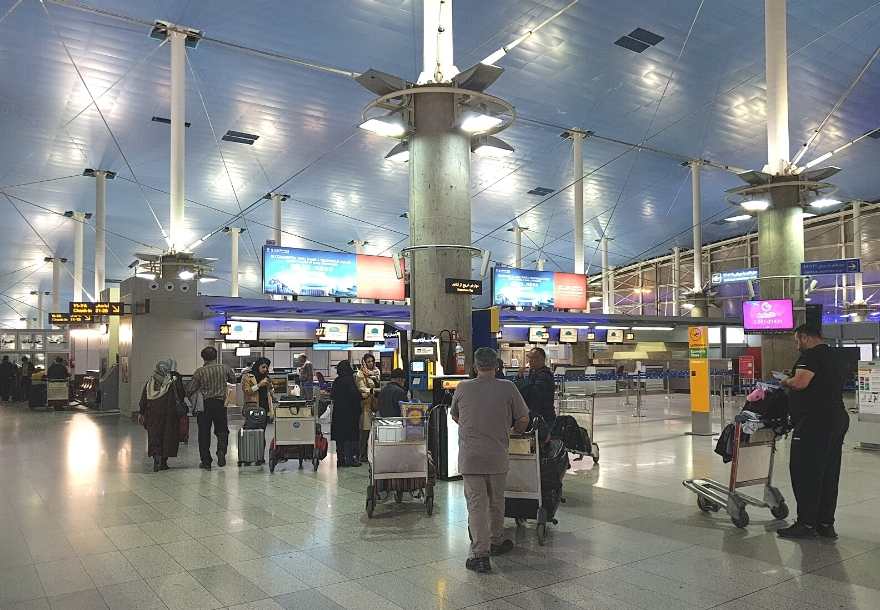 Tehran International Airport
Your day was long and you are ready to take your afternoon or evening flight back home.
Depending on your flight, you will have dinner and transfer to Tehran Imam Khomeini International Airport (IKA). End of our services.
If your flight is due to leave late, we advise you to pay the 15 dollar entrance to the airport private lounge, skip the line passport check, unlimited food and drinks, and a comfortable couch where you can rest wait until the departure time.
The lounge is located just near the check-in area, aside from the normal passport control facilities.