2 days Tehran itinerary with detailed historical description, and photo gallery for our holiday package Iran Arrival Tour for independent travelers. Iran is an amazing country and full of beautiful places. On this page, we list the top Iran tourist attractions for that specific trip. This Tehran 2 days itinerary displays the program of our private services to welcome you to Iran and visit Tehran attractions like Khanat Caravanserai, Saint Thaddeus Church, Tehran Grand Bazar, Malek Historical House, Golestan Palace, Imam Jomeh Historic House, Bob Homayoun Traditional Bath, Sardar é Bagh Melli Gate, National Museum of Iran, and Treasury of National Jewels. Our Iran tours are very well designed and have an excellent selection to offer you the best adventure holidays of your life.
2-Day Iran Arrival Tour for independent travelers
| Number of people | 3-star hotel | 4-star hotel | 5-star hotel |
| --- | --- | --- | --- |
| 1 person | 184€ | 211€ | 263€ |
| 2 persons | 140€ | 166€ | 207€ |
| 3 persons | 120€ | 146€ | 191€ |
| 4 persons | 112€ | 137€ | 178€ |
Includes: Visa reference number for visa on arrival. Iranian travel insurance (mandatory at the airport). Meet and greet at the airport and private transfer to your hotel. 2 nights in Tehran 4-star hotel (upgrade and downgrade available). Half-board tour package (dinner and breakfast). Full-day walking Tehran city tour with an official English-speaking guide. Taxi back to the hotel accompanied by your guide.
Tehran 2 days itinerary
Day 1 » Arrival at Tehran International Airport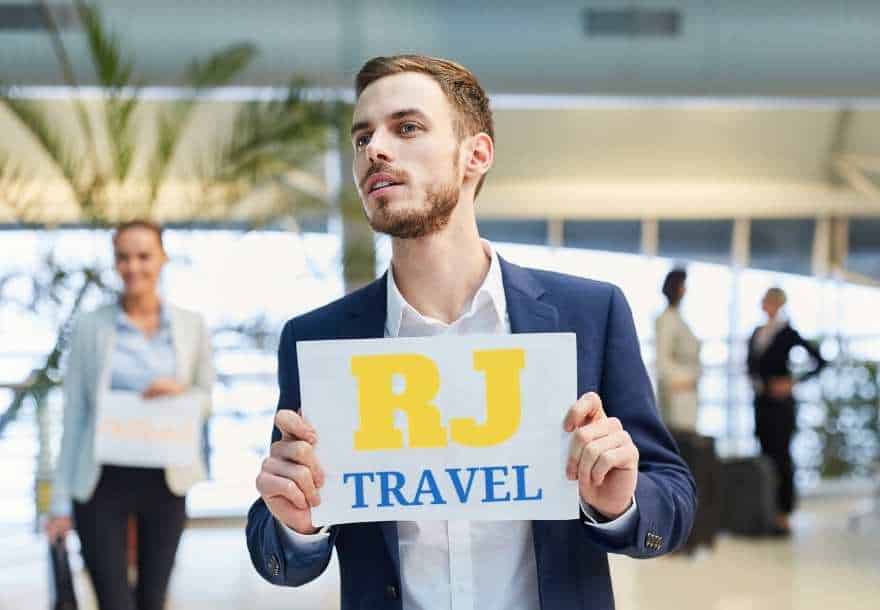 Tehran airport transfer to hotel
Meet and greet at Tehran International Airport and transfer to Ferdowsi Hotel (or similar) in Tehran city center.
At Tehran International airport you will have to deliver the papers we sent to your Client Area: Iranian visa reference number, the Iranian travel, medical insurance, and our agency voucher.
After paying for your visa and have all been checked, you go to the passport control area to be able to pass into the arrivals gate where our staff will be waiting for you with a paper with your name written or the RJ Travel logo. Welcome to Iran!
Tehran city center
Tehran is the capital of Iran and a metropolis with almost 20 million people. Although Tehran's massive size tends to scare most tourists in Iran, the fact is that its historical center does indeed deserve a visit.
If your flight arrives at a decent time, we will include some of Tehran's attractions in the afternoon, so that the next day you can explore the city more calmly.
Dinner at the hotel.
Day 2 » Tehran city tour with a guide
You will spend a full day visiting the most famous Tehran attractions. In the morning after breakfast, your guide will meet you in the hotel to walk to the National Museum of Iran just nearby. After, you will go to the incredible collection of the Treasury of National Jewels. Before visiting the UNESCO site of Golestan Palace, you will and photo of Sardar-e Bagh-e Melli gate, have a quick glimpse of Bob Homayoun Traditional Bath, and visit Imam Jomeh Historic House.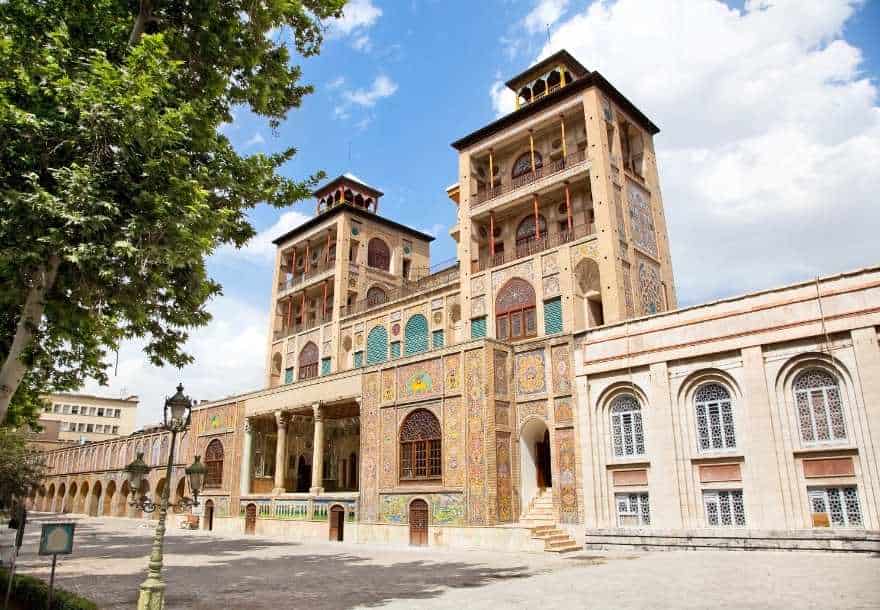 Golestan Palace
The Golestan Palace is the former royal Qajar complex and a UNESCO world heritage site since 2013.
The building complex known as the Golestan is the palace of buildings with some of the oldest buildings in Tehran. The first structures dated from the initial half of the 16th century and were developed by the Savafid leaders. The stronghold was built between 1524 and 1576.
You will visit Golestan Palace in Tehran and be amazed by its special places such as the mirror palace, the Throne room, and several other different museums dedicated to different historical periods of the palace.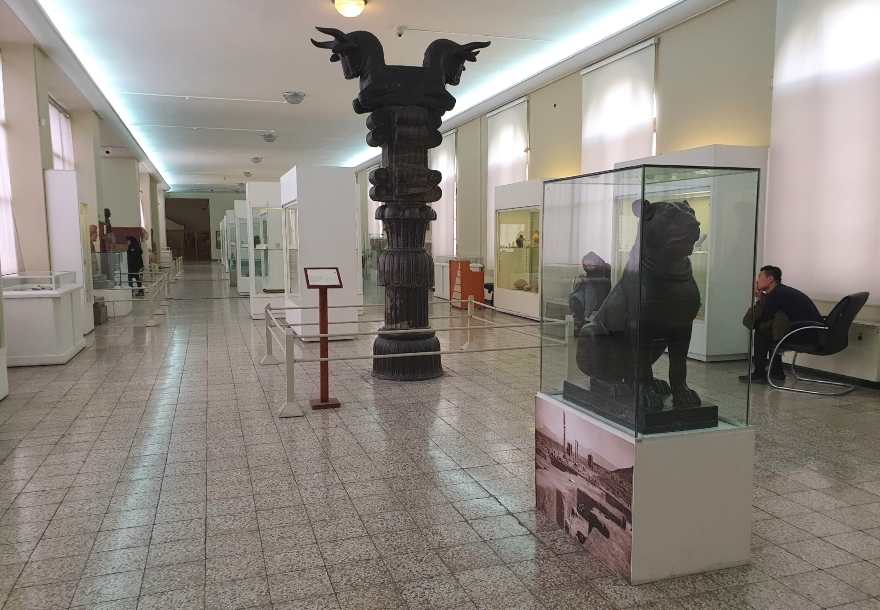 National Museum of Iran
The National Museum of Iran is where many important historical artifacts are held for an exhibit, and teach you about the ancient and long history of the Persian nation throughout the times.
You will have a one-hour guided tour moving around the museum while receiving a historical insight of the most important objects taking into account their epoch and cultural background.
Visiting the National Museum is extremely helpful to understand Iran's history and the main archeological and historical sites around the country.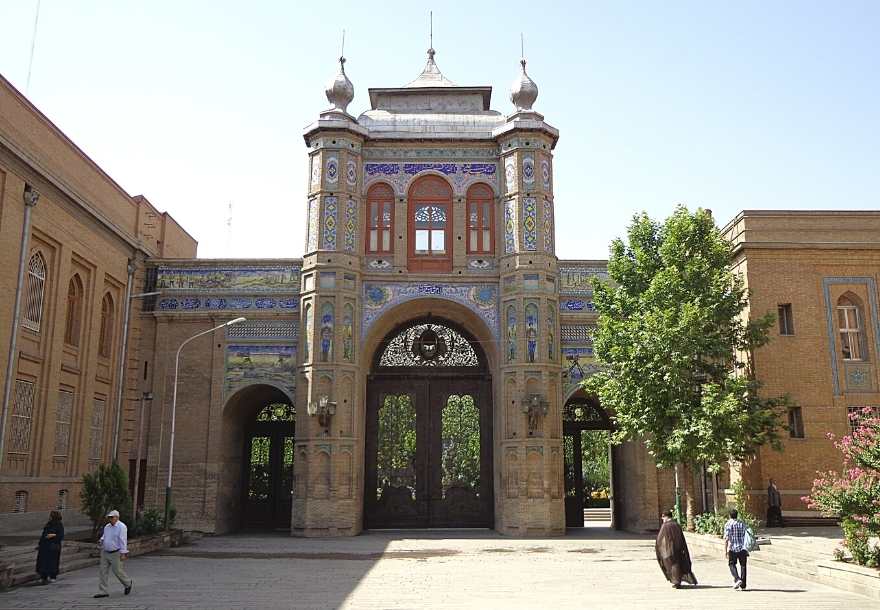 Sardar-e Bagh-e National Garden
The Bagh Melli Gate In Tehran is the entrance to the Sardar-e Bagh-e National Garden, which holds the Ministry of Foreign Affairs among many other important buildings such as the Cossack House, the University of Art, and one section of the National Museum.
You will briefly visit this place and go on to the next part of your Tehran walking guided tour.
Bagh Melli Gate is wonderfully decorated with typical Iranian architecture and ornamented with colorful tiles.
Treasury of National Jewels
This museum holds one of the most famous and most expensive jewelry collections in the world.
The Iranian National Jewels which is also identified as the Iranian Crown Jewels incorporate crowns, tiaras, aigrettes, swords, shields, valuable gems, diverse silverware, and many additional unusual items accumulated or used by the Persian monarchs since the Safavid Persia in the 16th century.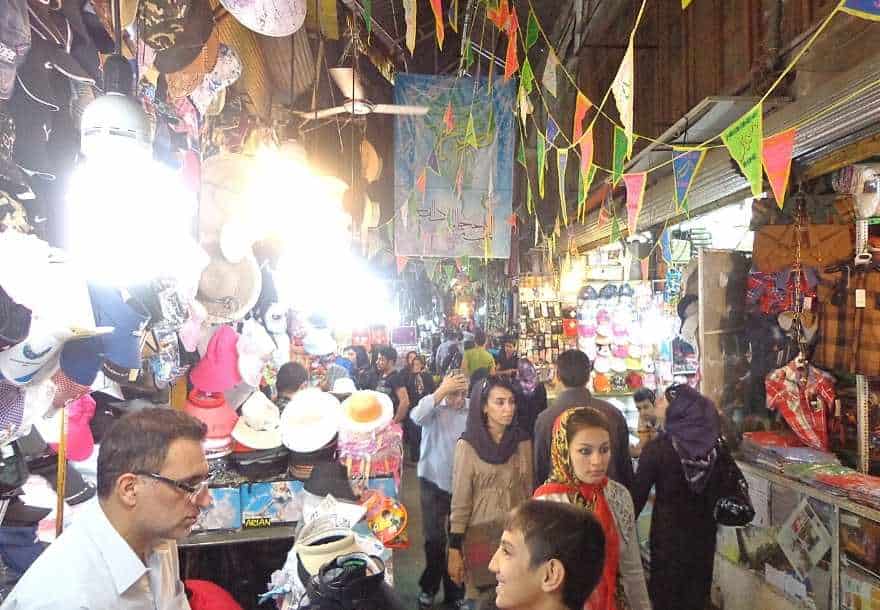 Tehran Grand Bazaar
Now it's time to enter the old historical bazaar of Tehran, split into several corridors over 10 kilometers, each specializing in different types of goods. Inside the bazaar, you will enjoy its architectural highlights and also visit the interesting Malek Historical House, and if open, Saint Thaddeus Church. Our day to tour Tehran ends in Khanat Caravanserai, one of the oldest monuments in the Iranian capital, and dating back to the Qajar era.
Transfer back to your hotel by taxi. End of our services.
Dinner at the hotel.