Welcome, fellow travel enthusiasts, to a journey through the best places to Visit in EU, the famous and enchanting European Union. From the cobblestone streets of historic cities to breathtaking natural landscapes, the EU is a treasure trove of diverse cultures and awe-inspiring destinations. On this page, you will surely not see references to the least visited countries in the world, but we will delve into 10 must-visit places in EU that will ignite your wanderlust and create unforgettable memories. So, grab your passport and let's explore the hidden gems of the European Union together!
Prague, Czech Republic
Nestled in the heart of Central Europe, Prague effortlessly blends history, culture, and architectural wonders. Lose yourself in the narrow medieval lanes of the Old Town, gaze at the iconic Prague Castle, and don't miss the astronomical marvel of the Prague Astronomical Clock. With its vibrant arts scene, lively pubs, and delicious cuisine, Prague offers a perfect blend of tradition and modernity.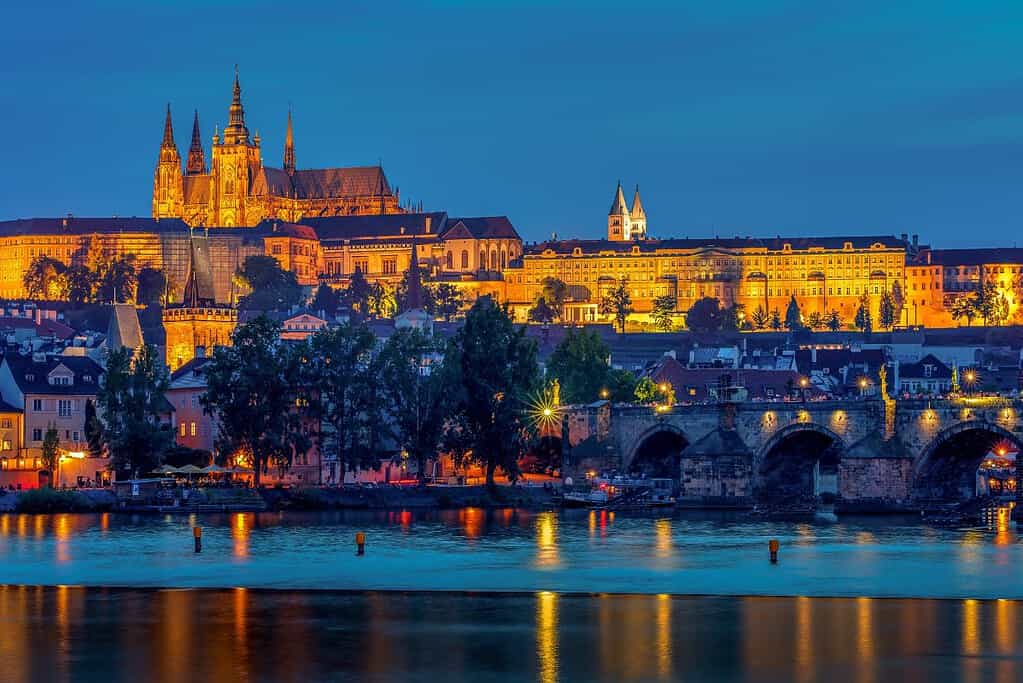 What to visit in Prague
Prague Castle – One of the largest ancient castles in the world, dating back to the 9th century.
Charles Bridge – A historic stone bridge adorned with statues, connecting the Old Town and Prague Castle.
Old Town Square – The heart of Prague's historic center, featuring the astronomical wonder of the Prague Astronomical Clock.
St. Vitus Cathedral – A stunning Gothic cathedral within Prague Castle, housing the tombs of Czech kings and queens.
Old Jewish Cemetery – Europe's oldest surviving Jewish cemetery, with tombstones dating back centuries.
Petřín Lookout Tower – A 19th-century observation tower offering panoramic views of Prague's enchanting skyline.
Dancing House – A modern architectural marvel with its unique design resembling a dancing couple.
Vyšehrad – A historic fortification with a medieval fortress and stunning views over the Vltava River.
National Museum – The largest museum in the Czech Republic, housing extensive collections of art and natural history.
Municipal House – A stunning Art Nouveau building housing concert halls, restaurants, and exhibition spaces.
Santorini, Greece
Transport yourself to paradise with a visit to the mesmerizing island of Santorini. Famous for its stunning white-washed buildings and breathtaking sunsets, this Greek gem is one of the Must-Visit Places in the European Union, and a dream destination for many. Explore the charming villages of Oia and Fira, soak in the sun on the unique black sand beaches, and indulge in delicious Mediterranean cuisine.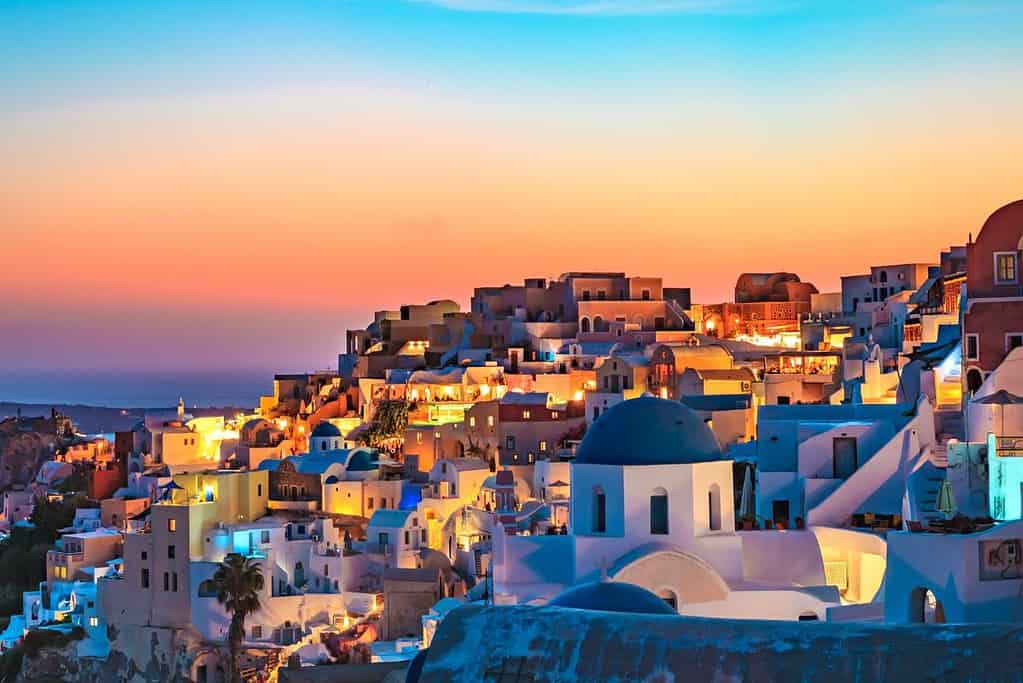 What to visit in Santorini
Oia Castle – A 15th-century Venetian fortress offering magnificent views of the island's caldera.
Ancient Thira – An archaeological site showcasing ruins from Hellenistic, Roman, and Byzantine periods.
Akrotiri Archaeological Site – Preserved ancient Minoan city ruins dating back to the Bronze Age.
Fira Cathedral – A beautiful Orthodox cathedral with a striking blue dome in the capital town of Fira.
Santo Winery – A renowned winery offering wine tastings and breathtaking views of the island.
Amoudi Bay – A picturesque fishing village located below the cliffs of Oia, known for its seafood tavernas.
Red Beach – A unique beach featuring red volcanic cliffs and crystal-clear waters.
Skaros Rock – A dramatic rock formation offering panoramic views and the remnants of a medieval fortress.
Perissa Beach – A popular black sand beach with a vibrant atmosphere and water sports activities.
Museum of Prehistoric Thira – Showcasing artifacts from ancient Akrotiri and the island's prehistoric era.
Dubrovnik, Croatia
Step into a real-life fairy tale as you wander through the ancient walls of Dubrovnik. Known as the "Pearl of the Adriatic," this UNESCO World Heritage site is a stunning blend of history and natural beauty. Stroll along the marble streets, marvel at the baroque architecture, and immerse yourself in the captivating Game of Thrones filming locations.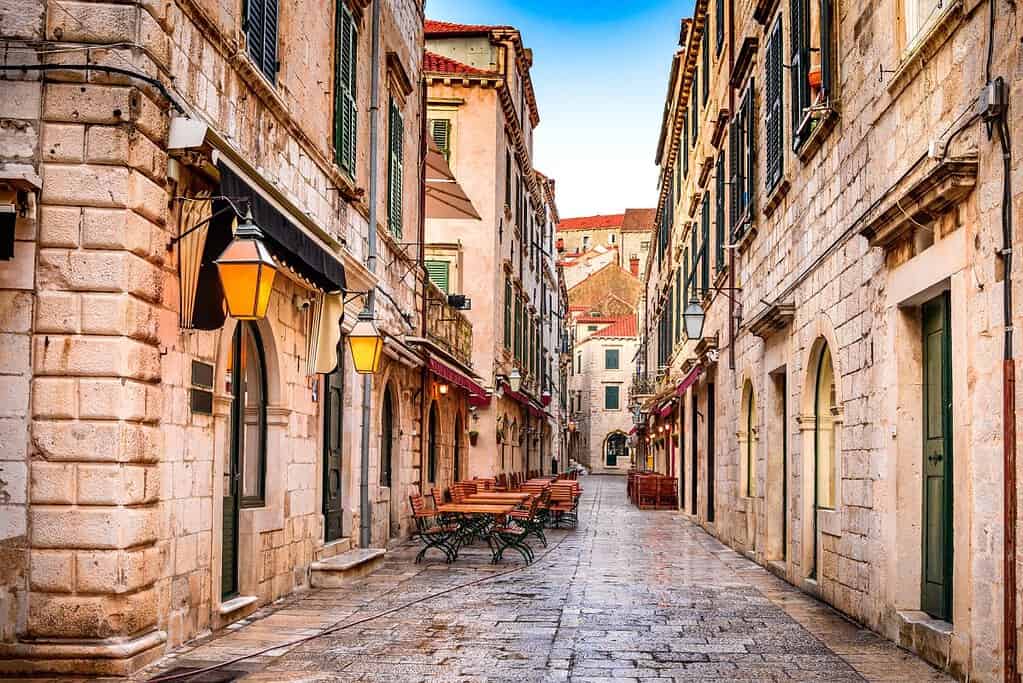 What to visit in Dubrovnik
Dubrovnik City Walls – Ancient fortifications surrounding the Old Town, providing stunning views of the Adriatic Sea.
Dubrovnik Cathedral – A magnificent Baroque cathedral housing relics and stunning artworks.
Rector's Palace – A historic palace that served as the seat of the Republic of Ragusa, now home to a cultural museum.
Lovrijenac Fortress – A medieval fortress perched on a cliff, offering panoramic views of the city and the sea.
St. Blaise Church – A beautiful Baroque church dedicated to Dubrovnik's patron saint.
Onofrio's Fountain – An ornate 15th-century fountain providing fresh water to the city's residents.
Sponza Palace – A Renaissance palace housing the State Archives and showcasing Gothic and Renaissance architecture.
Dubrovnik Cable Car – Ride the cable car to Mount Srđ for breathtaking panoramic views of the city and the Adriatic.
Lokrum Island – A nearby island with lush botanical gardens, historic ruins, and pristine beaches.
Franciscan Monastery – A serene complex housing a beautiful cloister, library, and a 14th-century pharmacy.
Reykjavik, Iceland
For an otherworldly adventure, head to the land of fire and ice—Reykjavik, Iceland's captivating capital. Discover the geothermal wonders of the Blue Lagoon, witness the dancing colors of the Northern Lights, and embark on thrilling glacier hikes. With its unique landscapes, geysers, and waterfalls, Iceland offers an extraordinary experience for nature lovers.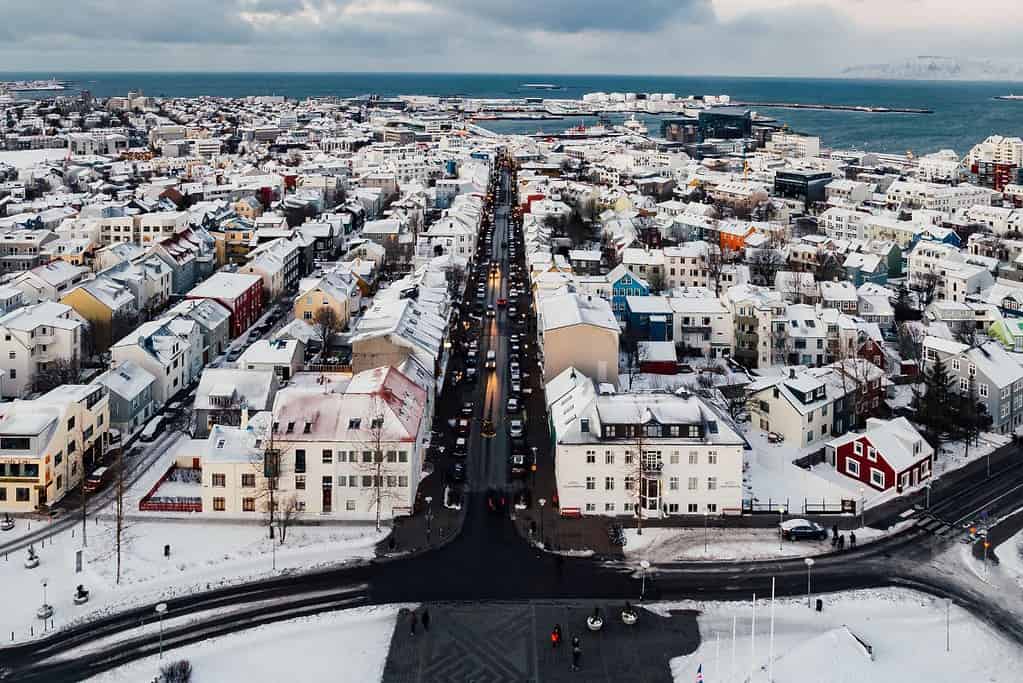 What to visit in Reykjavik
Hallgrímskirkja – A towering church with a distinctive design inspired by Iceland's basalt columns, offering panoramic views of the city.
The Sun Voyager – A striking stainless steel sculpture resembling a Viking ship, symbolizing the spirit of discovery and adventure.
Harpa Concert Hall – A modern architectural marvel known for its glass facade and hosting world-class performances.
National Museum of Iceland – Showcasing Iceland's rich history, from Viking settlements to modern times.
Perlan – A futuristic glass dome built on water tanks, offering breathtaking views, interactive exhibits, and a planetarium.
Reykjavik City Hall – The seat of the city's government, featuring an impressive model of the city and informative exhibits.
Reykjavik Harbour – A lively area where you can take boat tours to explore the nearby islands or even spot whales.
The Settlement Exhibition – Uncover Viking history through archaeological remains and multimedia exhibits.
Reykjavik Open-Air Museum – An open-air museum displaying historical Icelandic buildings, providing insight into rural life.
Laugavegur – Reykjavik's main shopping street, lined with boutiques, cafes, and vibrant street art.
Lisbon, Portugal
Prepare to be captivated by the vibrant energy of Lisbon, a city of seven hills and endless charm. Explore the picturesque neighborhoods of Alfama and Bairro Alto, admire the intricate tiles of the São Jorge Castle, and indulge in delectable pastéis de nata. Lisbon's rich history, breathtaking viewpoints, and lively atmosphere will leave you enchanted.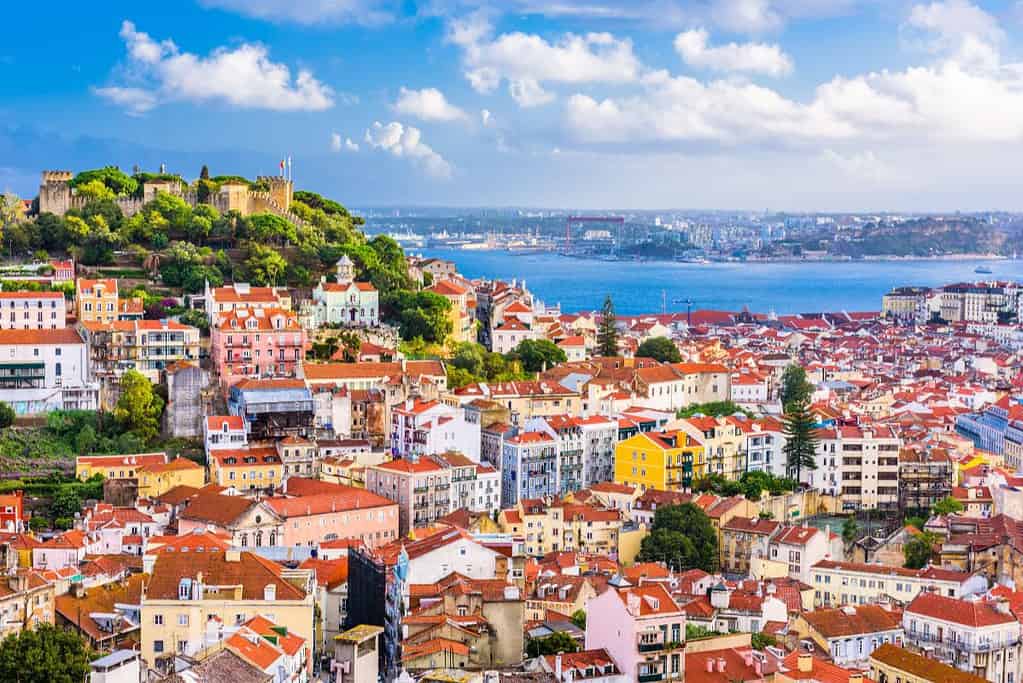 What to visit in Lisbon
Belém Tower – A UNESCO World Heritage site and iconic fortress overlooking the Tagus River.
Jerónimos Monastery – A magnificent Manueline-style monastery, also a UNESCO World Heritage site, featuring stunning architecture and intricate details.
Alfama District – Lisbon's oldest neighborhood, known for its narrow streets, traditional Fado music, and historic charm.
São Jorge Castle – A medieval fortress offering panoramic views of Lisbon and housing archaeological exhibits.
Lisbon Cathedral (Sé de Lisboa) – The city's oldest church, featuring a mix of architectural styles and beautiful rose windows.
Bairro Alto – A vibrant neighborhood famous for its buzzing nightlife, traditional Fado houses, and lively atmosphere.
LX Factory – A creative hub housed in an industrial complex, featuring art galleries, trendy shops, and hip cafes.
Pastéis de Belém – Indulge in Portugal's famous custard tarts at the historic Pastéis de Belém bakery.
National Tile Museum – Explore the history and artistry of Portuguese tiles, known as azulejos, in a former convent.
Santa Justa Lift – A neo-Gothic elevator that offers panoramic views of Lisbon's downtown and the Carmo Convent.
Budapest, Hungary
Embark on a journey through time in Budapest, where the past seamlessly merges with modern elegance. Admire the majestic Hungarian Parliament Building, relax in the famous thermal baths, and take a romantic cruise along the Danube River. Budapest is a true architectural gem with its unique blend of Gothic, Ottoman, and Art Nouveau architecture.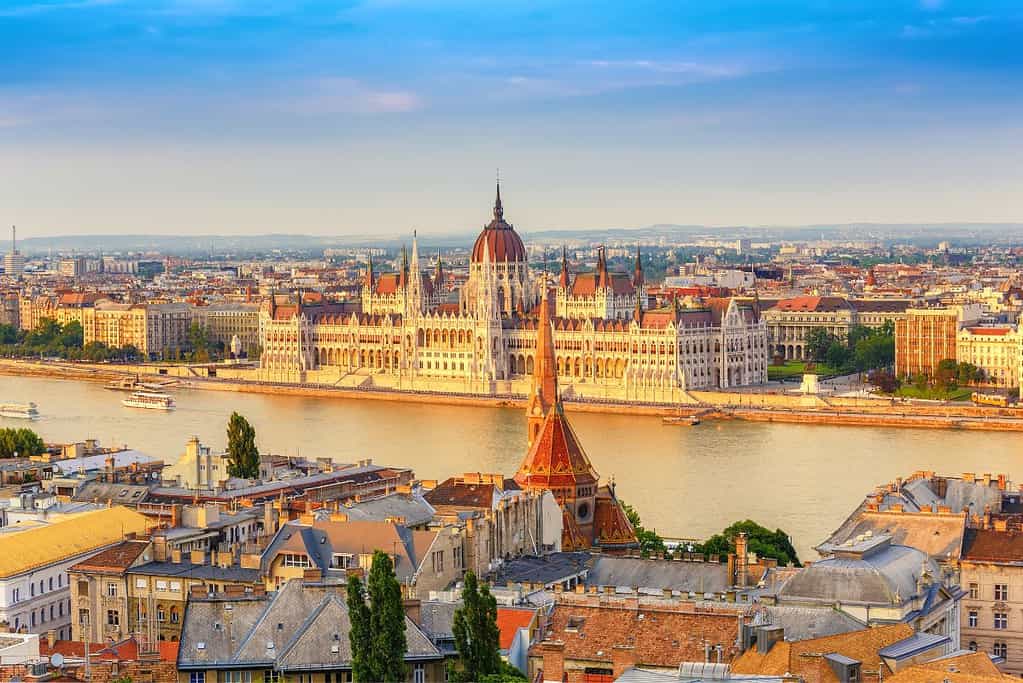 What to visit in Budapest
Hungarian Parliament Building – A stunning Gothic Revival landmark along the Danube River, symbolizing Hungary's rich history and political significance.
Buda Castle – A majestic palace complex on Castle Hill, offering panoramic views of the city and housing museums and galleries.
Fisherman's Bastion – A fairy-tale-like terrace with seven turrets, providing breathtaking views of the city and the Danube River.
St. Stephen's Basilica – A magnificent neoclassical church named after Hungary's first king, housing the Holy Right Hand of St. Stephen.
Széchenyi Chain Bridge – The iconic suspension bridge connecting Buda and Pest, offering picturesque views and an architectural marvel.
Heroes' Square – A grand square adorned with statues of Hungarian national heroes and the Millennium Monument.
Great Market Hall – A bustling market filled with stalls selling fresh produce, traditional Hungarian food, and local crafts.
Dohány Street Synagogue – The largest synagogue in Europe, showcasing Moorish Revival architecture and housing a Jewish museum.
Margaret Island – A tranquil island in the middle of the Danube, featuring gardens, walking paths, and thermal baths.
Hungarian State Opera House – A magnificent neo-Renaissance opera house known for its opulent interiors and world-class performances.
Stockholm, Sweden
Immerse yourself in Scandinavian splendor by exploring the beauty of Stockholm. Spread across 14 islands, this city offers a perfect mix of cultural experiences and natural beauty. Visit the historic Gamla Stan, explore the innovative museums, and embrace the Swedish concept of lagom (just the right amount) in the city's charming cafés.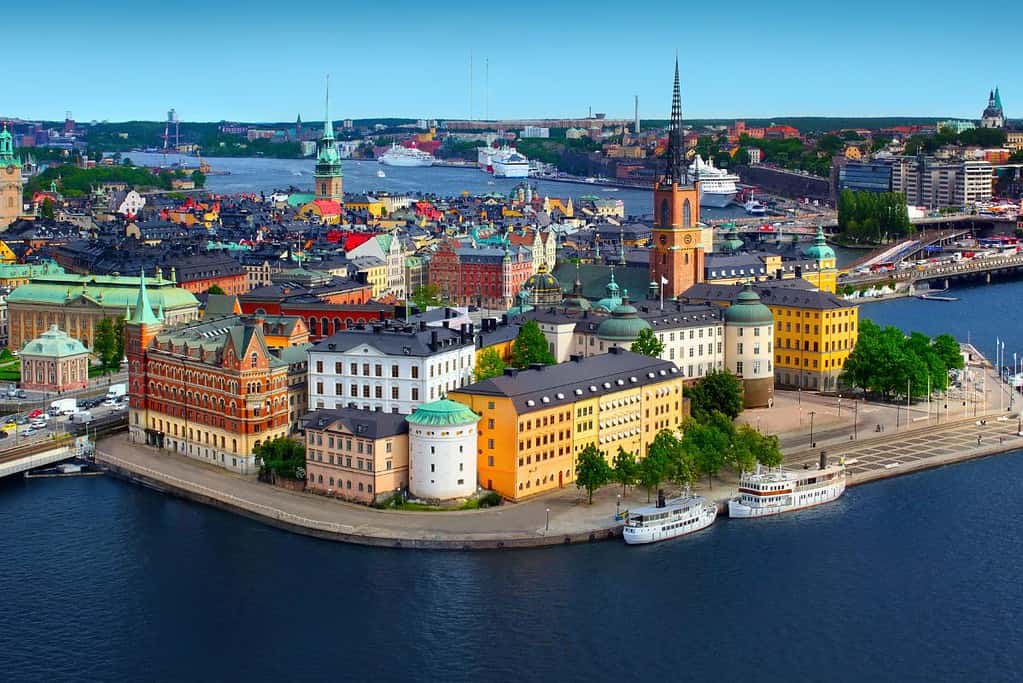 What to visit in Stockholm
Gamla Stan – The charming and well-preserved medieval Old Town of Stockholm, featuring narrow streets, colorful buildings, and the Royal Palace.
Vasa Museum – Home to the remarkably preserved 17th-century warship Vasa, one of Sweden's most famous attractions.
Skansen – An open-air museum that showcases Swedish culture and heritage, complete with historic buildings, traditional crafts, and Nordic wildlife.
Royal Palace – The official residence of the Swedish monarch, offering royal apartments, museums, and the daily Changing of the Guard ceremony.
Drottningholm Palace – A UNESCO World Heritage site and the private residence of the Swedish royal family, surrounded by stunning gardens.
City Hall (Stadshuset) – A grand building famous for its tower and hosting the annual Nobel Prize banquet.
ABBA: The Museum – A tribute to the iconic Swedish pop group ABBA, featuring interactive exhibits and memorabilia.
Djurgården – A tranquil island with beautiful parks, museums (such as the Nordic Museum and the Vasa Museum), and recreational areas.
Fotografiska – A renowned contemporary photography museum with exhibitions by both Swedish and international artists.
Moderna Museet – Sweden's modern and contemporary art museum, housing works by Picasso, Dalí, Warhol, and many more.
Vienna, Austria
Indulge in the elegance and grandeur of Vienna, the capital of classical music and rich imperial heritage. Marvel at the opulence of Schönbrunn Palace, lose yourself in the melodies of Mozart and Strauss, and savor a cup of Viennese coffee at a traditional coffeehouse. Vienna's rich cultural scene and architectural marvels will transport you to a bygone era.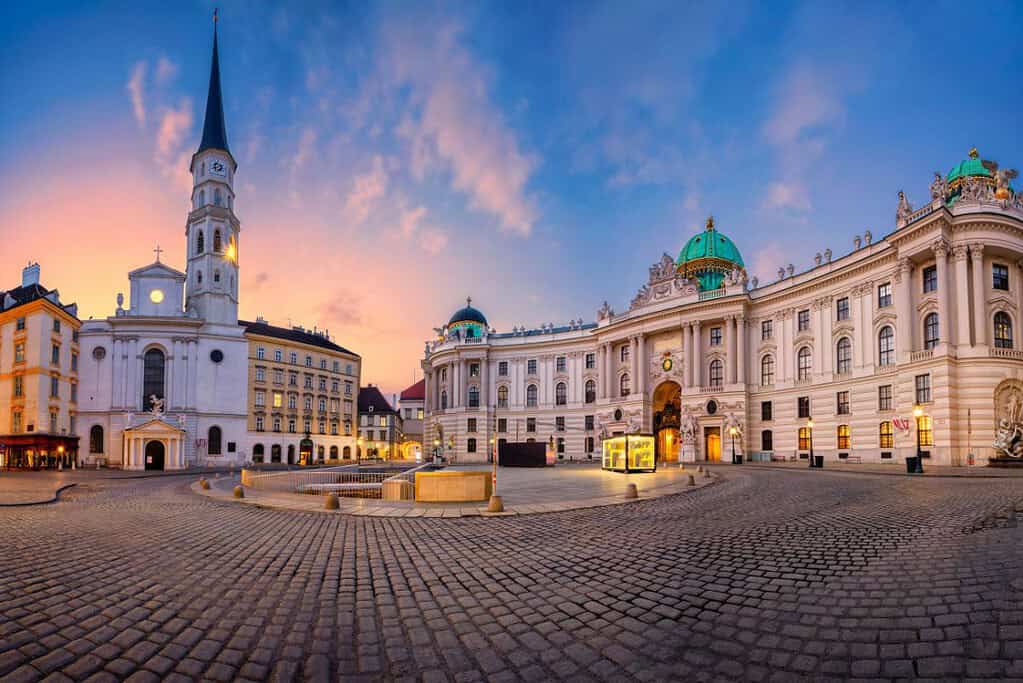 What to visit in Vienna
Schönbrunn Palace – A magnificent Baroque palace with stunning gardens, once the summer residence of the Habsburg dynasty.
St. Stephen's Cathedral – A Gothic masterpiece and Vienna's iconic symbol, known for its intricate details and South Tower views.
Belvedere Palace – A splendid palace complex consisting of Upper and Lower Belvedere, housing an impressive art collection.
Hofburg Palace – The former imperial palace and the seat of power for the Habsburg dynasty, showcasing royal apartments and museums.
Vienna State Opera – One of the world's leading opera houses, renowned for its stunning architecture and world-class performances.
Kunsthistorisches Museum – An opulent museum displaying an extensive art collection, including works by Old Masters and Egyptian artifacts.
Prater Park – Vienna's famous amusement park, featuring the iconic Giant Ferris Wheel and entertainment for all ages.
Karlskirche – A striking Baroque church with an impressive dome and stunning frescoes, located near Karlsplatz.
Secession Building – An iconic Art Nouveau building designed by Josef Maria Olbrich, known for its golden dome and Beethoven Frieze.
Rathaus – The grand City Hall of Vienna, known for its Gothic architecture and hosting various events throughout the year.
Barcelona, Spain
Brimming with vibrant energy, Barcelona is a city that ignites the senses. Dive into the architectural wonders of Antoni Gaudí, including the iconic Sagrada Família and Park Güell. Stroll along the lively Las Ramblas, indulge in delicious tapas, and soak up the sun on the golden beaches. Barcelona offers a perfect fusion of beachside relaxation and cultural exploration.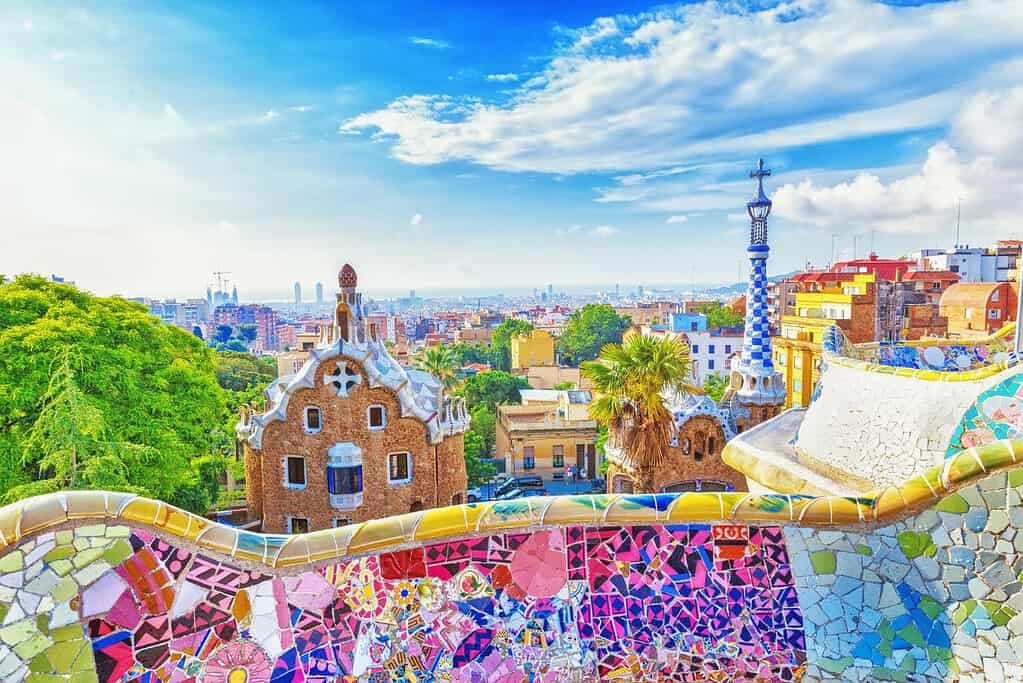 What to visit in Barcelona
Sagrada Família – Antoni Gaudí's unfinished masterpiece, a stunning basilica known for its unique design and intricate details.
Park Güell – A vibrant park showcasing Gaudí's whimsical architecture, offering panoramic views of the city.
Casa Batlló – A remarkable building with a striking façade, designed by Gaudí and featuring a museum showcasing his works.
La Rambla – Barcelona's iconic boulevard, famous for its lively atmosphere, street performers, and bustling market, La Boqueria.
Gothic Quarter (Barri Gòtic) – A charming neighborhood with narrow streets, medieval buildings, and historic landmarks.
Camp Nou – The legendary stadium of FC Barcelona, offering guided tours and a glimpse into the world of football.
Casa Milà (La Pedrera) – A UNESCO World Heritage site designed by Gaudí, featuring a museum and rooftop with surreal chimneys.
Picasso Museum – Showcasing a vast collection of Pablo Picasso's artworks, tracing his early years and artistic development.
Montjuïc Castle – A historic fortress atop Montjuïc Hill, offering panoramic views of Barcelona's skyline and the Mediterranean Sea.
Tibidabo – A mountaintop amusement park with thrilling rides and breathtaking views of Barcelona.
Amsterdam, Netherlands
Conclude our European adventure in the charming city of Amsterdam, known for its picturesque canals, world-class museums, and bicycle-filled streets. Explore the historic Anne Frank House, admire masterpieces at the Van Gogh Museum, and take a leisurely boat tour along the scenic canals. Amsterdam's laid-back atmosphere and cultural treasures will leave a lasting impression.
What to visit in Amsterdam
Anne Frank House – The historic house where Anne Frank hid during World War II, now a poignant museum.
Rijksmuseum – The Dutch national museum, housing a vast collection of art and artifacts, including Rembrandt's famous "Night Watch."
Van Gogh Museum – Dedicated to the works of Vincent van Gogh, featuring an extensive collection of his paintings and letters.
Dam Square – Amsterdam's central square, home to the Royal Palace, the National Monument, and bustling activity.
Jordaan – A charming neighborhood with picturesque canals, trendy shops, art galleries, and cozy cafes.
Vondelpark – Amsterdam's most famous park, perfect for strolling, picnicking, or simply enjoying the green surroundings.
Anne Frank Statue – A bronze statue dedicated to Anne Frank, located in Westerkerk Square near her former hiding place.
Hermitage Amsterdam – A branch of the famous Hermitage Museum in St. Petersburg, Russia, showcasing temporary exhibitions.
NEMO Science Museum – An interactive museum with hands-on exhibits, ideal for children and those with a curious mind.
Canal Cruise – Explore Amsterdam's picturesque canals with a relaxing boat tour, admiring the beautiful architecture and cityscape.
Best Places To Visit In EU
The European Union is a traveler's paradise, offering unforgettable experiences and captivating destinations. From the fairytale-like streets of Prague to the sun-kissed beaches of Santorini, each place has its unique charm and allure. Whether you're a history buff, a nature lover, or a food enthusiast, the EU has something to offer everyone. So, pack your bags, embark on an adventure, and create lifelong memories as you explore the wonders of the European Union. Some places can even provide thrilling destinations that become unforgettable greatest adventures. Bon voyage!