Socotra Island is a unique and beautiful destination in the Arabian Sea that is only accessible by air travel. However, due to the changing political situation on the island, the schedule of flights to Socotra changes frequently. In this guide, we provide information on the latest flight options, schedules, prices, and disclaimers to help you plan your trip to this breathtaking destination.
Socotra Flight Options
Currently, there are two flight options available to get to Socotra Island:
From Cairo with Yemenia Airlines;
From Abu Dhabi with Air Arabia.
Air Arabia from Abu Dhabi Air Arabia offers a direct flight every Tuesday and Friday from Abu Dhabi to Socotra Island. The flight departs Abu Dhabi at 10 am and arrives in Socotra at 11 am, with the return flight departing at 1 pm and arriving in Abu Dhabi at 4 pm. This is the best and only option as of June 2023, and the round trip costs approximately €855. The flight can be booked directly with an agent in the UAE as it is not currently available for booking online.
Yemenia Airlines offers a recently reinstated route from Cairo every Wednesday, with the flight departing at 2 am and connecting in the Yemeni city of Seiyun before continuing to Socotra Island where it arrives at 8:45 am local time. Travelers need to get off the plane at Seiyun and re-board the same plane bound for Socotra Island, where they formally go through the immigration process. The return flight also leaves on the same day at 9:45 am and is scheduled to arrive in Cairo at 3 pm. This flight can only be booked through our partners in Cairo, and the cost is approximately €1200.
Yemen tours
Flights to Socotra
Schedule and Prices
Air Arabia operates a weekly direct flight every Tuesday, with flight number 476 departing from Abu Dhabi at 9:25 am and arriving in Socotra at 10:40 am. The return flight number 477 departs from Socotra at 12:10 pm and arrives in Abu Dhabi at 3:25 pm.
Yemenia Airways operates a weekly direct flight every Monday, with the flight departing from Al Mukalla Riyan International Airport at 9:00 am and arriving in Socotra at 10:00 am. The return flight departs from Socotra at 12:00 pm and arrives in Al Mukalla at 1:00 pm.
Also read:
Updated PDF 2023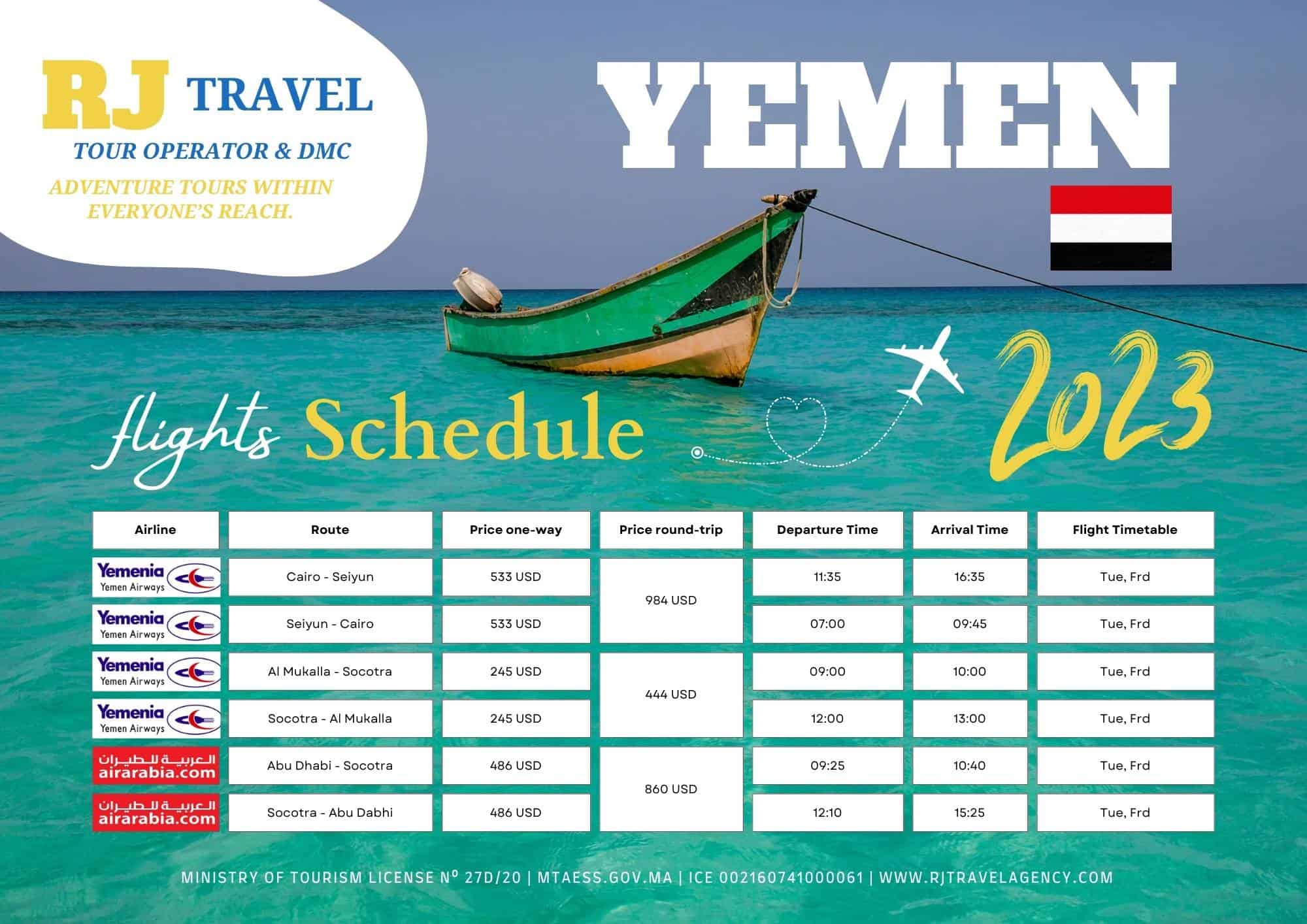 Disclaimers
RJ Travel is a facilitator for travel to Socotra Island and is not responsible for changes or updates to flight schedules or prices. RJ Travel provides land-based travel services and does not have jurisdiction over flight schedules or prices. Therefore, any changes or updates to flight schedules, delays or cancellations are the responsibility of the airline, and not within the control of RJ Travel.
It is important to communicate directly with your airline for any related concerns. RJ Travel cannot be held responsible for any loss or inconvenience resulting from external factors related to flights and weather affecting these flights to Socotra Island.
Before traveling, it is essential to check the latest travel advisories and requirements, including visas and vaccinations, to ensure a safe and enjoyable trip to this unique and beautiful island.