This form is to request an Iranian Visa reference number. Fill up all the requested information exactly as you have on the passport. You need at least 10 working days to apply. Fridays in Iran are holidays and therefore are not counted as a weekday. A week in Iran goes from Saturday to Thursday. Last-minute requests are often possible if within 5 working days' distance. Contact us for further information about this matter, and we will tell you if possible.
This information will be delivered to the Iranian Ministry of Interior's Office. Please follow proper writing rules such as capitalized names and addresses (John Wood, not john wood), etc. Double-check everything to make sure your visa to Iran is approved or that you are consequently denied entrance because the information in your documents and the official visa are not identical. After you fill out the form below, an Iran visa application document will be automatically created and ready to send to the local authorities.
Important instructions to get your Iranian visa:
Iran visa form for border security clearance number
Please fill up this Iranian visa reference number form. All fields are mandatory.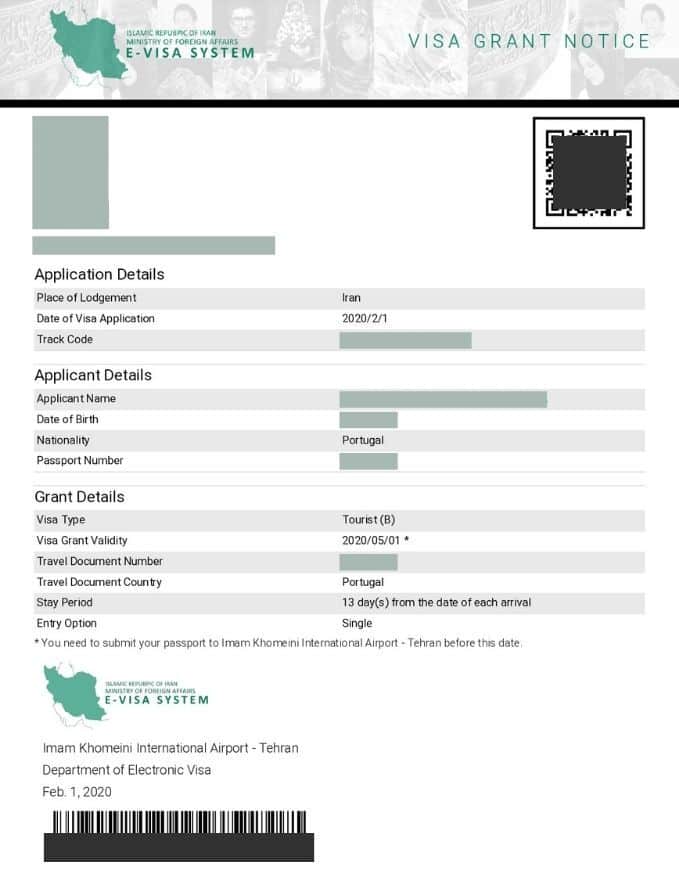 Important information
We will send your application to the Visa Department at the Ministry of Foreign Affairs in Tehran.
When we receive your approved visa reference number, we will send you the PDF by email, from where you can download and print it.
Don't forget to bring a printed paper version of the document to deliver to the airport in Iran.
With this Visa reference number, you will skip the line at the airport and go directly to pay your VOA (Visa on Arrival).
Most countries can get an Iranian visa on arrival. Check here.
The visa-on-arrival price differs by nationality, usually costing 50 to 75 Euros.
Your passport must be valid for at least six months.
Iran no longer stamps foreign tourists' passports to ease their concerns about traveling to other countries after leaving Iran.
Citizens of Canada, the United Kingdom, and the United States of America have to apply for the visa reference number for visa on arrival 3 months in advance.
Are you Jewish? There are 10,000 Jewish living in Iran, the largest Jewish community in the Middle East after Israel. It's OK if you're Jewish.
Citizens of Israel (Jewish, Muslim, and Christian) are banned from entry to Iran.
Admission is refused to holders of passports or travel documents containing an Israeli visa or stamp or any data showing that the visitor has been to Israel or indication of any connection with the state of Israel.
Iran Tours
Conditions and entitlements
After receiving your visa grant notice (Iranian Visa reference number), you must submit your passport to the Iranian International Airport in person to have your visa issued.
The date on the notification and the visa label date is according to Iran Standard Time (IRST). [UTC +3:30] (incorporating Daylight Saving Time [UTC 4:30], if applicable) on a relevant day.
Depending on your location, these dates may differ by one day from your local date.
After receiving the Visa Grant Notice (Iranian Visa reference number), visa applicants, including children, must pay a non-refundable, non-transferable visa application fee. The visa fee is determined by nationality and the type of visa you are granted.
Until you arrive in Iran, you are required to tell the Iranian authorities about any changes to your circumstances that may affect any answer to your online application form questions, including your name, passport, contact details, and address, as soon as possible.
Your visa allows you single entry to Iran up to date stated on your visa. You are allowed to stay the period of the days stated in your future document. You will need to leave Iran or make alternative arrangements (visa extension) with the Visa Department at the Ministry of Foreign Affairs in Tehran before this date, or you will become illegal.
Suppose you think you will not be able to depart Iran by the date your visa expires. In that case, you should contact the Visa Department at the Imam Khomeini International Airport – Tehran as soon as possible.
Some other cities also have the Ministry of Foreign Affairs Department, where you can apply for a visa extension.