Experience the best of Taif in just 2 days with this tour. Discover the city's rich cultural heritage with visits to historical landmarks, a bird's park, and a rose factory. Then, take a tour of the breathtaking Al-Shifa area and Jabal Daka mountain before concluding your trip with a visit to the historical Taif market.
2-day visit Taif and enjoy its breathtaking beauty.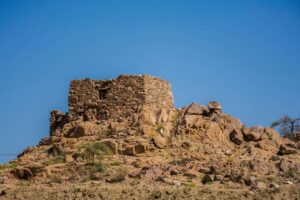 2-day visit Taif and enjoy its breathtaking beauty with transportation. Accommodation in 3-star hotels. Visit Taif
Product SKU: KSA2/TIF/IF
Product Brand: RJ Travel - Tour Operator
Product Currency: USD
Product Price: 898
Product In-Stock: InStock
2-day Saudi Arabia itinerary
Upon arrival, check in to your hotel and prepare for an exciting tour of Taif. Visit the city's famous rose factory and discover the process of making rose water and scented oils. Next, explore the historic Kateb House and Shubra Palace, which has been transformed into a regional museum. Experience the beauty of the city's bird park before enjoying a delicious dinner. End the day with a visit to the stunning Al Rahma Mosque before returning to your hotel.
After breakfast at the hotel, embark on a distinctive tour of exploring Taif. Start with a visit to the Al Shareef Museum, which takes you on a journey through the depths of history and the acquisition of antiquities from all world cultures. Next, head to the Al-Shifa area, a tourist "pearl" on the tops of the Taif mountains, characterized by its high mountains, valleys, and green farms producing the best fruits and vegetables. Continue to Jabal Daka mountain, the highest mountain in the region, for an enjoyable tour. Afterward, enjoy an authentic traditional Saudi meal for lunch. Finally, visit the historical Taif, which includes one of the oldest historical markets in the Hejaz region, with a diverse range of shops exhibiting handicrafts, animal products, modern products, honey, ghee, perfumery, and leather products.