The UNESCO Sites in Morocco have resulted from recognizing 9 cultural and natural landmarks as UNESCO World Heritage Sites in Morocco and 13 locations on the Morocco UNESCO tentative list. These tourist sites in Morocco are acknowledged for their unique and valuable cultural, natural, artistic, and historical significance and are preserved for future generations to enjoy.
In addition to these 9 sites in the Morocco UNESCO list, there are many other places to travel to Morocco that are being considered for UNESCO recognition. These sites, listed on the tentative list, showcase the country's rich cultural heritage and are waiting for approval to join the prestigious and famous World Heritage Sites list.
To help visitors discover these remarkable Morocco tourist attractions, we have assembled an interactive map of the UNESCO sites in Morocco.
Morocco UNESCO Map
Click markers to show information and photo.

Morocco UNESCO Map
UNESCO World Heritage Sites in Morocco
There are 9 UNESCO World Heritage Sites in Morocco. All of these nine sites are listed under the Cultural category.
Archaeological Site of Volubilis
Historical City of Meknes
Ksar of Ait-ben-haddou
Medina Essaouira
Medina of Fez
Medina of Marrakesh
Medina of Tetouan
Portuguese City of Mazagan
Rabat, Modern Capital, and Historic City
UNESCO World Heritage Sites in Morocco are protected locations for their cultural and natural importance.
Archaeological Site of Volubilis
This ancient city dates back to the 3rd century BC, serving as a Roman Empire outpost. Today, Volubilis is considered a valuable archaeological site, boasting many well-preserved buildings from the Roman era.
Medina of Meknes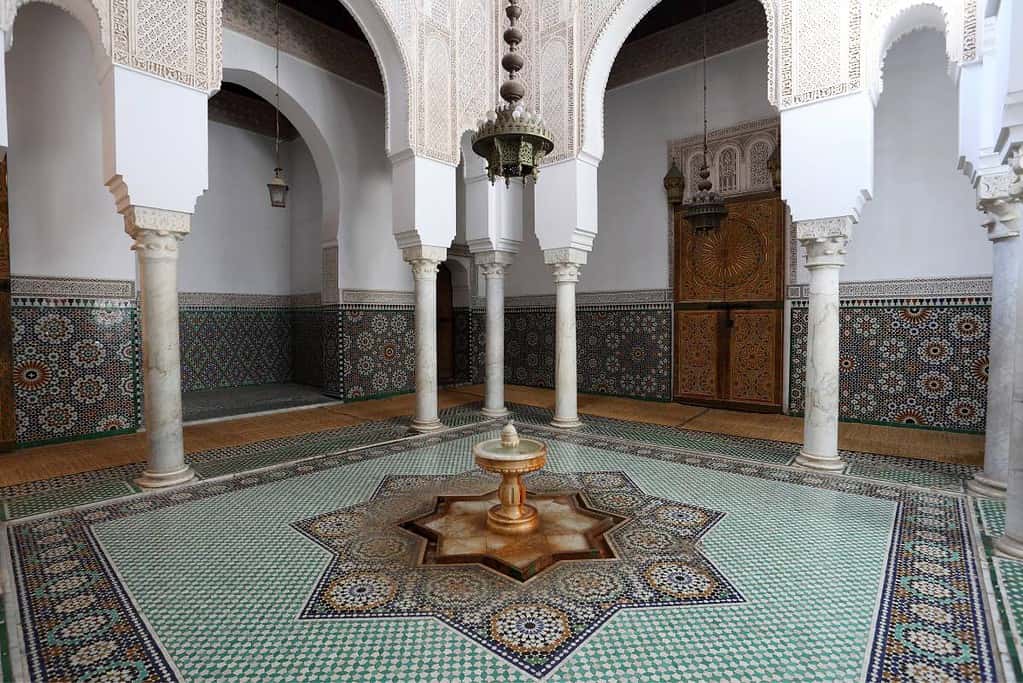 One of Morocco's four Imperial cities, Meknes was initially a military settlement that flourished into a Spanish-Moorish-styled city. Its city walls and a blend of Islamic and European architecture make it a significant cultural site, recognized as a UNESCO World Heritage Site.
Ksar of Ait-ben-haddou
A traditional pre-Saharan habitat, Ksar is a cluster of earthen buildings and houses that form a defensive wall. Corner towers and well-preserved buildings make Ksar an essential example of pure Moroccan architecture, recognized as a UNESCO World Heritage Site.
Medina of Essaouira
A fortified town with 18th-century European military architecture adapted to North Africa, Essaouira played a significant role as an international trading seaport. Its unique architectural style and global connections make it a culturally significant town.
Medina of Fez
Once the capital of Morocco and home to the world's oldest university, Fez was Morocco's cultural and spiritual center in the 20th century. Fez is a culturally rich city with many monuments, including palaces, mosques, and residences.
Medina of Marrakesh
A long-time political, economic, and cultural hub of Morocco, Marrakesh has many impressive monuments from the late 11th century. Notable architectural features include the Saadian Tombs, Place Jamaa El Fna, and the Bandia Palace.
Medina of Tetouan
A crucial point of contact between Andalusia and Morocco, Tetouan underwent a rebuilding phase by Andalusian refugees, evident in the town's Andalusian-influenced architecture and art.
El Jadida
A 16th-century fortified colony along the Atlantic Coast, Mazagan was later taken over by the Moroccans in 1769. Its bastions and ramparts, embodying Renaissance military design, make it a valuable town recognized as a UNESCO World Heritage Site.
Rabat
The Moroccan capital city showcases a unique blend of Western modernism and Arab-Muslim heritage. The recognized UNESCO site encompasses the royal and administrative areas, residential areas, gardens, and commercial developments, including parts of the city preserved since the 12th century.
Morocco UNESCO tentative list
Moulay Idriss Zerhoun
Taza et la Grande Mosquée
Mosquée de Tinmel
Ville de Lixus
El Gour
Grotte de Taforalt
Parc naturel de Talassemtane
Aire du Dragonnier Ajgal
Lagune de Khnifiss
Parc national de Dakhla
Oasis de Figuig
Casablanca, Ville du XXème siècle, carrefour d'influences
Le chapelet d'oasis de Tighmert, Région présaharienne du Wad Noun
Tours in Morocco
Our choices of tours in Morocco are divided into thematic features such as Medina of Fez, Medina of Marrakesh, Ksar of Ait-Ben-Haddou, Site of Volubilis, and the Medina of Essaouira Experience.