10 days Syria itinerary, historical description, and photo gallery support page, for our tour Syria Classic from Lebanon. Syria is an amazing country and full of beautiful places. On this page, we list the top Syria tourist attractions for that specific trip. This Syria 10 days itinerary presents the best places to visit in Syria on our Beirut to Damascus trip through Palmyra, Aleppo, Krak des Chevaliers, Maaloula, Arwad Island, Qatna ancient city, Hama, Latakia, Salah ad-Din citadel, Ugarit, Marqab castle, Tartus, Homs, and Bosra. Our Syria tours are very well organized and with a great thematic selection.
10-Day Syria tour from Lebanon – Damascus, Palmyra, Aleppo, Krak des Chevaliers, Arwad Island
| Number of people | 3-star/4-star hotel | 5-star hotel |
| --- | --- | --- |
| 1 person | 2171€ | € |
| 2 person | 1412€ | € |
| 3 person | 1222€ | € |
| 4 person | 1219€ | € |
Includes: Transfers from Lebanon to Syria. Transfers from Syria back to Lebanon. Border security clearance. Syria tourist visa reference number. Entrance and departure taxes. All transportation with driver and fuel. English speaking guide during the whole trip. All accommodation in 3* and 4* hotel with breakfast (upgrade to 5-star available). Admission fees to museums and monuments. One 1.5 Lt. bottle of mineral water per day per person. Special permission for Palmyra.
Syria 10 days itinerary
Day 1 » Morning pick-up in Beirut » Transfer to Syria » Afternoon Damascus City Tour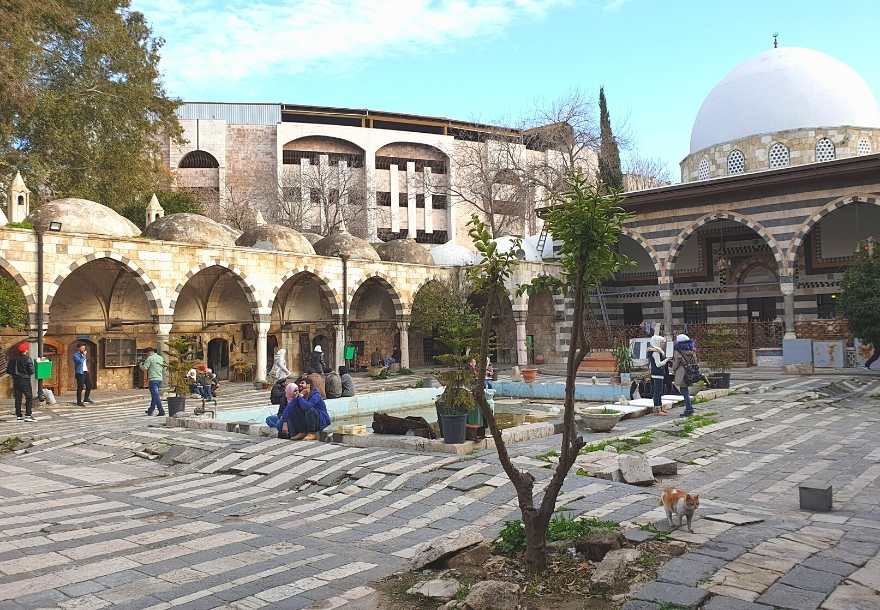 Damascus
After the morning drive from Beirute in Lebanon you will cross the border and head straight to Damascus, the capital of Syria.
You will take the whole afternoon to visit Damascus and get to know a bit of its history. The best place to discover Syrian history is through a guided visit to the National Museum of Damascus. Here you will encounter exhibits with artifacts and explanations of 11000 years of history.
After the museum you will explore the Tekkiye Mosque building complex, with an inner courtyard converted into craftsmen workshops. The entrance is made through the Handcraft street market for the production and sale of Oriental products.
Are you arriving in Syria by airplane through Damascus International Airport DAM? Personalize this tour by removing Beirut transfers and get a 100 Euros reduction.
Day 2 » Damascus City Tour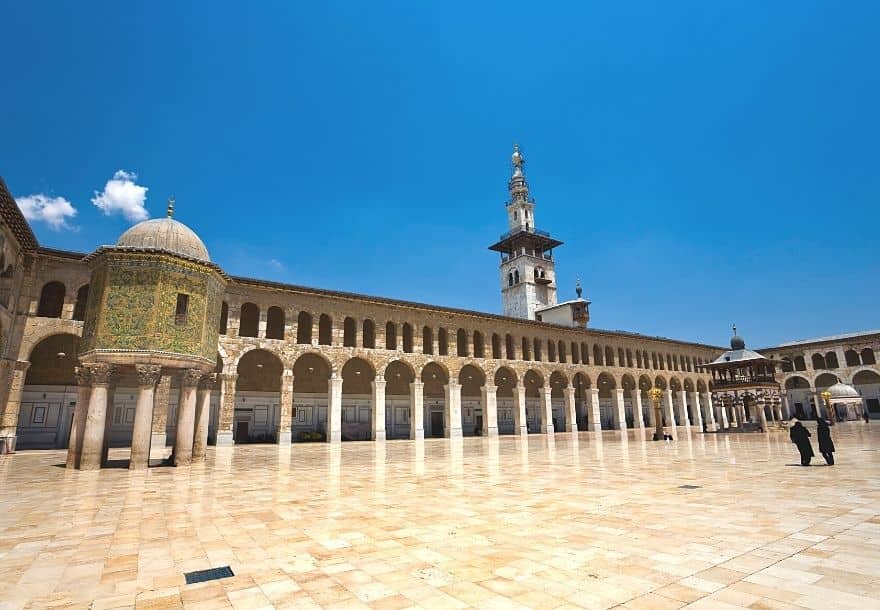 Damascus
After a taste of Syrian breakfast, you will prepare to visit Damascus in a full day walking tour around the ancient city of Damascus, the Citadel of Damascus, the House of Saint Ananias (where Ananias baptized Saul), Church St.Paul from where he escaped from the city by being lowered out of a window in a basket.
The whole city breathes history, and Biblical mentions are all over the place. Being among the list of the oldest cities in the Middle East, because it was founded more than 5000 years ago, Damascus invited visitors to explore and dive into its unparallel historical journey. Damascus is a fantastic city that breaths history through all the tiny alleys and picturesque streets of its ancient city.
Your day will end by exploring Al-Hamidiyah Souq, visiting the caravanserai Khan Assad Basha Al Azem, and the impressive Umayyad Mosque.
Day 3 » Damascus » Maaloula » Krak des Chevaliers » Almishtaya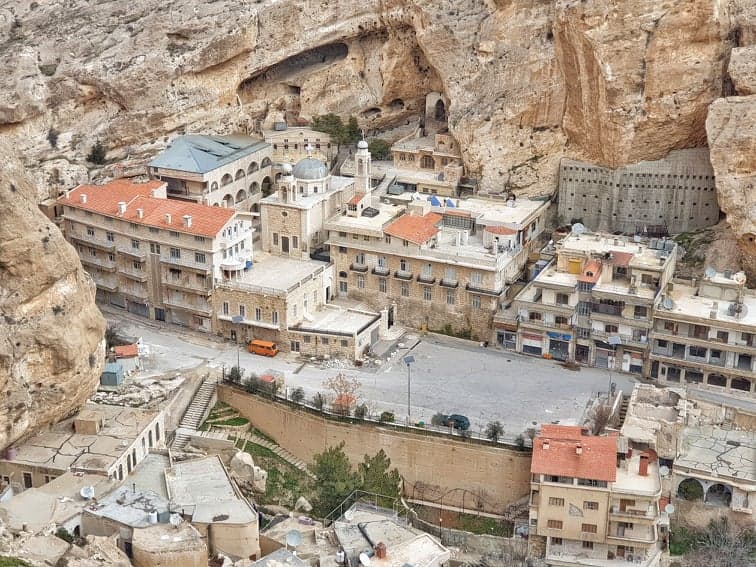 Maaloula
Maaloula is a village that has the special particularity that its Christian population still speak a specific dialect of Aramaic, which was the same language spoken by Jesus back in his times.
The upper village views from the cliffs are breathtaking and trekking inside the canyon until reaching the Convent of Saint Thecla is a must.
Saint Thecla convent holds the remains of Thecla, which the second-century Acts of Paul and Thecla from the writings of the New Testament apocrypha, reveal the story of a noble virgin that was once a pupil of Paul the Apostle.
You will also visit the Church of Saints Sergios and Bacchus dating back from the 4th century during the time of Emperor Constantine. This church is one of the oldest in the world.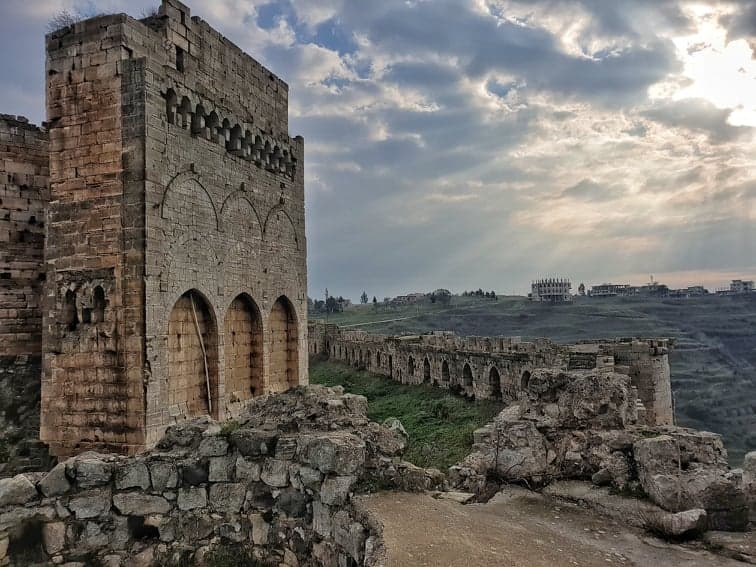 Krak des Chevaliers
To visit Krak des Chevaliers is going to be one of the highlights of your travel to Syria. Undoubtedly one of the most famous if not the most famous castle in the world, Krak des Chevaliers is a fine example of Syrian military architecture from the 12th to 13th centuries.
You will discover the most important fortress built by the Crusaders in the Middle East, both in terms of the essence of its structure and its outstanding state of preservation.
The fortress's strategic location makes it dominate the valley of Homs and was a primary stopover on the Crusader route.
This military structure, consigned to the knights of the Hospitallers' order back in 1142, became, for more than a hundred years, the most powerful Western protection against Muslim armies.
Day 4 » Damascus » Almishtaya » Aleppo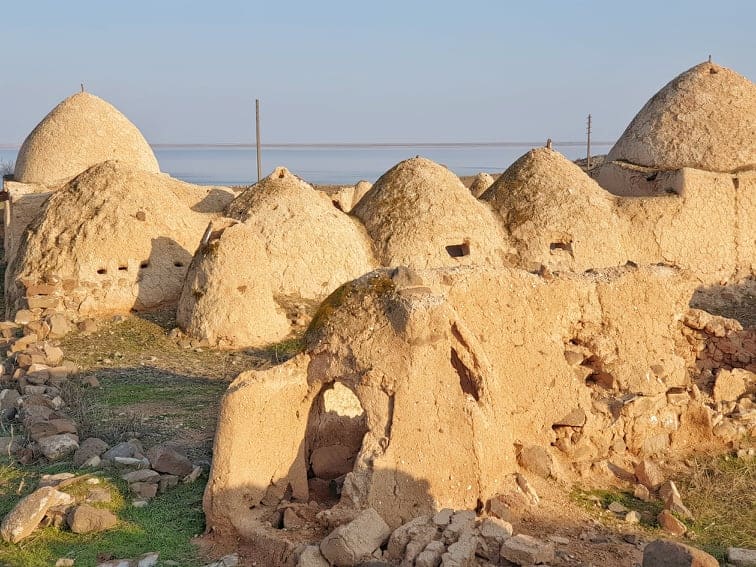 Beehive Houses
On your way to Aleppo, you will have the possibility of visiting something interesting both culturally and architecturally.
A beehive house is a structure constructed from a circle of stones covered with a domed rooftop. The nickname originates from the resemblance in appearance to a straw beehive.
« These Earthen BeehiveHouses Have Been Keeping Syrians Naturally Cool for Centuries » in Inhabitat.
Many of these old Syrian Beehive houses date back to the 6th century BC and if available, you will drink tea or coffee with the local people.
Day 5 » Aleppo City Tour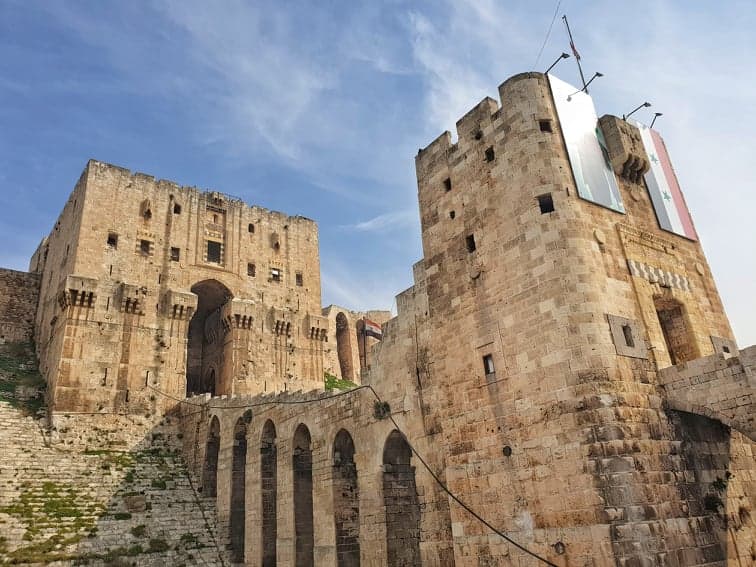 Aleppo
Aleppo was, for many years, the dream destination for many travelers around the world. Its ancient monuments, cultural importance, and economic strength made this northern Syria city the most important region.
Unfortunately, Aleppo was the city most devastated by the war, but it is thriving with new energy, and local people are starting to restore. You will have the chance to visit Aleppo while it is being rebuilt.
The Banu Umayya Mosque of Aleppo is currently under construction, and local artisans and shop owners are helping and investing in the old souks that were destroyed to the ground. Most churches are also ready and did start public mass for a few years already.
The famous Citadel of Aleppo, dating back from the 3rd millennium BC, was only lightly touched and survived 99.99% of the conflict. his impressive castle is considered to be one of the oldest and largest castles in the world.
Day 6 » Aleppo » Qatna Ancient City » Hama City Tour » Latakia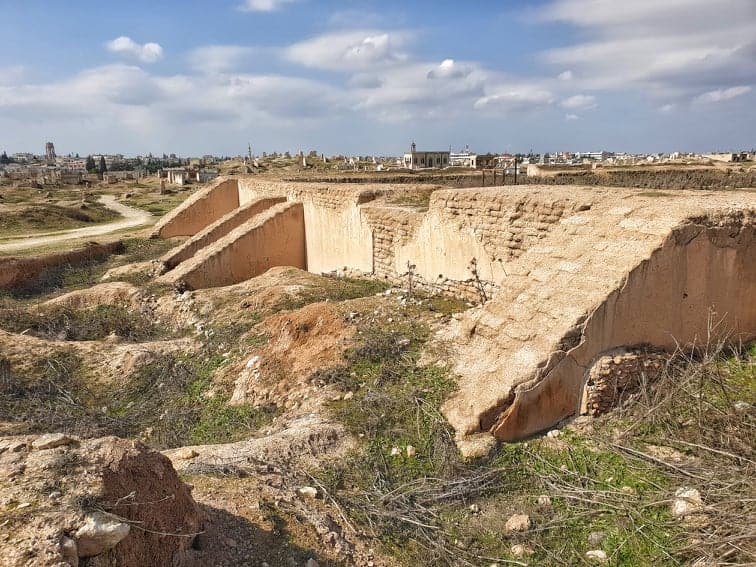 Qatna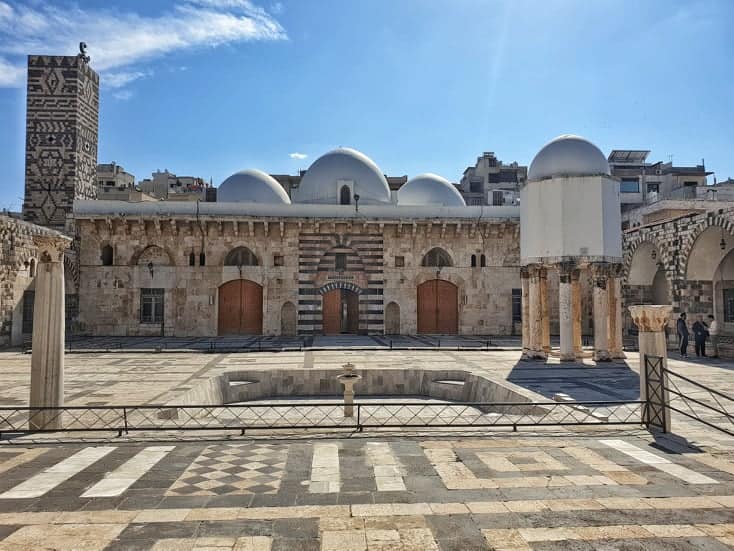 Hama
Day 7 » Latakia » Citadel of Salah ad-Din » Ugarit » Latakia
Citadel of Salah ad-Din
Ugarit
Day 8 » Latakia » Marqab Castle » Arwad Island » Tartus City Tour » Almishtaya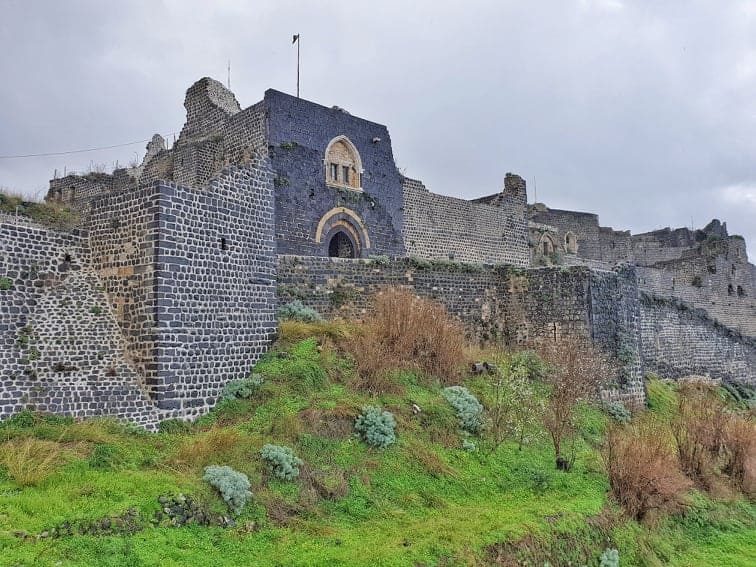 Marqab Castle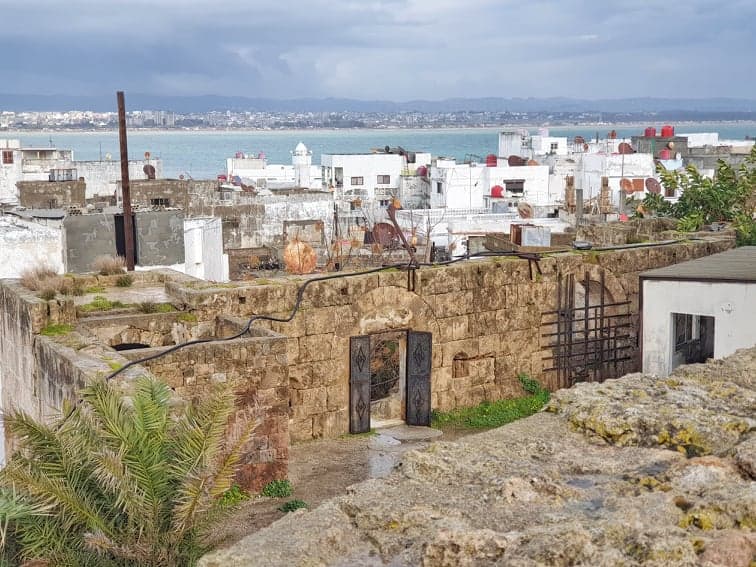 Arwad Island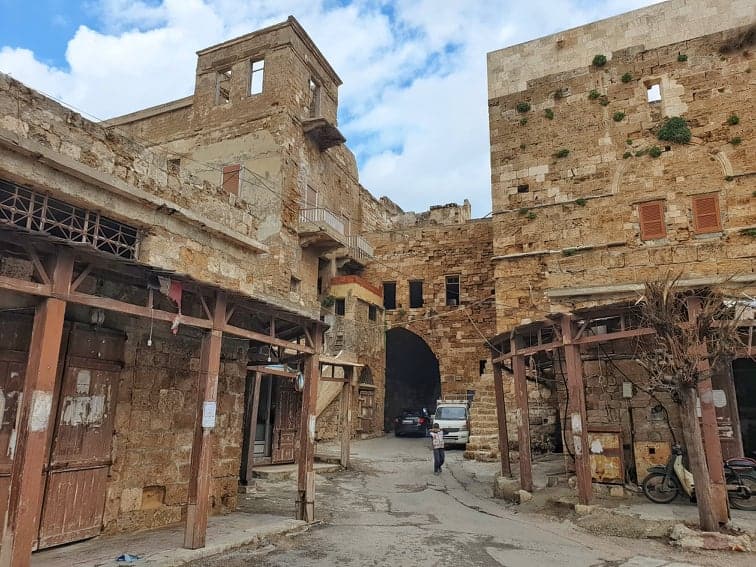 Tartus
Tartus is an Syrian Mediterranean coastal city, localy famuos for its beaches. After returning from Arwad Island, you will walk along Tartus ancient city, with its typical white-brownish stone bricks.
Also not to be misses is the Crusader-era cathedral of Our Lady of Tortosa, built during the 12th century.
If there is time and you are still not tired, we can include a quick visit to the ruins of the Phoenician Temple (Ma'abed) in Amrit.
Day 9 » Almishtaya » Homs City Tour » Palmyra » Damascus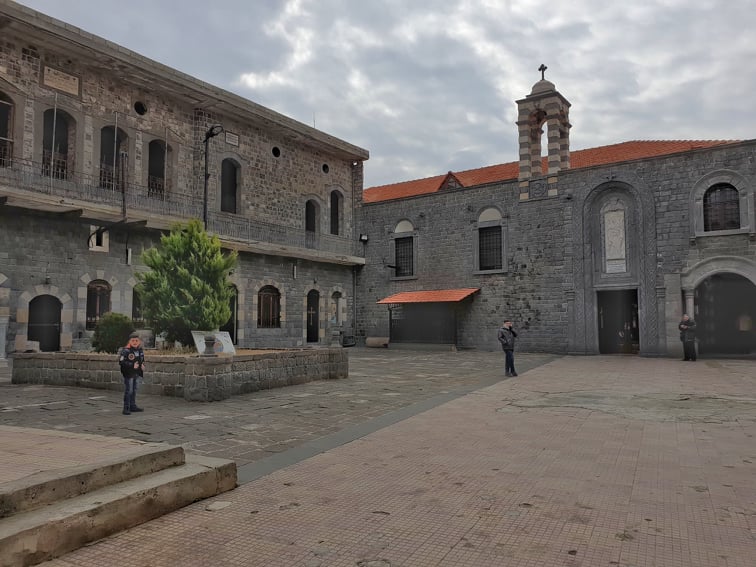 Homs
Homs is a Syrian city somewhere between Hama and Damascus. Although Homs had big problems during the civil war, life is back to normal and many parts of the city are currently under construction and renovation.
You will visit the 9th century Saint Mary Church of the Holy Belt, a historical Syriac Orthodox cathedral, and the Syriac Orthodox Archbishop of Homs and Hama's actual seat.
The church holds a worshiped Holy girdle that is reckoned to be a segment of the belt of Mary, mother of Jesus. The Saint Mary Church was damaged throughout fights between the armed opposition and the security forces in the 2011–2012 Syrian crisis. Nowadays, all is fixed, and regular church service is back to normality for many years.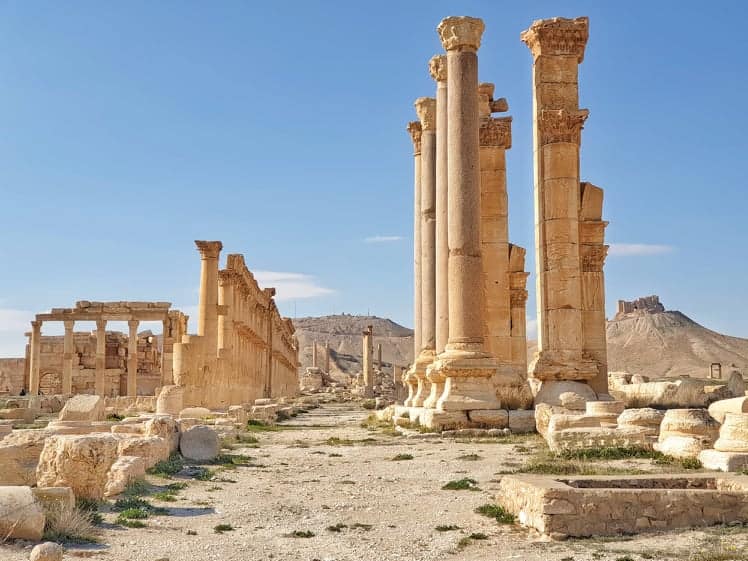 Palmyra
Palmyra is within the top 10 list of most famous arquaeological sites in the world. There's no way to put it, if you considere yourself a real travelers, you will have to visit Palmyra once in your lifetime.
Our Palmyra tour includes all the necessary documentation and permits to enter the site. Palmyra is an oasis in the Syrian desert that contains the monumental ruins of what was once a great ancient city.
Records originally cite Palmyra in the early second millennium BC, but the city's most prosperous years matched with the Roman administration of Syria.
Visit Palmyra with a guided tour with a brief historical explanation and also visit what is left of the nearby museum, sacked and destroyed by terrorists during their presence in the area.
Day 10 » Damascus » Bosra » Transfer to Lebanon » Drop-off in Beirut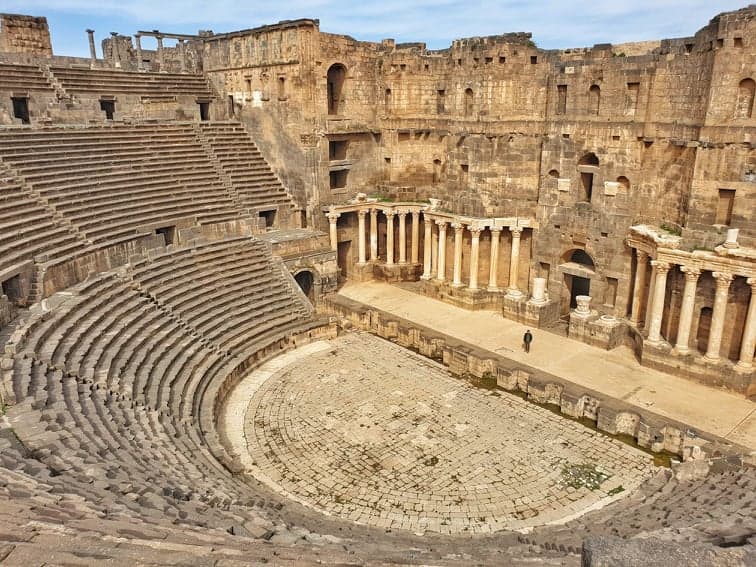 Bosra
Borsa is an ancient city located in the southern part of Syria which is included on your program, just before returning to Beirut in Lebanon.
After a 2-hour drive from Damascus, you will visit the UNESCO World Heritage site of Bosra, that included many distinct monuemtns, spreading into diffferent eras.
The Roman ruins, the Nabatean Arch, the Roman Theatre, the Byzantine Cathedral are all sites within the huge archaeological complex of Bosra that you will have the occasion to visit.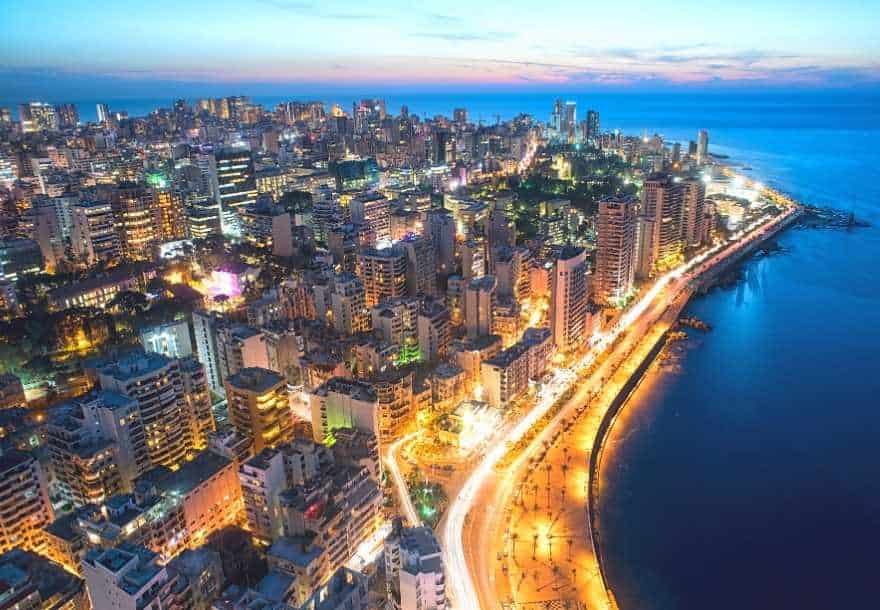 Return to Beirut
Returning to Beirut is the last stage of your trip, and you'll be excited to go back home and tell your friends and family about the tour to Syria.
The way back to Beirut is smooth and normal. The only difference is that we will get to Beirut a little bit during the rush hour, so you have to take into consideration 30 to 60 minutes to cross the city if traffic is really bad.
Our staff will drop you off at a place of choice in Beirut. You can be delivered to a hotel or the airport if your flight is late at night.
If you want we can book your last nights in Beirut for you. All our tours are fully customizable, and you can also select to get airport transfers and the last nights included within the same travel package.
Optional while booking:
Hotel transfer with Airport drop off;
Nights in Beirut;
Activities, excursions, and day-trips.
Are you departing from Syria by airplane through Damascus International Airport DAM? Personalize this tour by removing Beirut transfers and get a 100 Euros reduction.