Getting an Iran Visa on arrival at Tehran airport is very straightforward. Learn here how to get a VOA Iran step-by-step.
Everyone, before travel to Iran must acquire a visa from one of the Iranian embassies around the world unless they come from one of the visa-exempt nations or countries eligible for an Iranian visa at the airport. The Visa policy of Iran is very clear about it, and the whole process is relatively easy and straightforward to deal with.
You need:
Passport valid for at least six months;
Travel Insurance (made in advance through RJ Travel services or bought at the airport).
Iran eVisa waiver done in advance free of charge through RJ Travel services.
This document provides general information only and may be subject to change at any time without notice. Visa requirements Iran made easy. Follow the steps.
Iran Visa on Arrival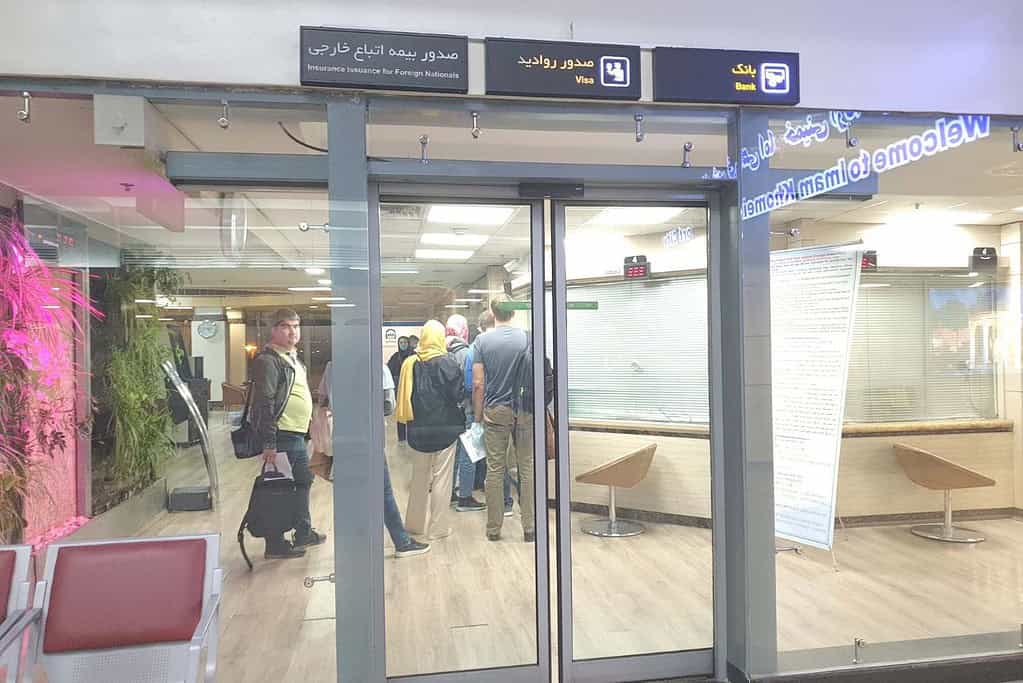 When you get off the plane, follow the arrows that say VISA. There is a section that leads to the passport stamp area. Don't go there. Look for the visa area under the letters "Welcome to Imam Khomeini Airport City." The entrance door is closed and opens automatically.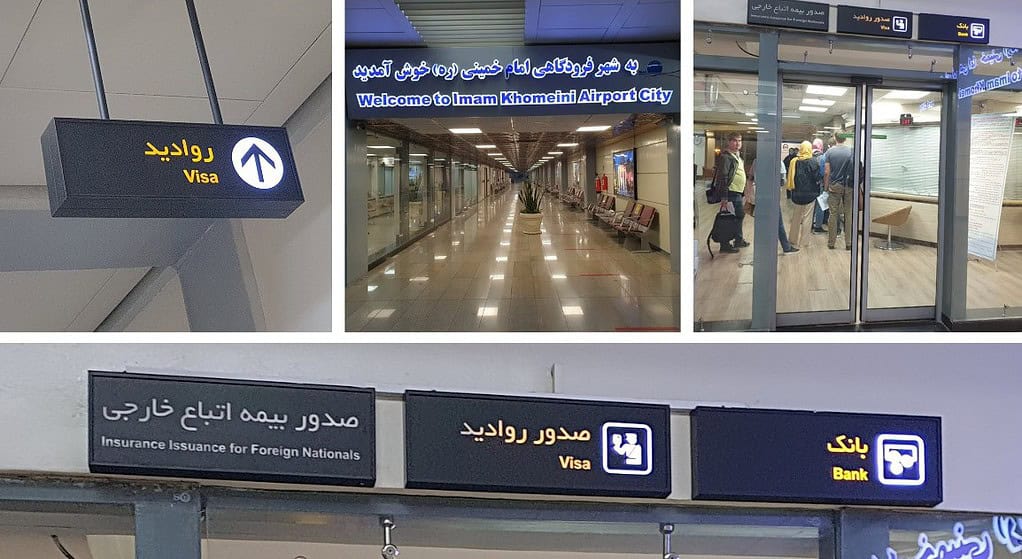 Tehran Airport eVisa Iran Area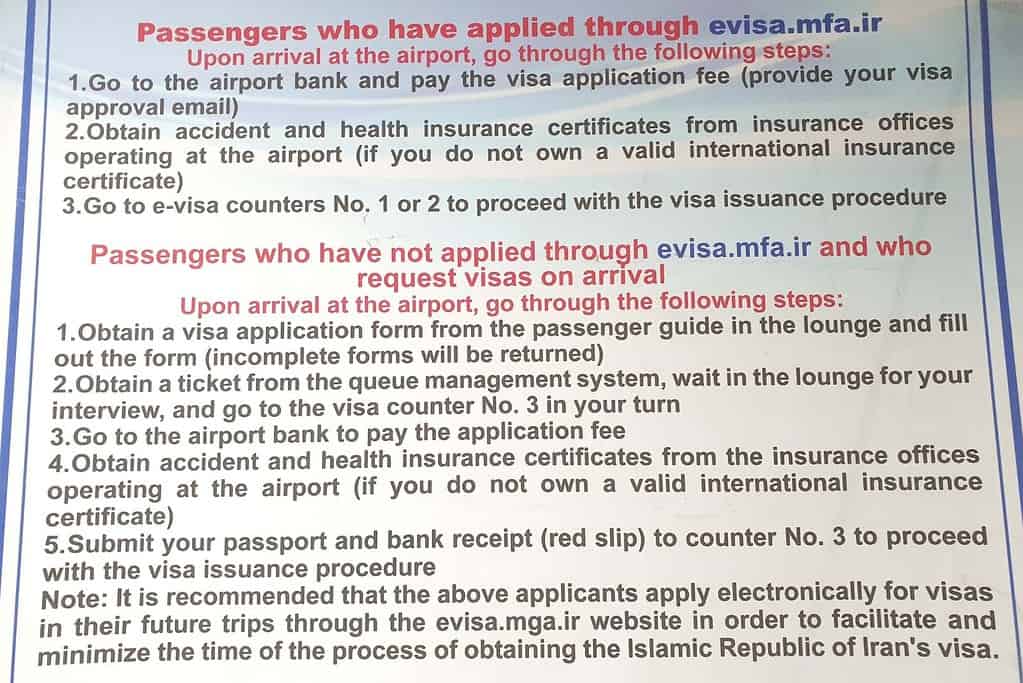 What to do:
Deliver the passport with the approved visa grant to the gentleman in the window on the right.
Wait for a new visa paper.
Take the passport and new visa paper to the Bank counter on the left side.
The price of visa depends on nationality. Most European countries pay 75 euros / 80 usd.

Iran visa on arrival costs 75 euros + 3 USD bank commission (if you give 100 euros, they give change). The Iran visa on arrival fees is different depending on your passport. But usually, they are always based on the 75 Euro fee.
Return to the starting window with the new Iran tourist visa paper, bank payment receipt, and passport. Ask if everything is OK and if you can leave.
And it's done.
Congratulations!
Leave the area, return to the passport officer's area, and wait in line. You see, Iran visa requirements have been made easy!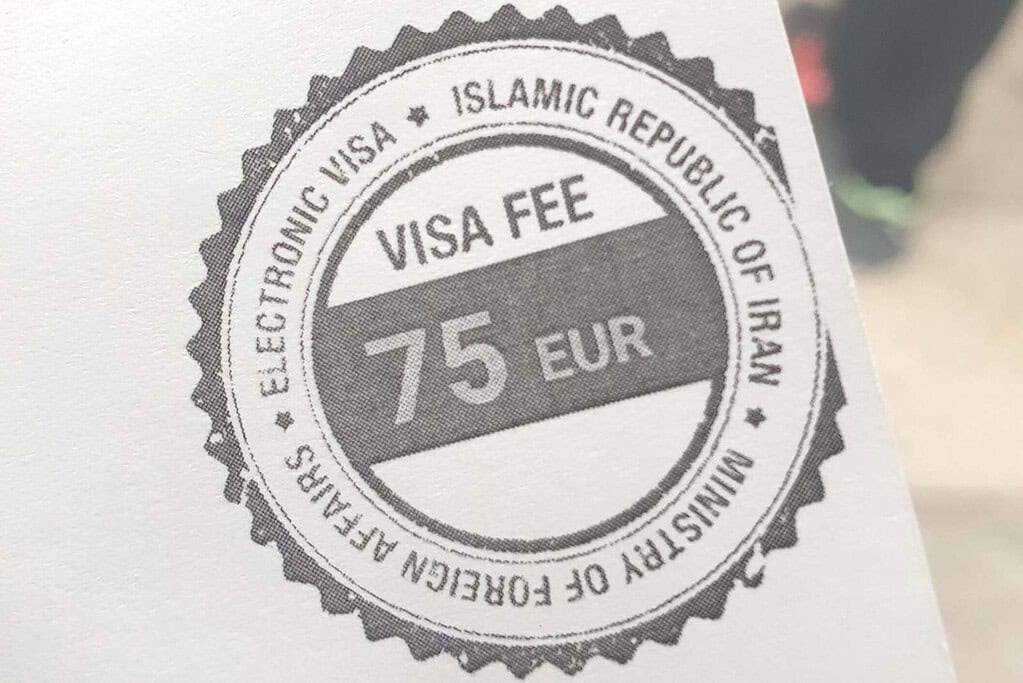 Iran no longer stamps passports on entry in response to USA sanctions on people who have visited Iran.
Iran Visa on Arrival Countries Map
The eVisa waiver can also be done through the official online Iran Electronic Visa Application (Iran eVisa).
Iranian tourist visa Q&A
How much does Iran visa cost?
75 Euros is how much Iran visa costs. If you want to know how much is Iranian visa on arrival, you also need to know that there is a 3 USD processing feed to be paid extra. How much visa from UK to Iran is also the same price, although consider that UK, Canada, and USA passport holders need to get the visa in advance. The cost of your Iranian tourist visa will depend on your nationality, but generally, it goes from €70 to €150. Some examples of Iran visa fees for Russia, France, Spain, Poland, Germany, Italy, and Portugal are €75. For Australian passport holders is €145, and if you're from Brazil, expect to pay €80.
What is the required passport validity to enter Iran?
All visitors must hold a passport valid for at least six months.
What is the length of Iran VOA?
The Iran visa on arrival VOA allows you to stay in the country for up to 30 days.
Can the Iran visa on arrival be extended?
You can extend your stay in Iran for another 30 days. This process can be done twice, so you can stay a total of 90 days, after extending your tourist visa.
Which countries can get an Iranian visa?
All the mentioned countries can get an Iranian visa on arrival: Albania, Saudi Arabia, Australia, Austria, Bahrain, Belarus, Belgium, Bosnia and Herzegovina, Brazil, Brunei, Bulgaria, China, Croatia, Cuba, Cyprus, Denmark, Finland, France, Germany, Greece, Holland, Hungary, India, Indonesia, Ireland, Italy, Japan, Kazakhstan, Kuwait, Kyrgyzstan, Luxembourg, Mexico, Mongolia, North Korea, New Zealand, Norway, Oman, Palestine, Peru, Philippines, Poland, Portugal, Qatar, Romania, Russia, Singapore, Slovakia, Slovenia, South Korea, Spain, Sweden, Switzerland, Syria, Tajikistan, Thailand, Turkmenistan, Ukraine, UAE, Uzbekistan, Vietnam.
Can American travel to Iran?
A government-approved guide must escort US citizens at all times. Independent travel in Iran for Americans has been banned due to the closure of Iranian foreign missions in the US. The same applies to Canadian and British citizens.