14 Days / 13 Nights
Iran travel private tour from 1114 Euros per person
Start: Tehran • Finish: Shiraz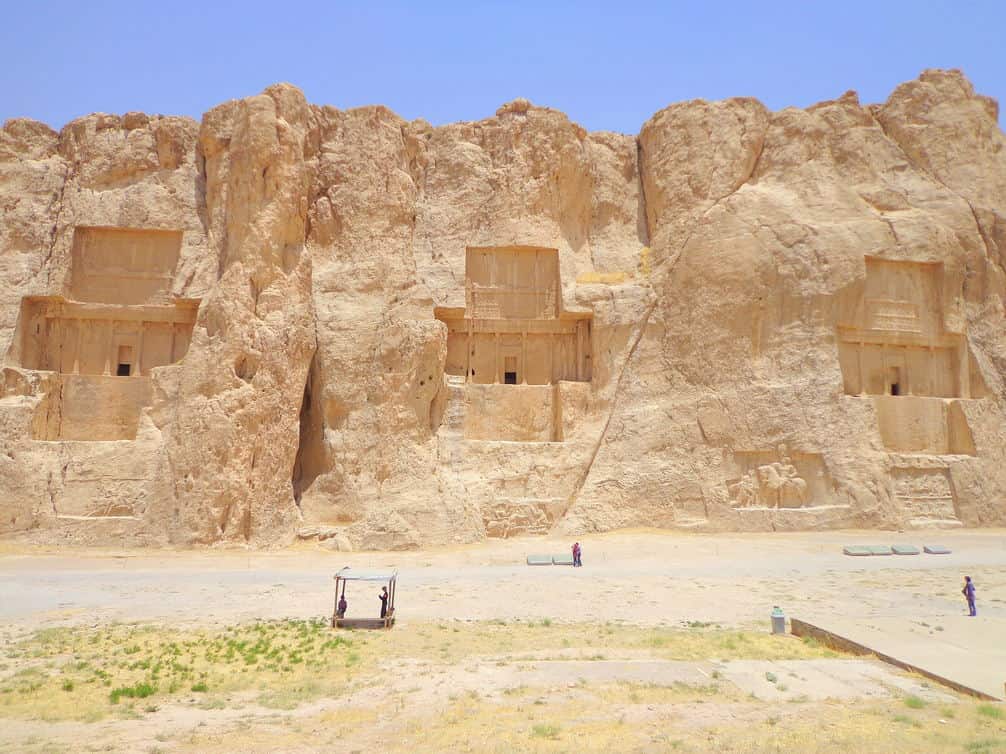 Magical Persia Tour
Day 1 » Arrival to Tehran – Tehran afternoon visit (depending on your arrival time)
Day 2 » Visit Tehran full day
Day 3 » Tehran » Qom » Nush Abad underground city » Kashan
Day 4 » visit Kashan full day
Day 5 » Kashan » Abyaneh » Esfahan
Day 6 » visit Isfahan full day
Day 7 » Isfahan » Naim » Meybod » Yazd
Day 8 » visit Yazd full day
Day 9 » Yazd » Kerman
Day 10 » Kerman » Shahdad desert – Kalut formations » Shur salt river
Day 11 » Shahdad » Rageh Canyon » Rafsanjan
Day 12 » Rafsanjan » Meymand rock village » Shiraz
Day 13 » Shiraz » Persepolis » Naqsh-e Rostam » Pasargad » Shiraz
Day 14 » Shiraz full day – evening departure to Istanbul (a flight to Tehran can be arranged upon request).
Meals
Breakfast & Dinners
We were in Iran preparing this trip for you!
Rita and João from RJ Travel Agency were in Iran recently, preparing this trip for you. Enjoy your holidays!
Tour Highlights
Special places on this Iran tour.
Tour prices
Prices are per person in Euros in double room occupancy with breakfast.
| | | |
| --- | --- | --- |
| 1 person | 2 persons | 3 persons |
| 2590 € | 1573 € | 1501 € |
| 4 persons | 5 persons | 6 persons |
| 1402 € | 1231 € | 1114 € |
Single room supplement = 457 Euros per person
What's included?
Visa reference number for visa on arrival
Transfers airport – hotel – airport
Domestic flight Shiraz to Tehran
All transportation
All dinners
English speaking guide
All accommodation in 4* hotels with breakfast
What's not included?
International Flights
Visa on arrival (price differs by nationality, usually from 50 to 75 Euros)
Travel insurance on arrival (15 Euros)
Lunch
Tips and other gratuities
Drinks, personal expenses
Admission fees to museums and monuments
All that's not mentioned
Read before you go
This is a private Iran tour package
Iran is a very safe country to visit
Most countries can get an Iranian visa on arrival
Your passport must valid for at least six months
Iran no longer stamp or put stickers to passports of foreign tourists in a bid to ease their concerns about traveling to other countries after leaving Iran
Citizens of Canada, United Kingdom, and the United States of America have to apply for the visa reference number for visa on arrival with 3 months in advance
You're Jewish? There are 10,000 Jewish living in Iran, it's OK if you're Jewish
Citizens of Israel are banned from entry to Iran
Admission is refused to holders of passports or travel documents containing an Israeli visa or stamp or any data showing that visitor has been to Israel or indication of any connection with the state of Israel
Upon landing, women have to wear a light headscarf covering part of the hair
Yes, this tour is made so that only you, your family and friends will travel together. You will not be traveling along with people you never met. We also have group tours available if you're interested.
How much is the price of monument tickets in Iran?
Prices of monument and museum entrances in Iran range between 200,000 rials up to 500,000 rials for the most famous attractions.
What is the best way to fly in and out of Iran?
How much will the flight tickets for this tour cost?
Prices vary depending on the time of the year, and also in how much in advance you actually purchase your tickets. But usually, we can say that a round-trip ticket from Istanbul to Tehran and out from Shiraz to Tehran will cost around 200 Euros up to 400 Euros depending on the season. Pegasus, flying in and out of Tehran can be much cheaper, as it is one of the most famous low-cost airlines in Europe. Flying from Madrid round-trip usually cost around 350 Euros. Austrian Airlines through Viena has tickets available for around 500 Euros return.
Accommodation
List of hotels included in the package or similar to these
Book this tour
We will respond to your email within 24 h / 48 h
Hi there!

We are the RJ Travel Agency team. You will get our reply within 24 h / 48 h. Thanks!
Our office in Ouarzazate
Contact Information
RJ Travel Agency
Nº 144 Rue Al Ansar, Hay Al Mansour Dahbi
45000 Ouarzazate, Morocco
Monday to Friday from 9h to 13h – 14h to 18h and Saturday from 9h to 13h