The UNESCO Sites in Malta have resulted from the recognition of 3 cultural and natural landmarks as UNESCO World Heritage Sites in Malta and 7 locations on the Malta UNESCO tentative list. These tourist sites in Malta are acknowledged for their unique and valuable cultural, natural, artistic, and historical significance and are preserved for future generations to enjoy.
In addition to these 3 sites in the Malta UNESCO list, there are many other places to travel to Malta that are being considered for UNESCO recognition. These sites, listed on the tentative list, showcase the rich cultural heritage of the country and are waiting for approval to join the prestigious and famous World Heritage Sites list.
To help visitors discover these remarkable Malta tourist attractions, we have put together an interactive map of the UNESCO sites in Malta.
Malta UNESCO Map
Click markers to show information and photo.

World Heritage Sites in Malta
UNESCO World Heritage Sites in Malta
There are 3 UNESCO World Heritage Sites in Malta. All of these three sites are listed under the Cultural category.
City of Valletta
Ħal Saflieni Hypogeum
Megalithic Temples of Malta
UNESCO World Heritage Sites in Malta are protected locations for their cultural and natural importance.
City of Valletta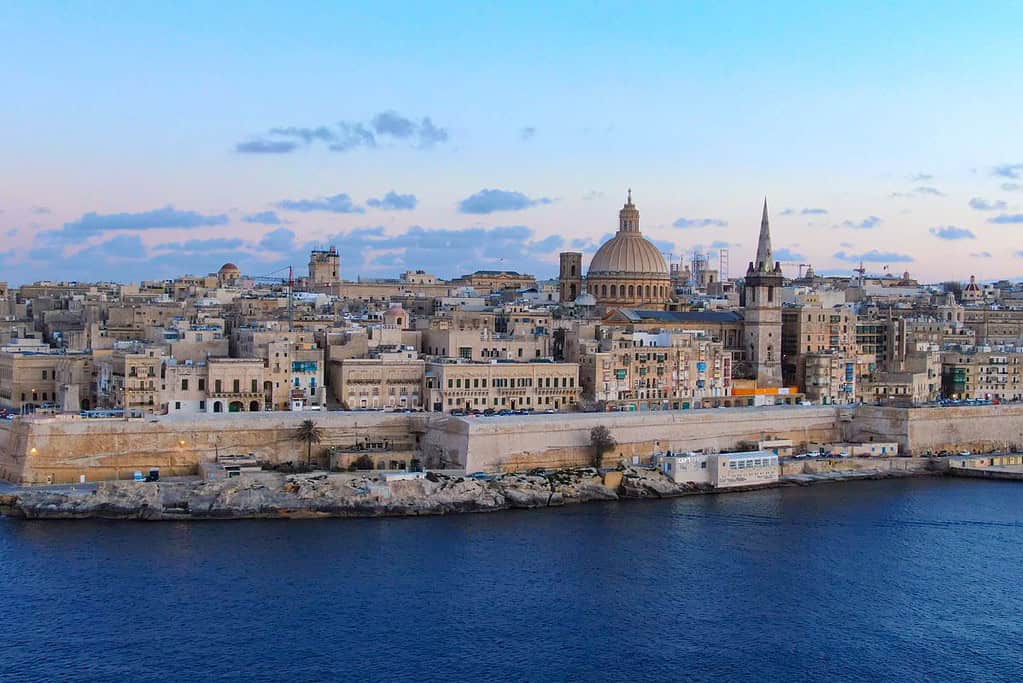 The City of Valletta in Malta is a UNESCO World Heritage Site renowned for its historical and cultural significance. This fortified city, built by the Knights of St. John in the 16th century, showcases exceptional architectural marvels and a rich heritage. Valletta boasts stunning examples of Baroque and Neo-Classical styles, including the grand St. John's Co-Cathedral, with its intricate interior and remarkable Caravaggio paintings. The city's defensive walls, bastions, and forts reflect its strategic importance throughout history. Walking through Valletta's narrow streets reveals charming squares, elegant palaces, and picturesque views of the harbor, all contributing to its unique and captivating atmosphere.
Ħal Saflieni Hypogeum
The Ħal Saflieni Hypogeum is a remarkable UNESCO World Heritage Site located in Malta. This ancient underground necropolis dates back to around 4000 BCE and is an extraordinary testament to the island's prehistoric civilization. The Hypogeum features a complex series of underground chambers and halls, adorned with intricate carvings and paintings. It is particularly renowned for its unique acoustic properties, creating an otherworldly auditory experience for visitors. The Hypogeum provides invaluable insights into the burial practices and spiritual beliefs of Malta's early inhabitants, making it a truly awe-inspiring archaeological treasure.
Megalithic Temples of Malta
The Megalithic Temples of Malta are UNESCO World Heritage Sites located on the Mediterranean island of Malta. These temples are considered to be some of the oldest freestanding stone structures in the world, dating back to around 3600-2500 BCE. The temples are remarkable examples of prehistoric architecture and engineering, constructed using massive limestone blocks. The temples, including Ħaġar Qim, Mnajdra, and Ġgantija, exhibit intricate stone carvings, altars, and various chambers that provide insights into the spiritual and cultural practices of the Neolithic inhabitants. The Megalithic Temples of Malta stand as a testament to the ancient ingenuity and cultural heritage of the Maltese people.
Malta UNESCO tentative list
Coastal Cliffs
Qawra/Dwejra
Cittadella (Victoria – Gozo)
Knights' Fortifications around the Harbours of Malta
Mdina (Citta' Vecchia)
Maltese Catacomb Complexes
Victoria Lines Fortifications
Tours in Malta
Our choices of tours in Malta are divided into thematic features such as Valletta, Mdina, and Blue Grotto Experience.